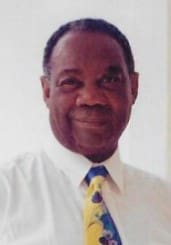 Eddie Donoghue, a well-known author, playwright, politician, journalist and radio host in the Virgin Islands for almost four decades, passed away Monday, Feb. 3, at his home on St. Thomas after a long illness. He was 82 years old.
Donoghue was born in Plymouth, Montserrat, on July 22, 1937. His father, local businessman Reginald "Reggie" Martin Sr., controlled the fishing industry in Montserrat and supervised the dock workers. He also had a grocery store and nightclub, among other businesses.
Dr. Donoghue attended the Montserrat Secondary School, a privilege at the time only afforded to exceptional students or those with wealthy parents.
In 1950, Reggie Martin Sr. died of kidney failure. He left behind 17 children, including Donoghue. The once affluent family was suddenly destitute, and many of Reggie Martin's children migrated from Montserrat in the subsequent years.
In 1956, Donoghue received an endowment from a family friend that allowed him to travel to England to study accounting. When he obtained a copy of his birth certificate, Donoghue, who went through school as Thomas Edwin Martin, discovered that he was registered under Donoghue, his mother's surname, so he adjusted his name.
Upon arrival in Britain, he performed menial jobs such as cleaning train engines and working in a button factory. He later became a social activist, decrying racism during rousing speeches at Hyde Park. It was there that he met a Swedish young lady who was working in London as an au pair. They struck up a friendship and Donoghue eventually visited Sweden. It was a revelation.
"The people there were nice and kind," Donoghue said during a 2018 interview. "They even gave me winter clothes. It showed me that I was wrong to lump all white people together. It became a philosophy in my life. I condemn white racism, and I condemn black racism."
Donoghue eventually moved to Sweden permanently. He learned the language quickly and got a job at a local dance company and later became a dancer himself despite no formal training. But his main source of income was as a traveling salesman at outdoor markets. He sold mostly giftware and gained a big following for his charismatic style and sales gimmicks.
In 1981, Donoghue and his dance group, "Eddie's Goodies," toured the Caribbean and also performed in New York.
In December of 1982, he earned his doctorate in sociology from the University of Gothenburg. The following year, he relocated to St. Thomas to be near his ailing mother. Ann Donoghue-Pond passed away a few months later.
On St. Thomas, Donoghue worked as a researcher in the Virgin Islands Legislature, was a guest writer for several local publications, and also delved into politics. He had an unsuccessful run for office in the 2002 elections on the gubernatorial ticket with Alicia "Chucky" Hansen. But he was perhaps best known for his Saturday morning radio show on WSTA (1340).
Donoghue published several books, mostly on the legacy of slavery, including "Black Breeding Machines" and "Black Women/White Men." He also wrote several plays, including the well-received "Half Married," which debuted at the Pistarckle Theater on St. Thomas during the 2008-2009 season.
Donoghue is survived by his wife, Eva; son, Phillip on St. Thomas; daughters: Veronica Martel in London and Zetma Zackrisson in Sweden; grandchildren: Kielli Donoghue, Xavier Martel, Sebastian Martel, Gabriel Prembo, Elias Prembo and Alexander Zackrisson; brother, Lloyd "Bobby" Martin in Jamaica; and sisters: Monica Martin in Montreal, Rosanna "Lynn" Fagan on St. Thomas and Veda Martin-Carr in Connecticut. Donoghue also had many other extended family members too numerous to mention.
A viewing will be held from 4-6 p.m., Saturday, Feb. 22, at Turnbull's Funeral Home in Charlotte Amalie, followed by a repast at Percy's Bus Stop Bar and Restaurant.