The recent opening of The Pelican Shop has created a new chapter to downtown Charlotte Amalie's retail history. Though smoking bans dominate modern social norms, this dedicated lounge is the exception to the rule.
It has been specially designed to provide St. Thomas residents and visitors with a relaxing oasis to enjoy domestic and imported cigars in a welcoming clubhouse atmosphere.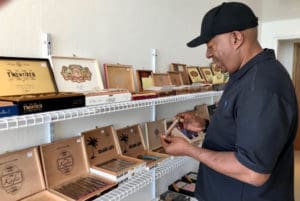 Located on the waterfront at A.H. Riise Mall, the ultra-modern enterprise features a state-of-the-art air purification system, comfortable seating areas, sound system with custom music mix, multiple flat-screen TVs, displays featuring quality cigars and accessories, as well as a full bar offering premium wine, beer and spirits.
The dramatic harbor view further enhances The Pelican Shop's spirit of island originality.
Behind the scenes, appeal is magnified by the fact that recycled materials were used in the construction of the bar as well as creative in-store visuals and displays.
Founded by Akil Petersen, the entrepreneur was born and raised in the U.S. Virgin Islands. As an adult, he spent a decade and a half in the corporate world on the mainland before returning home to St. Thomas five years ago.
"When I was living and working in Orlando, I was struck by the increasing popularity of cigar lounges," Petersen said. "My passion for cigars began in those lounges about 10 years ago and my palate evolved over time."
Bolstered by the spirit of camaraderie he experienced and anxious to bring the concept back home, Petersen was inspired to fulfill a long-range dream.
"I wanted my own business and I wanted it here on St. Thomas," he said.
To that end, in 2016 Petersen established A.P. Premium Cigars. Manufactured in Honduras with custom blended, hand selected tobacco, the products are available in retail shops and online.
"You can have the cigar bands customized for weddings and to give as gifts at any kind of special event," he said.
Petersen's next step was to establish a local cigar club. Created a year and a half ago, benefits of a membership in "Brother of the Leaf/Sister of the Leaf" include the opportunity to share cigar experiences with like-minded men and women.
Selecting a brick and mortar location for a cigar lounge became top priority for Petersen.
"I wanted to be downtown. It's where I spent a lot of my childhood. I have great memories growing up here," he said.
Because his father was a school teacher and also worked in town at the Enid M. Baa Public Library, Petersen and his three siblings spent much their after-school hours in Charlotte Amalie's historic district.
As luck would have it, during his search for a retail spot, Petersen discovered an availability on the waterfront at A.H. Riise Mall next to Little Switzerland.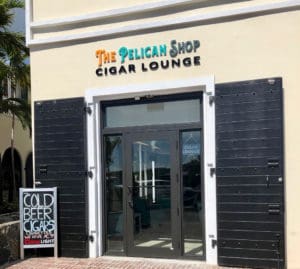 Reflecting on his entrepreneurial journey, he said, "It took me five years from planning the business to opening these doors but I never stopped believing."
He credited family and friends for their support along the way.
"My mom helped with the shop's design and my sister helped with marketing. My family and my friends, everyone's been great," he said.
When asked the significance of the name he selected, Petersen said, "A favorite memory for me growing up was watching all the pelicans diving in the harbor for food. Every day, you could see them from the waterfront. I was fascinated by that." With a smile, he added, "Also, I wanted a quirky island name."
At The Pelican Shop, a new signature line of reasonably priced cigars called Island Life is displayed. Whatever your level of experience in the world of cigar smoking, Petersen and his team of tobacconists will happily assist.
"We'll help you select a cigar that's right for you," he said. Special amenities at The Pelican Shop also include "members only" services such as private lockers.
In addition to cigars, The Pelican Shop carries a selection of tobacco products and accessories including cigarettes and hookahs. However, smoking on the premises is limited to cigars only.
Last-minute finishing touches still to come include decorating the shop's walls with local art which will be available for sale.
The Pelican Shop is open from 10 a.m. to 7 p.m. Monday through Wednesday, 10 a.m. to 8 p.m. Thursday through Saturday, and Sunday 10 a.m. to 5 p.m.
Additional information is online at the shop's Facebook page or available by calling 340-725-1385.