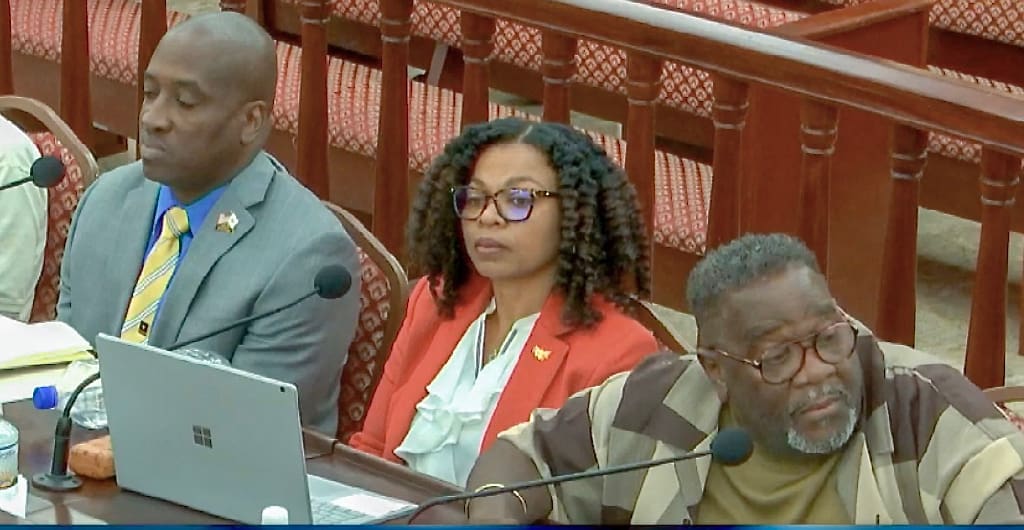 Senators on the Homeland Security, Justice, Public, Safety and Veterans Affairs Committee decided a bill proposed by Sens. Stedmann Hodge Jr. and Oakland Benta infringe too much on rights protected by the Fourth Amendment for it to be forwarded for further consideration.
The bill would have permitted officers "to stop and frisk persons reasonably suspected to have committed or attempting to commit a crime."
Deputy Commissioner Celvin Walwyn read the testimony from the V.I. Police Department. It said the bill "treads precariously on the rights afforded all citizens under the Fourth Amendment of the Unites States Constitution."
The Fourth Amendment states, "The right of the people to be secure in their persons, houses, papers and effects, against unreasonable searches and seizures, shall not be violated, and no warrants shall issue, but upon probable cause, supported by oath or affirmation and particularly describing the place to be searched and the persons or things to be seized."
Quincy McRae, chief of the Attorney General's Criminal Division on St. Thomas, also testified against the bill. He said, his office believed nothing new or unique would be added by adopting Benta and Hodge's proposal.
Sen. Donna Frett-Gregory read an apology from Michael Bloomberg who, as mayor of New York City, had adopted a similar "stop and frisk" measure. That bill had unintended consequences.
Sen. Marvin Blyden said he could not support the measure because of his experience in California where such a measure was often used to target young, black males.
The committee also had an update on the status of the V.I. Veterans Emergency Transportation Fund. Three veterans told the lawmakers that care at the Puerto Rico Veterans facility was "bad" for Virgin Islanders. They also testified that the V.I. Office of Veterans Affairs had stopped reimbursing veterans for travel to different stateside veterans' hospital.
Patrick Farrell, director of the V.I. Office of Veterans Affairs, said he had "to make a stand" because the office no longer had the funds to reimburse everyone. He said that federal guidelines only call for the reimbursement of travel costs to the "closest" veterans' hospital.
The V.I. Veterans Emergency Transportation Fund, according to Jenifer O'Neal, director of the V.I. Office of Management and Budget, had received no funding for several years.
Farrell said reimbursement for veterans' travel expenses came from a Senate allocation to Veterans Affair to fund the Veterans' Medical Expenses and Burial Fund. That fund had been receiving $300,000 a year until last year, when the allocation was increased to $400,000. Farrell said half of it went for travel reimbursement and it was all being used by the veterans traveling to Puerto Rico.
Sen. Steven Payne Sr., chairman of the committee, suggested to resolve the problem the Senate could make another allocation of $200,000 to Veterans Affairs.
O'Neal asked Payne where he would get the funds. She said, "Everything is contingent on having available funding. Cash is king and right now we don't have much."
She said revenues had not been coming in as predicted and there might have to be some budget cuts.
All the senators attending the hearing expressed support for the veterans and the wish that the problem of reimbursements could be resolved. However, Frett-Gregory did express caution that everything might not be resolved because of the territory's "limited resources."
Attending the hearing were Sens. Alicia Barnes, Blyden, Dwayne DeGraff, Novelle Francis Jr., Frett-Gregory, Benta, Hodge, Kenneth Gittens, Payne and Athneil Thomas.