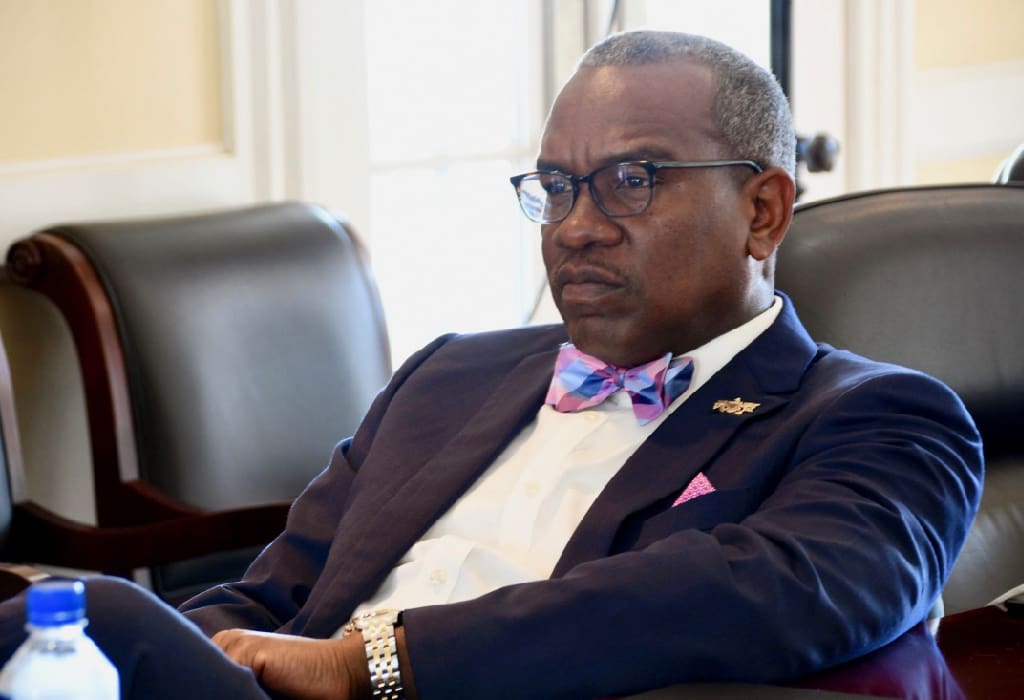 Gov. Albert Bryan Jr. considers himself a frugal man, which he says extends outward to the people and agencies he oversees.
He is also a realist who, while he believes that most government employees are doing their jobs, is aware there is a "bad culture in government." Those who take advantage, often with the help of their union contracts, of every single benefit, earn huge amounts of overtime even as salaried employees and spend workdays dreaming of and talking about the day they can retire.
"If you are going to work for the people, give eight hours," he said.
He knows in many cases it is a flawed, outdated system that fosters the ennui.
In a candid post-State of the Territory address interview Bryan said the government employment structure is "a mess."
Oftentimes employees do not have job descriptions that bear any resemblance to what they were hired to do. He said pay scales are so low for certain types of work, no one is willing to apply for the jobs. This issue is skirted by using a different category with different responsibilities in order to hire people for pay that meets their needs and would be appropriate elsewhere. The titles often do not match what the individual was actually hired to do.
The other problem, he said is the way in which "we think about how and why we go to work."
He told a story of a young woman he encountered while shopping. "She made eye contact, she was courteous, she knew all about the products, just what you are looking for in an employee." She told the governor: "I want a job." But when he enquired what she wanted to do, she repeated she just wanted a job.
"When you are going to work for pay, not purpose" Bryan said, "you are like a rudderless boat and dissatisfied."
As former Labor Commissioner during the Gov. John P. deJongh Jr. administration, he has experience in workplace paradigms.
The costs of business-as-usual are enormous and as a financially cautious man, Bryan is rankled by the waste and systemic abuses, which he thinks Virgin Islanders often mistake for corruption.
He said corruption, in his view, is when high ranking officials are perpetrating criminal activities in pursuit of personal gain.
"Many in our community are quick to raise the specter of overwhelming public corruption within the government," Bryan said in the State of the Territory address. But he thinks current ideas of widespread criminal corruption are more speculation than truth, the assumption of wrongdoing "undermines the fundamental trust that we are striving to rebuild in our residents toward our government."
In discussing the commitment made by at least one of his commissioners to fire and prosecute any employee suspected of soliciting or taking bribes, he said. "That gives me warm butterfly feelings inside."
He is adamant that position must be maintained across the board. "Zero tolerance for all corruption" needs to be the order of the day.
"We have a habit of prosecuting those who we don't like while making excuses for those we do," he said.
The reality of that kind of nepotism and favoritism corrodes trust at every level. A study of the V.I. Police Department conducted during the Gov. Kenneth Mapp administration repeatedly suggested the dual practices were the core of the problems within the rank and file – and one of the major impediments to solving and preventing crime. Conversations with officers reinforces that conclusion at least anecdotally.
Bryan is determined to weed out the malfeasance but believes his new commissioners and agency heads are doing a good job.
"I have 25 different commissioners and directors. I am pleased with the performance of the Cabinet."
Bryan ran on a platform that promised to put young people in positions of leadership. "But you have to give them a chance to make mistakes," he said in the interview last week. He also said, "Giving them feedback is what we need to do."
To that end, he meets with agency heads one-on-one regularly.
Along with feeling good about his Cabinet, Bryan also is comfortable with the monthly stipend he receives from the West Indian Company for housing while on St. Thomas. At $3,500 a month, it is half what former Gov. Charles Turnbull was spending 16 or more years ago on a rental house in Estate Elizabeth while he awaited repairs and air conditioning installation at Catharineberg, the former Danish Consulate which has traditionally been offered to governors as a residence. Since the installation of the A/C, the residence has never been occupied after upward of $1 million was spent.
A 2015 Source report, "Where the Governor Should Live," quoted historian Sen. Myron Jackson as saying, "The building was designed for open air ventilation," like many historic buildings, Jackson said. The Turnbull administration put in air conditioning, which caused moisture to gather and mold to grow, he said.
"It is a recurring problem that plagues a lot of government buildings."
While the debate about how to house a governor in a territory with two districts separated by an ocean continued over the next 12 years after Turnbull left office, Gov. Kennth Mapp was the most extravagant. He spent in the neighborhood of $13,000 a month between renting a costly villa and then after being forced to vacate that using The Ritz-Carlton as his home while on St. Thomas.
Gov. John P. deJongh Jr. during his two terms lived at his personal residence with his family while on St. Thomas and at Government House on St. Croix, where Bryan currently resides when on St. Croix.
DeJongh took no stipends while living at home, but was excoriated by his political opponents, who filed criminal charges against him shortly after he left office. They were later dropped. DeJongh had built a fence and guard shack at the insistence of his security team, and with the blessing of then Solicitor General Elliot Davis. The security measures cost about $500,000. After repaying $300,000 at the end of his second term, his housing while in office comes in at $2083.33 a month for the 96 months he was in office; the least costly in recent decades.
Bryan said during the interview last week that in their concern about government expenditures many fail to consider how much more costly governance over three or four separate islands can be.
There is something else he recognizes as a costly matter.
Vindictiveness has cost the Virgin Islands dearly, Bryan said while committing to putting an end to the revenge that permeated the last administration.
"We have avoided the partisan terminations of prior administrations," he said in the State of the Territory address. "We will not be hindered by those who wish to selfishly obstruct progress."
"Greed is a substance abuse problem," he said last week.
When you listen to him, it sounds, thus far, like he intends to treat it by every means possible.