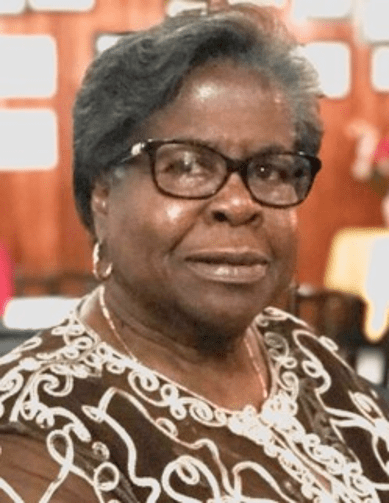 Marion Antoinetta (Williams) Rivera of Estate Sion Farm, Christiansted, St. Croix, died on Jan. 10. She was 77 years old.
She was preceded in death by her spouse, Raul Rivera Carmona Sr.; mother, Millicent Emanuel; father, Franzel Williams; uncles, Philpot Williams; sister, Gertrude Williams Nesbitt; niece, Mayra J. Rosario Rivera; nephew, Joey Rivera; sisters-in-law: Lydia Esther Rivera-Carmona and María Concepción Rivera-Carmona; brothers-in-law: Louis Richards, Horatio Millin Vincente Rivera-Carmona, Augustine Rivera-Carmona and José Rivera-Carmona; special friend, Aida "Ms. Chris" Emanuel; great niece, Brittany Stewart; and cousins: Edna Emanuel and Ruth Williams.
She is survived by her daughters: Wanda I. Williams and Marta I. Rivera; sons: Raul Rivera Jr., Rafael A. Rivera Sr. and Angel F. Rivera Sr.; and grandchildren: Tamekia Spencer, Jamal M. A. Baker, Chinyere A. Rivera, Ashlie A. Francis, Zuri E. Baker, Amorita M. Rivera, Kwameka A. Francis, Angel F. Rivera Jr., Cherina Y. Rivera, Rafael A. Rivera Jr., Solana Rivera, Kezia L. Williams, Kayla M. Williams, Kevin A. Williams Jr. and Novelle E. Francis III.
Other survivors include great-grandchildren: Evelyn A. Nevels, Faith L. Nevels, Jalen J. Nevels, Sherionna U. Lewis, Dequon D. Lewis, Sir Appleton Williams, Josiah Williams, Travis Williams, Chanelle E. Hilliard, Sophia E. Hilliard, Zachai A. Schmidt and Zachori A. Schmidt; sisters: Almida Williams Millin and Aurelia Williams Richards; and nieces: Beverly M. Nesbitt, Ronette L. Nesbitt-Ramos, Mae A. Nesbitt, Evelyn L. Richards, Yolanda Bracero Rivera, Maritza Bracero Rivera, Sandra E. Rosario Rivera, Vivian Perez Rivera, Tamara Rivera Marrero, Ayita Rivera Marrero, Martita Rivera and Ivelisse Rivera.
Other survivors include nephews: Alwin J. Stewart, Alfredo G. Venzen, Sr., Mario A. Nesbitt, David A. Nesbitt, George de'I Isle, Nesbitt Sr., Laurence J. Richards, Raul Rivera Marrero, Armand Bracero Rivera, Alonzo Venzen, Alfredo G. Venzen Jr. and J'Fredo J. Venzen; and great nieces: Almida Venzen-Jones, Alisa Gardener, Neeka R. Stewart, Jhody T. Venzen Yameda I. Nesbitt, Ialena Harris, Ronette R. Nesbitt, Melissa Nesbitt, Latanya Nesbitt, LaKeisha M. Nesbitt, Jahyra Nesbitt, Adrianne C. Ramos, Shayla George, Jodeci Richards, Malia Richards and Deja Bellamy.
Other survivors include great nephews: Jason D. Abramson, Laurence D. Ramos, Ezra-El George, Jediah George, Malik Connor, George D. Nesbitt Jr., Dwayne Nesbitt, Douglas A. Nesbitt, Odari Nesbitt and Brice Richards; great-great nieces: Vaniqua Venzen, Sheeniqua Venzen, Ikeema V. Jones, Akeema V. Jones, Kadisha V. Jones, Che'keema V. Jones, Jahnequa Venzen, Zakiyah Venzen and Zamira Venzen; great-great nephews: Roy Jones Jr., Troy Jones, Ian Cawthrone, Evan Cawthrone and Aiden Cawthrone; daughter-in-law, Elides Robles-Rivera; son-in-law, Kevin A. Williams Sr.; and sister-in-law, Ana Rivera-Carmona.
Other survivors include godchildren: Bianca Laureano, Vonetta C. Norman, Daren O'Reilly, Lamar O'Reilly, Margret Christian-Sallee, Tonya Brathwaite-Kinney, Rasheed Brathwaite and Renee Brathwaite; and special friends: Deanna Rogers, Leila Felix, Alma Plaskette-Christiansen, Eleanor Brathwaite, Mae Agnes Clendenen-George, Pedro Laureano and Zorida Calderon, Monica Rhule, Maria Friday, Janice Lewis, Beverly Seales, Priscilla Webster, Severina Evans-Plaskett, Mireya (Yeya) Gautier, Novelle E. Francis, Jr., Miss Mena Jagroo, Darlin, Delita Johnson, Lorraine Rodgers and Noemi Cintron.
Other survivors include cousins and other relatives: Cleone Llanos, Sonia Dow, Clayton Emanuel, Jocelyn Schuster, Rose Marie Gonzalez, Coralie Emanuel, Marva Emanuel, Cava Emanuel-Pemberton, Wayne Benjamin and Carolyn Benjamin; as well as many other cousins and relatives too numerous to mention.
The viewing will be held at 10 a.m. followed by the funeral service at 10:30 a.m., Monday, Jan. 27, at Holy Cross Catholic Church. Interment will be at Kingshill Cemetery.