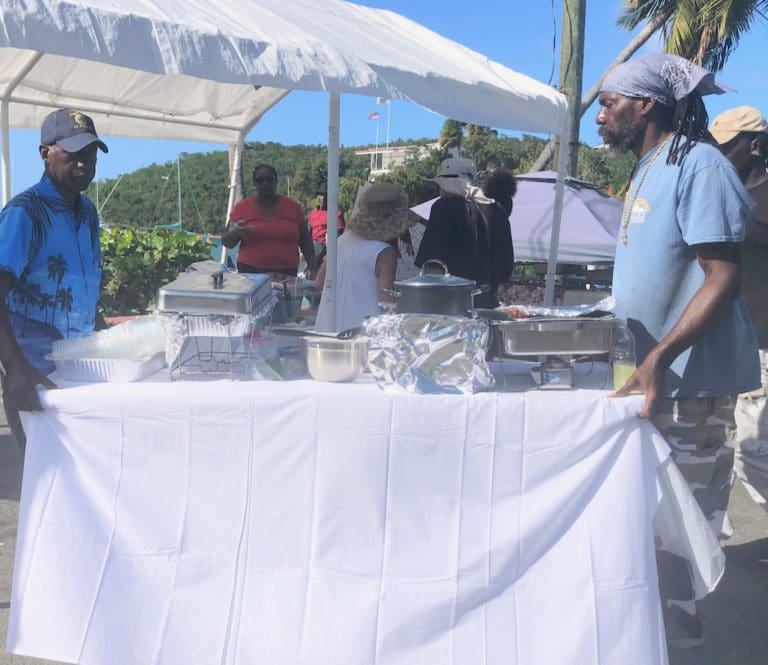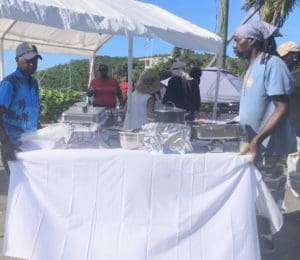 A love of the sea and its abundance became cause for celebration Saturday in Cruz Bay as about half a dozen chefs spent the afternoon and evening serving up fish and shellfish at a seafood festival.
The festival was the idea of a local promoter who has tried to generate excitement by holding special events with different themes. Of all the different events Roy Reid has held, he said the seafood fest gained instant popularity.
Six seafood servers set up along Kongen's Gade, near the Loredon Boynes Ferry Dock. Craft vendors occupied the plaza across the street at Franklin Powell Park. Young steel pan players unloaded shiny instruments for an afternoon performance as tourists and locals browsed and mingled.
By sunset, Reid said, boatloads of guests from St. Thomas started to arrive. The crowds around each table thickened and the aroma of grilled goodies filled the air.
"Seafood would include lobster, fish, conch – just about everything. And we have a lot of seafood lovers," Reid said.
Jerry McGraw came over early from Frenchtown. Digging into a dish of lobster bisque over hot rice, he gave a quick assessment.
"It's good. It's about time they did a seafood festival here," McGraw said.
On the menu at the vendor he favored, the menu offered bisque, tilapia with red pepper sauce, salmon balls and crab and rice.
Alvis Christian from the John's Folly Learning Institute brought his team of cooks and bakers from the neighborhood south of Coral Bay. If something cultural is happening on St. John, he said, the institute team would be there.
"One of our principal banners that we stand on is culture. This is why we are participating," Christian said.
At the other serving stations, teams bustled to keep up with demand. At the back of the station, salmon burgers and fish sizzled. As night rolled in, diners migrated towards the bar tent at the foot of the bandstand where Cool Session Brass struck up the Soca.
By then, seafood lovers turned into music lovers. Dancers burned off calories in the street.
In the end, the organizers said there would have to be another seafood fest next year.
"What was great about this – remember Old Year's had the feel of the [Festival] Village when Ian Samuel did that event in a village setting. So, the seafood fest had the [Festival] Food Fair setting."
"Something fresh for the New Year, so I think we'll do this annually," he said.