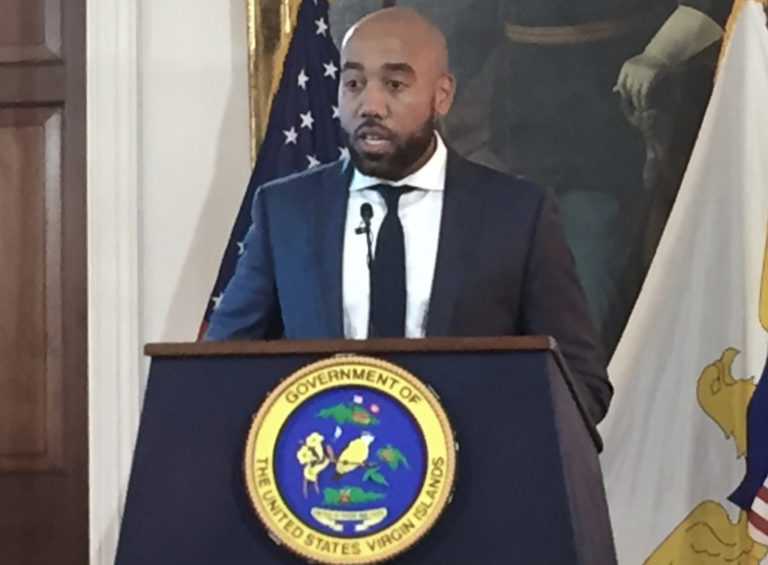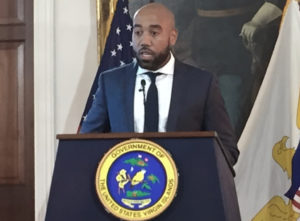 At Monday's weekly Government House briefing, Richard Motta Jr., government house director of communications, and Melody Rames, spokeswoman for the Waste Management Authority, urged residents to keep the Christmas Festival clean.
The news conference also touched on GERS and a Vitran ribbon cutting.
Motta, standing in for Gov. Albert Bryan Jr., was talking about incidents. He said, so far, the festival had been "relatively incident-free."
Rames was talking trash. She said the authority had crews cleaning the festival village every morning at 6 a.m.
"This is our home. We need to keep it clean. We need to keep the Village clean," she said.
Rames said WMA was a big supporter of the festival, making $33,000 in in-kind donations. This includes more than 100 64-gallon trash receptacles and one 20-yard bin.
She also mentioned that in 2020 the authority will spearhead an anti-littering campaign. She admitted the cash-strapped WMA does not have any money budgeted for such a campaign, but said with help from other agencies, "We will make it happen."
The Source asked Motta questions about the predicted bankruptcy of the Government Employees Retirement System. Motta said the governor was definitely against the GERS board's proposal to start cutting retirees checks by 30 percent next year. He said the governor was working on getting a variety of revenue streams into the system.
Besides the revenue-generating plan for legalized marijuana, Motta said the gasoline excise tax and income from new micro-distilleries might be sources. As for the cool reception the governor's proposal of legalized marijuana fees going to the retirement system received, Motta said the governor realizes the process and implementation will be a long process and that is why he wants to move it quickly through the Legislature. When asked whether the government had done any analysis of what the effect would be on the territory's overall economy if the system goes bankrupt and the income of more than 8,000 retirees is drastically reduced, Motta responded that the governor knows the consequences would be "dire."
Motta also invited the public to a ribbon-cutting ceremony the Department of Public Works has scheduled for 10 a.m. on Jan. 8. The ribbon-cutting is for Vitran's new operations and maintenance facility on St. Thomas, across from the Ulla Muller School.