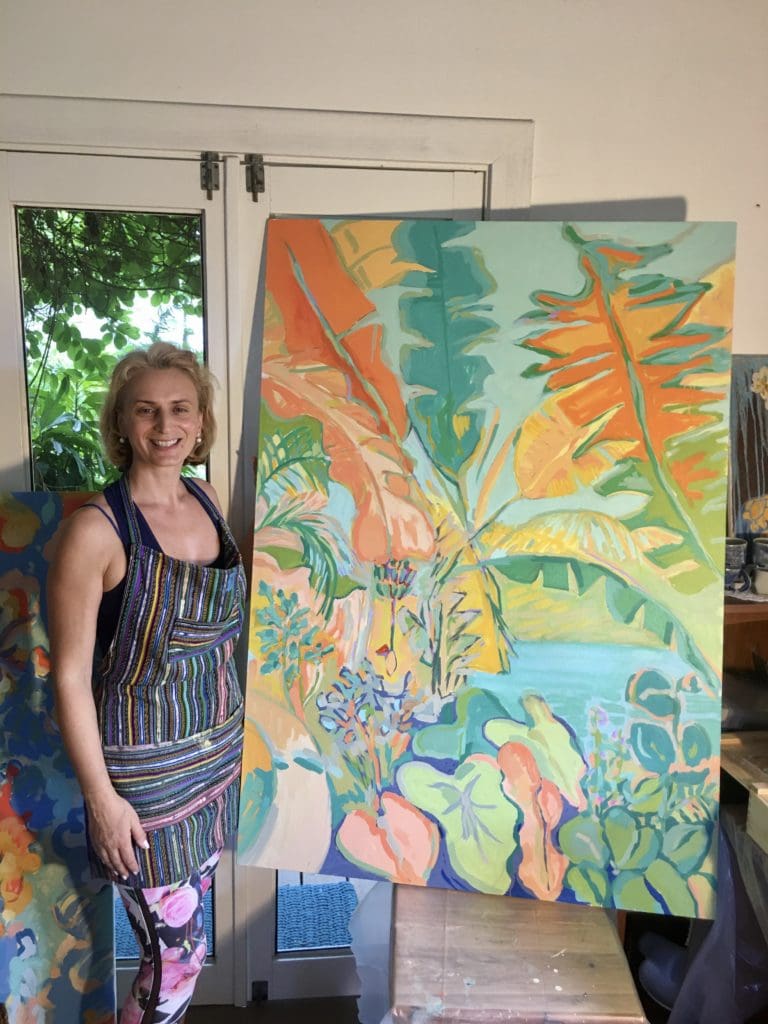 Anyone who luxuriates in colors will not want to miss the opportunity to be surrounded by a dozen of St. John-based artist Katia Moltisanti's large format paintings. For one afternoon only, Sunday, Dec. 15, Moltisanti's vibrant "Nature Abstracts" will be on display at the St. John School of the Arts.
There was a debate in the scientific community several years ago about whether or not people dream in color. (Apparently, a small percentage of people report dreaming solely in black and white.) That is not an issue for Moltisanti, who often dreams of the colors she will feature in her next painting.
When she awakens, she heads to her studio and starts to mix the pigments to match the vision that came to her in her dreams. "I like the feeling – color has so much vibration. You know, when you write a poem, you use words? I use colors," she said.
Moltisanti finds inspiration in the colors she sees from her studio overlooking Hart Bay. She begins a painting as many artists do, by making a sketch in charcoal. Recently when someone gave Moltisanti a piece of charcoal made on St. John by traditional methods, she found it particularly animating.
Moltisanti works in oils, acrylic and pastel, sometimes using techniques developed in her native country, Italy, 1,400 years ago. Although she has a signature style, she experiments with other forms of composition. One of the pieces she will be showing was inspired by the work of Willem de Kooning, whose daughter lived on St. John at one time.
Moltisanti splits her time between painting and teaching Spanish through art instruction to young children at Gifft Hill School. "The children don't think, 'I'm learning a language,'" she said. "They just follow what I'm doing, excited to do the activities."
Teaching a language through cultural activities is something Moltisanti has experience in.  Before moving to St. John three years ago, she and her sister directed Centro Raccontami, an Italian language and cultural arts school in New York City. For 13 years, she produced puppet shows, art exhibitions, concerts and other activities to teach Italian to children and adults.
Sunday's pop-up show will be enhanced by appetizers prepared by Moltisanti's husband, Giovanni, who was formerly a chef at the Westin's restaurant Knox and Ollie's, at the gallery Bajo el Sol, and several other locations in the Caribbean. Giovanni now works exclusively as a private chef.