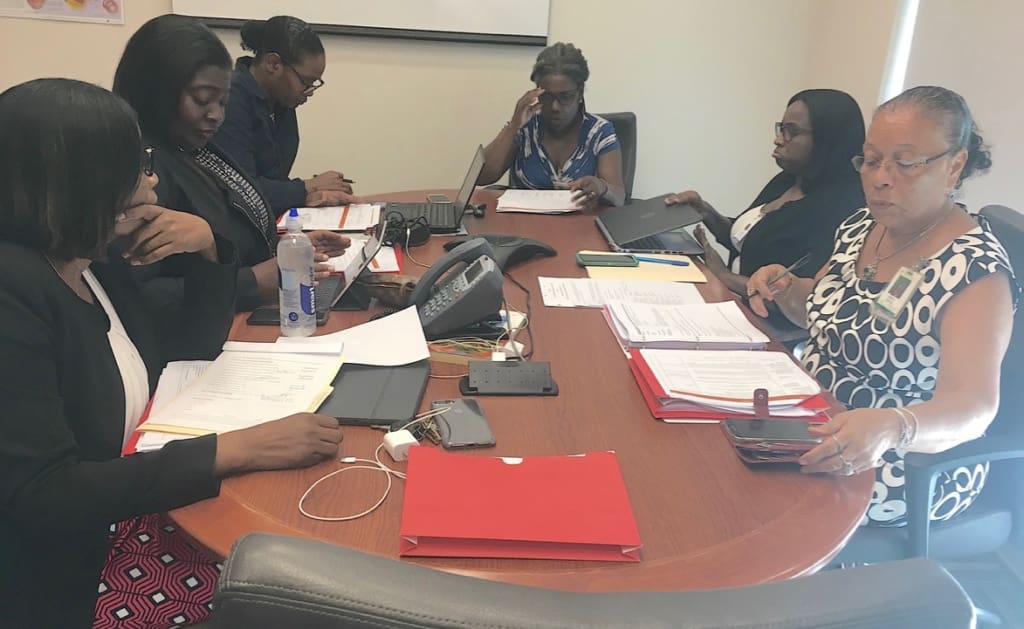 The V.I. Government Hospital and Health Facilities Corporation, which overseas the territory's hospitals, approved a request for proposals to begin repair on the Charlotte Kimelman Cancer Institute on St. Thomas. The action came during an audio conference meeting held Thursday.
The board also approved four new applications for physicians to practice at Gov. Juan F. Luis Hospital and two for Schneider Regional Medical Center.
The cancer institute was damaged during the hurricanes of 2017 and there has been no oncology service in the territory since, according to Dr. Bernard Wheatley, Schneider hospital chief executive officer.
The board voted Thursday to request proposals for drafting, architectural and engineering services for the Kimelman facility. To illustrate the need, Wheatley relayed a story of a woman who couldn't leave the island for chemotherapy and so she was forced to undergo a mastectomy to treat her cancer.
"We cannot continue to not do what we need to do to restore service to the community," he said.
The board then tabled votes to approve the Luis hospital infection control plan and to select a permanent board chair.
In other action the board:
– Voted unanimously on staff appointments recommended by the hospitals' performance improvement committees. Drs. Emily Haly, Leah Cobb, Carol Shores and David Bogolub were approved for initial appointment of medical staff privileges for one year at the St. Croix hospital and Dr. James Ronayne and Judith Jaggers, certified family nurse practitioner, were approved for St. Thomas.
– Approved recertification for two years of staff privileges to Drs. Luis Amaro, Horace Griffith, Catherine Kean, Beverly Randall, David Merrifield, certified surgical assistant, and Dionne Simmonds, behavioral health clinician.
– Acting chairman Kirk Callwood directed Wheatley to read the Schneider hospital's annual report and after several minutes asked him to abbreviate the report to highlights. Although it was hard to hear Wheatley clearly, he said it has been difficult to repair the hospital because of settlement procedures. However, 80 percent of the beds lost during the hurricanes have been restored and a new hot water system has been installed, he added.
Overall, income for the year was $5 million more than expected, he said.
Dyma Williams, acting chief executive officer of Luis hospital, was directed to summarize the annual report for the St. Croix hospital. After a few sentences, she was interrupted by Jenifer O'Neal, V.I. finance director and board treasurer, who said her report didn't sound like an annual report but a current status report.
Before Williams asked acting chief financial officer Shenel Moorehead to take over and provide a financial report, she said the temporary hospital opening would be delayed past May 2020, but that it is 80 percent complete. She didn't give a reason for the delay. Plumbing issues continue to plague the first floor of the hospital, she said.
"They continue to be responded to on a daily basis," she said.
Moorehead's report also was difficult to hear clearly over the phone. She said the gross patient revenue for 2019 increased almost 20 percent. In spite of receiving almost $20 million in government appropriations and $4 million more than expected from the federal government, the hospital was still underfunded. She said payments have been made to the Bureau of Internal Revenue, Government Employees Retirement System and Labor Department, but money is still owed to those agencies. She said they are throwing away money on capital improvements waiting for the new hospital.
"The delay in JFL's opening will reduce revenue generators," she pointed out.
The meeting ended in executive session to discuss personnel matters.
Board members present on the call were: Callwood, O'Neal, treasurer, Justa Encarnacion, secretary, Dr. Olivine Anne Treasure, secretary, Christoper Finch, Faye John-Baptiste, Dr. Sydney Comissiong.