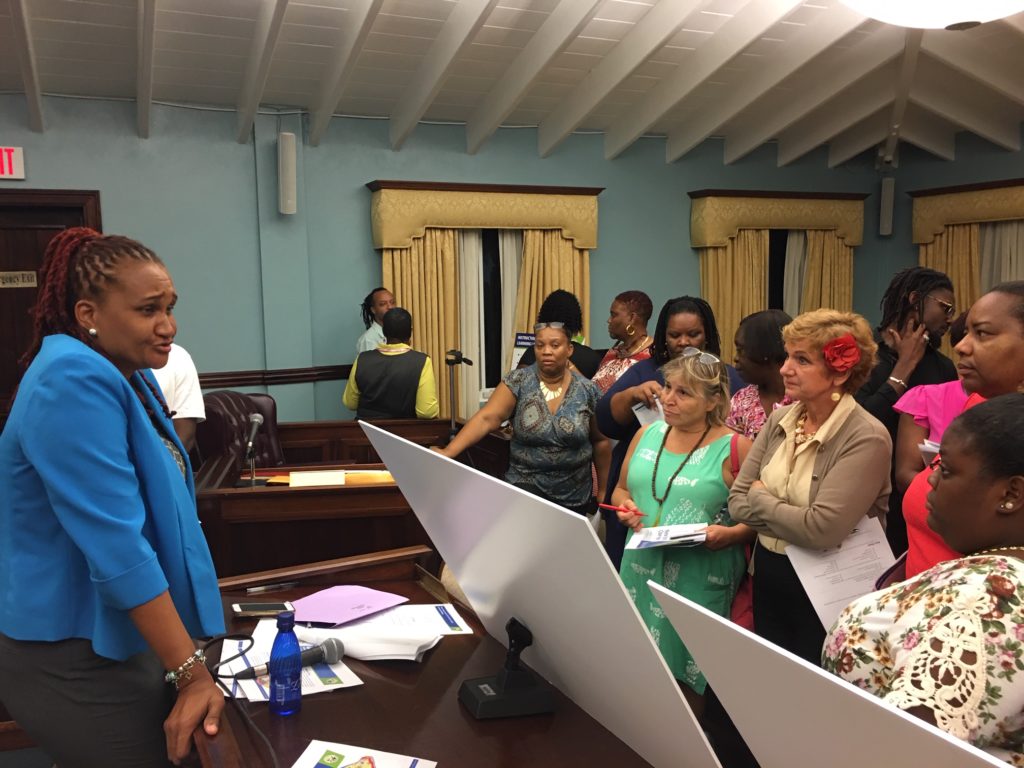 The crowd that gathered on St. John Wednesday evening to discuss plans for the construction of a new school differed on what grades it should serve and the kinds of programs it should offer, but there was one area of consensus: the school should be relocated to property now owned by the Virgin Islands National Park in Estate Catherineberg.
The town meeting held at the V.I. Legislative Annex in Cruz Bay Wednesday was the first of seven open houses in October hosted by the Department of Education's Office of New School Construction. The meetings' purpose is to present the process and timeline for repairing and rebuilding the territory's 45 public school facilities.
Dionne Wells-Hedrington, who now serves as the initiative's chief operations officer, hosted Wednesday's meeting that was packed with present and former educators, parents, and community activists.
A former teacher and principal on St. John, Wells-Hedrington was the superintendent for the St. Thomas-St. John District during the Mapp administration when Hurricane Irma destroyed much of Julius E. Sprauve School.
Following the controversial decision to replace lost classrooms with temporary modular units on the adjacent community ball field, Wells-Hedrington took part of the heat.
"It's no secret that I was a part of the former administration. We got a lot of flak — from you," she told the crowd. "This is why we're here to get your feedback now about what you want to see."
Wells-Hedrington said the Department of Education has until March 20, 2020, to develop an overall plan to determine whether each school can be repaired, replaced or combined with another facility.
The territory has requested that the Sprauve school be rebuilt, FEMA officials confirmed.
According to the timeline, by 2023, smaller repair projects should be completed, and by 2024, newly constructed schools should open.
Building a new school on St. John might not fit well into that timeframe because the community generally agrees the school should move from its present location. The school is currently situated in a congested area surrounded by bars and an alleged crack house.
A new location, which has been under discussion for nearly 20 years, has been identified in Estate Catherineberg, about three miles up Centerline Road.
"We're in negotiation with the Virgin Islands National Park for the same plot," said Wells-Hedrington, who served on a committee 20 years ago that completed a design for the parcel. "We will not use that design [because it is outdated]. Once the deal is completed, we can begin that design."
The 10-acre property is now part of the Virgin Islands National Park. It was donated by the Bishop family years after the VINP boundaries were established. VINP Superintendent Nigel Fields said National Park boundaries are set by Congress and cannot be altered, but because this parcel became part of the park after the boundaries were set, "we can have this conversation."
"The National Park Service sees a great possibility in working with the Government of the Virgin Islands on a land exchange which is the legal mechanism available to us," Fields said. "Education is a core part of the NPS mission, so what better place to have USVI students growing and learning than surrounded by the treasures of their home territory's premier national park? It's an exciting prospect."
The parcel is relatively flat and is located near some of the most evocative sugar mill ruins within the VINP.
Wells-Hedrington said one of the challenges the territory faces is the absence of an established building code for schools. "We've never had standards to drive construction. FEMA wanted us to adopt Puerto Rico's standards, but they are too vague," she said. FEMA did not approve the standards that the territory recently proposed, but Wells-Hedrington said, "We're not going to stop until we get a code approved."
Wells-Hedrington introduced Chaneel Callwood, a 1984 graduate of Charlotte Amalie High School who is now an architect working with an advisory board to develop the Educational Facilities Master Plan.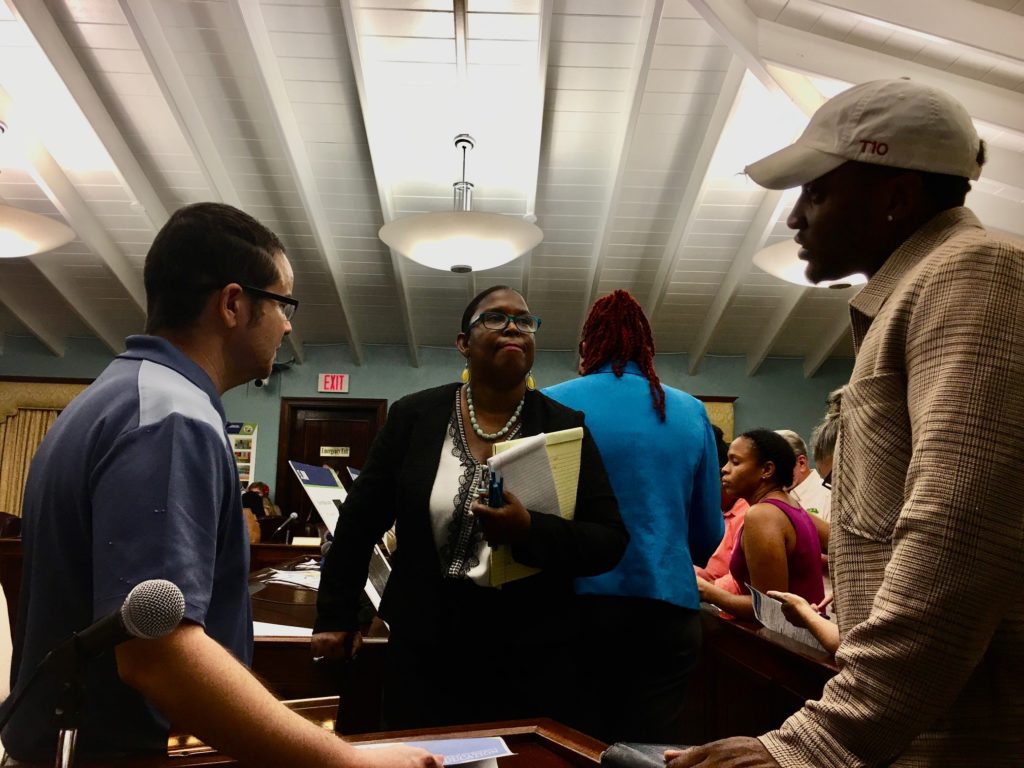 "We're now looking at building codes at other states," Callwood said. Designing facilities that have a "manageable footprint" and promoting equity and quality learning environments are priorities.
Following the presentations, meeting attendants broke into smaller groups to discuss issues, including what age groups the school should serve. Sprauve currently serves grades K-8, but some residents want to see it extended through grade 12 so students don't have to cross the Pillsbury Sound by ferry to attend high school.
Others, like Enid Doway, said children benefit from being part of a larger school community. When she was a student in the 1980s, she chose to attend Charlotte Amalie High School because it offered more choices in vocational education than the closer Ivanna Eudora Kean High School.
Many of the parents and teachers who attended the meeting were in favor of a new St. John school offering training in the construction trades. Kurt Marsh, a former vocational education teacher on St. John, said the school should be designed so that students can receive instruction in future technologies.
Abigail Hendricks said she wanted the school to be a magnet school with a focus that attracts students from St. Thomas. She also said more challenging college prep classes should be offered.
Meeting attendants agreed on two things: the school should be designed to be energy independent and security should be a major priority.
Wells-Hedrington said another meeting will be held on St. John in March to discuss these proposals in more detail. She urged those that attended the meeting to bring "your spouse, your spice, your neighbors" to made sure that the entire community is represented.