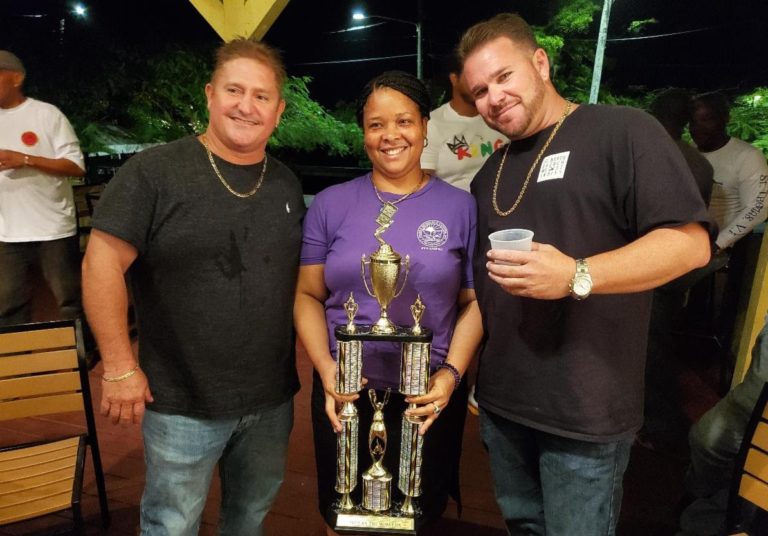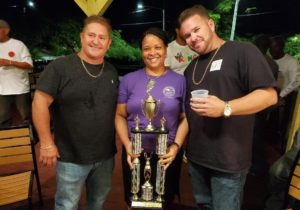 Family Resource Center is a private, non-profit agency whose mission is to end family violence in the U.S. Virgin Islands. Part of the execution of that mission is to organize events and opportunities to engage the public and bring awareness to issues such as domestic violence, child abuse and sexual assault.
The St. Thomas Domino League was one such series of events that also allowed for the agency to raise over $1,200. Eight teams of two signed up for the 10-week long league, which took place at "Sib's on the Mountain" every Tuesday evening.
After weeks of league play, it all came down to the nail-biting championship match between Danny and Frank LaPlace and team A.K.V., which was represented by Kurt and Vincent Treasure. The teams were tied up with two games each before Frank LaPlace dropped the last domino with a thunderous finish. The teams shook hands, and Danny and Frank LaPlace were presented with the first ever St. Thomas Domino League championship trophy.
Family Resource Center thanks its sponsors: Cardow Jewelers, Presdidente and Stoli, as well as the host, "Sib's on the Mountain," for helping to make this first domino league a success. Family Resource Center looks forward to organizing another league in the near future.
In the meantime, it encourages the public to join it for the many events it has planned throughout the month of October, which is Domestic Violence Awareness Month. RSVP to Family Resource Center events on Facebook.