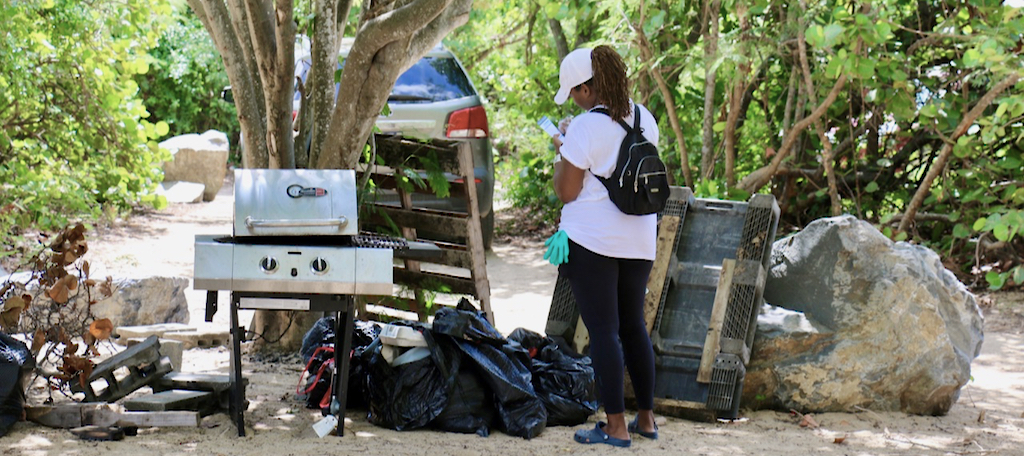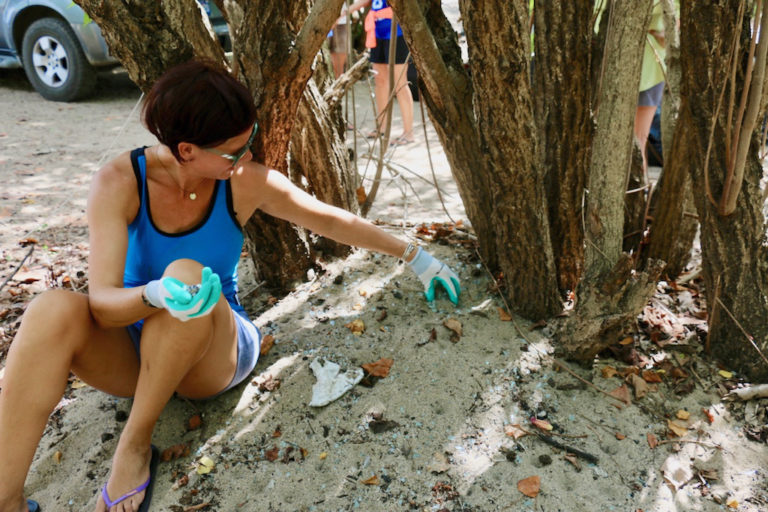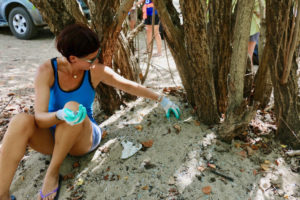 Volunteers flocked to the beaches Saturday on St. Thomas and St. Croix for the beginning of Coast Weeks, drawing a record-busting number at Brewers Bay on St. Thomas and producing mounds of trash and debris from the sands.
"We had 185 volunteers show up, our best turnout yet," said Howard Forbes Jr., of the Virgin Islands Marine Advisory Service, describing the turnout on St. Thomas.
According to Forbes, that number more than doubled the 2018 opening day turnout on St. Thomas of 83. A record 219-pounds of trash was collected and weighed by volunteers in a three hour period, with larger materials yet to be officially tallied by press time.
"We approximate the construction waste will weigh between 50 and 100 pounds," Forbes said.
On St. Croix, while the turnout was smaller, the results were also impressive.
According to Jen Valiulis, acting executive director and environmental education coordinator for St. Croix Environmental Association, which sponsored the event at St. Croix's Southgate beach, 27 adults and 12 children took part. The most unusual items collected were a speaker box and a boat mast. The most numerous were 185 plastic bottles, 247 glass bottles, 170 beverage cans and 203 food wrappers.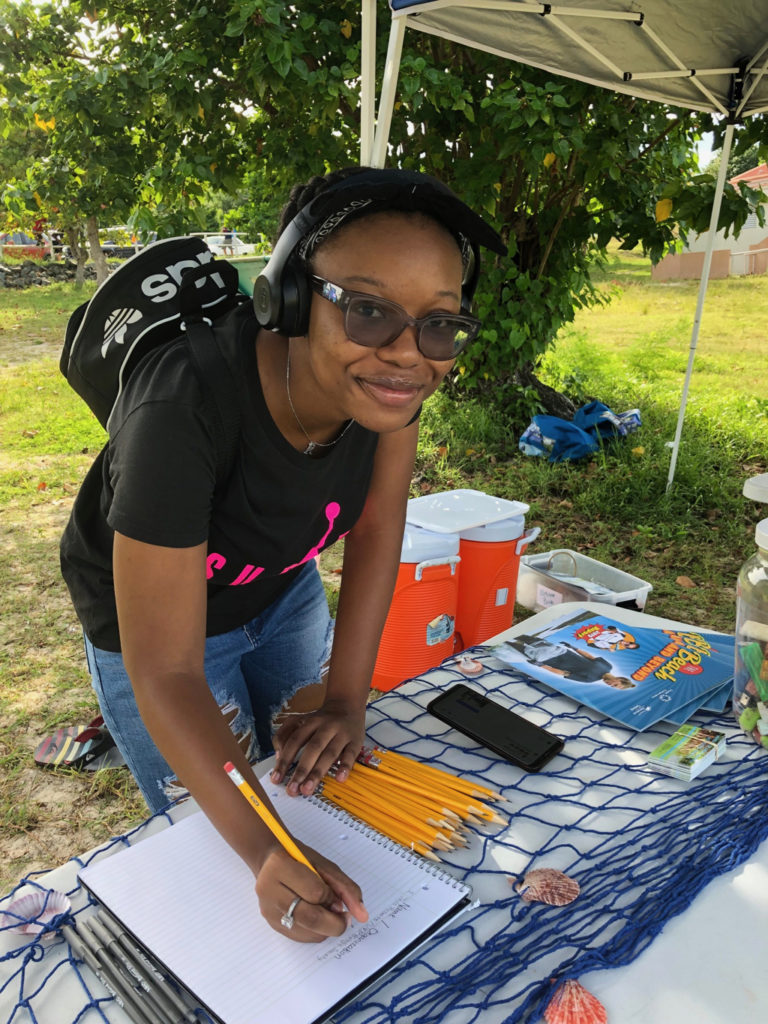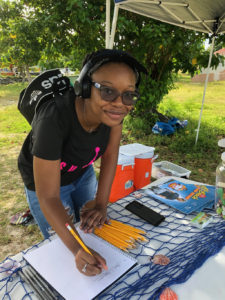 The international Coastal Clean up, now over 30 years old, is an initiative of The Ocean Conservancy. International figures will be available in the weeks to come by going to the Ocean Conservancy website.
According to the site, "More than one million volunteers heard our call and headed to their local beach, river or lake; rolled up their sleeves; and picked up trash – approximately 23 million pounds of it in just one day."
At Southgate, volunteers, counted, bagged and loaded the trash onto pickup trucks for transport to the Peter's Rest Convenience Center for disposal. People worked along the beach, along the road and into the bush to make the Southgate beach clean and ready for the SEA Snorkel Clinic that immediately followed the cleanup.
Debris items commonly found on St. Thomas included plastic beverage bottles, plastic and metal bottle caps, food wrappers, and cigarette butts. According to Forbes, a record number of 1,318 metal bottle caps was removed Saturday, along with 733 cigarette butts.
For the last six years, Forbes has been ably assisted at events by Jarvon Stout, community engagement specialist for St. Thomas/St. John District for VI-EPSCoR — the Virgin Islands Established Program to Stimulate Competitive Research.
Early Saturday morning, Forbes and Stout prepared welcome areas for sign in as well as displays of appropriate gear such as protective gloves, collection buckets, and tally sheets to record descriptions of waste prior to disposal.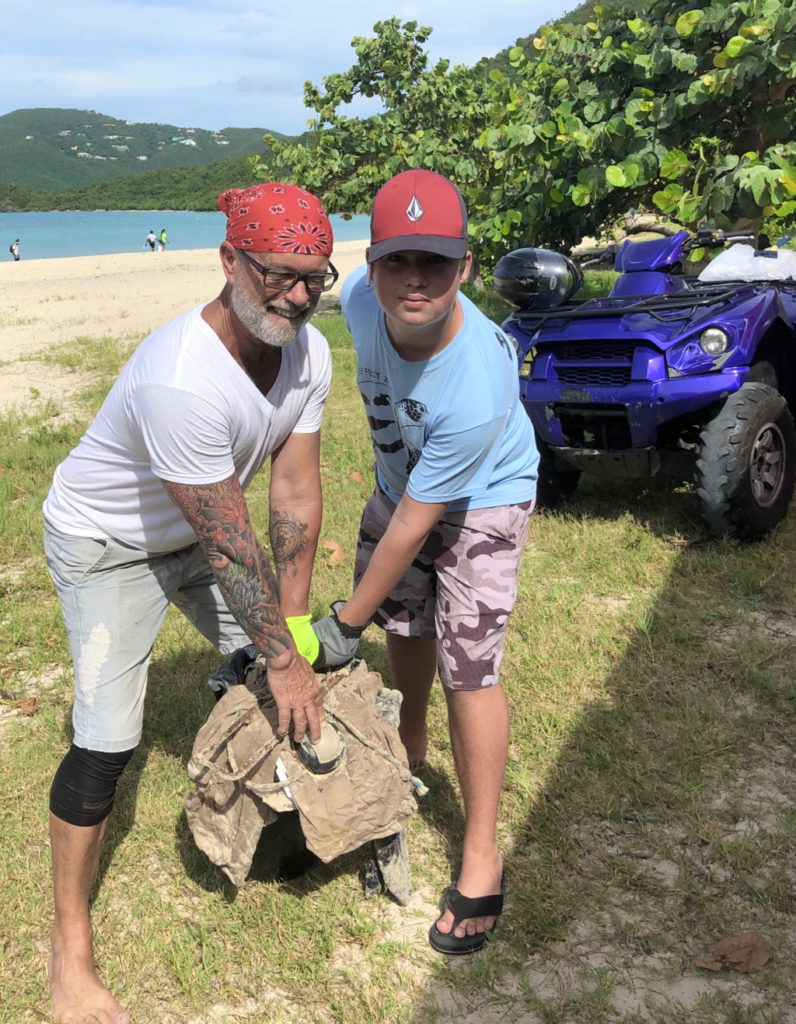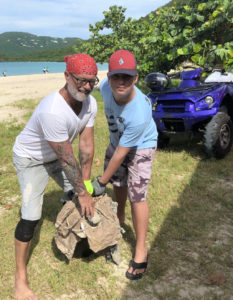 Kitty Edwards, education and outreach coordinator for the Department of Planning and Natural Resources' Coastal Zone Management Division, set up the official weigh-in station. She said every cleanup is outfitted with an on-site dumpster.
According to materials provided by that organization: "Ocean and waterway trash ranks as one of the most serious pollution problems choking our planet. Far more than an eyesore, a rising tide of marine debris threatens human health, wildlife, communities and economies around the world. The ocean faces many challenges, but trash should not be one of them. Ocean trash is entirely preventable, and data you collect are part of the solution."
On St. Thomas, Jada Roberts was first in line to participate in Saturday's effort. Roberts is a UVI junior. Within minutes, a steady line of volunteers began flowing. Volunteers ranged from families with young children to groups of high school and college students, to members of non-profit organizations, and individuals from all walks of life. One element each participant seemed to share was enthusiasm for the cause.
Aided by several family members, the father and son team of Alexey and Mikhail Dubovoy hauled in impressive amounts of construction debris waste. With a chuckle, Mikhail commented, "I think we found practically a whole convenience store."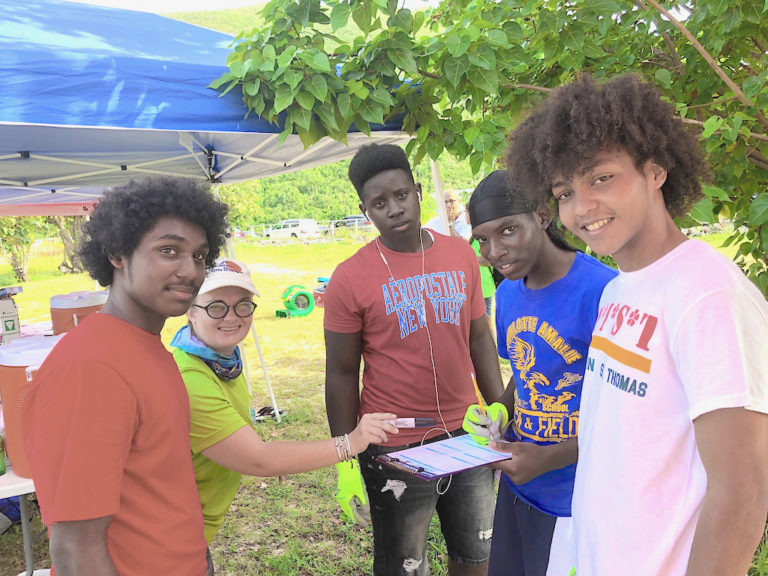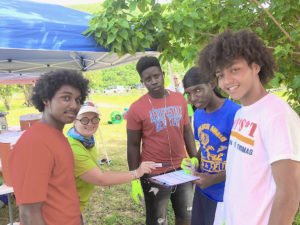 Coca Cola typically participates in cleanups on a national basis, but Saturday marked the beverage distributor's first local engagement. Early in the morning, staffers made a visual splash, arriving in bright red logo shirts to set up tents and stock ice-filled barrels with cases of complimentary Powerade sports drinks, Dasani purified water and Glaceau Smartwater.
Not everyone in the territory can join in these cleanups, Forbes acknowledged, but they can take part in another way, he said.
"We are encouraging the Virgin Islands community to make a commitment pledge to help reduce their plastic footprint. Even if you are not able to attend a cleanup event, you can still do your part by making a pledge to remove simple single-use plastics from your life such as straws or bags," he said. Those interested can take the pledge online.
The next Coast Weeks team effort on St. Thomas effort will take place from 9 a.m. to noon Sunday, September 29 at Coki Point. An underwater diving cleanup will also be facilitated during this event. Clean-ups also are scheduled for October 5 at Red Hook Salt Pond; October 12 in Frenchtown and October 13 at Bolongo Bay.
In addition, Kitty Edwards will host hour-long "pop-up clean-ups" at 10 a.m. daily from Oct. 1 through 7 in downtown Charlotte Amalie.
Additional information is available by calling Forbes either by phone, at 340-693-1672, email at howard.forbes@live.uvi.edu or online at vimas.uvi.edu.