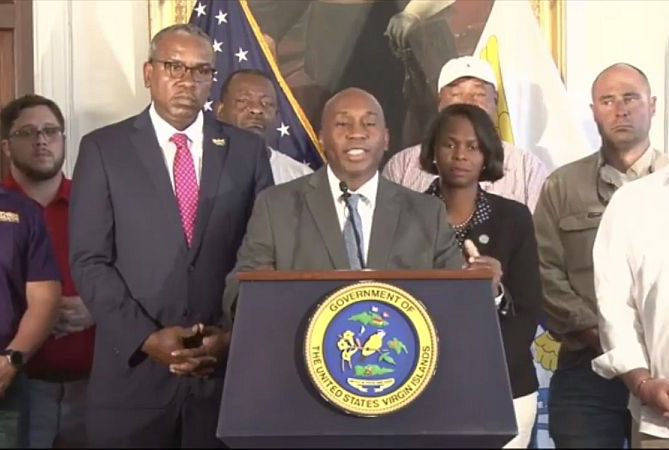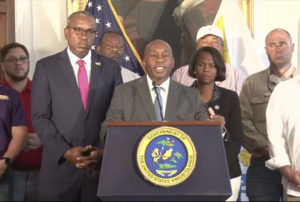 A repair program launched by the V.I. Housing Finance Authority is meant to help the more than 1,400 residents who have been living under blue roofs since 2017's twin hurricanes, while a separate rental rehab program will help pair landlords with tenants looking for low to moderate incoming housing options, Gov. Albert Bryan, Jr. said Wednesday.
Speaking about his observations after Hurricane Hugo in 1989, along with Irma and Maria in 2017, Bryan said that while destructive weather occurrences can happen overnight, recovery takes years.
"I have experienced how long it takes for recoveries to happen," he said. "Thirty years after Hugo, many would argue that St. Croix still hasn't gotten back to where it was. We still don't have the hotel rooms we used to have, the airlift, cruise ships or vibrant economy that we had in 1989."
Plus, after the recent brush with Hurricane Dorian and Tropical Storm Jerry churning towards the territory, Bryan said he understands how "every single household" in the territory is now "tense with anxiety."
But the HFA's new EnVision Tomorrow Recovery program is meant to eliminate that, he added later. Using federal Community Development Block Grant funding, participants can receive a grant of as much as $250,000 to complete their repairs. And while there are restrictions, the program is more flexible than the previous Emergency Home Repairs initiative and there is funding available to pay the contractors on time.
Further, HFA has already reached out to those residents who didn't qualify before or get their house repaired as expected, said HFA Executive Director Daryl Griffith. Emergency Home Repairs completed approximately 1,648 homes during their time in the territory, but some were "too damaged," and messages were sent to the more than 1,400 remaining residents who are still living under tarps, Griffith explained.
A request for qualifications was sent out in an attempt to vet the contractors and all those signed up at this point to do the work are licensed in the territory and have experience working with the design of local homes, he added. Contractors can still apply online at vihfa.gov or usviodr.com, or in person at Housing Finance Authority offices on St. Thomas and St. Croix.
Responding to questions about the restrictions for homeowners interested in participating, Griffith explained that proof of ownership is required – and the home has to be a primary residence – and there is a limit on household income that the agency is working to increase. Griffith said the government has asked HUD for permission to use the income limits for St. John, which is, on average, higher than the other two islands.
"It could be that the average income for a family on St. Croix is about $35,000. On St. John it is about $60,000," Griffith said. The government has already spoken with HUD and is expecting a "positive" answer with the next few days, he added.
Additionally, the EnVision program will only pay the difference between what a homeowner may receive from their insurance agency and the estimated cost of repairs.
The next step for residents is to apply if they haven't already, and once that happens, HFA will be in touch to schedule a meeting between the homeowner and contractor, who then has to complete a scope of work. The process won't be done overnight, but HFA is in it for the long haul, Griffith said.
"We will be with you every step of the way to make sure every Virgin Islander has a safe place to lay their heads," he added. Funding slated for the program is $60 million, but Griffith added Wednesday that he has asked Bryan to increase it to $200 million.
To apply, residents can go online to www.vistormrecovery.com or call (888) 239-3387.