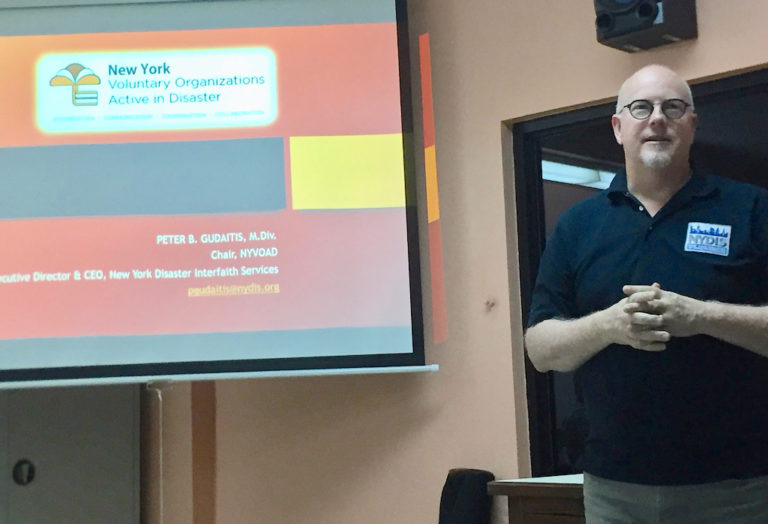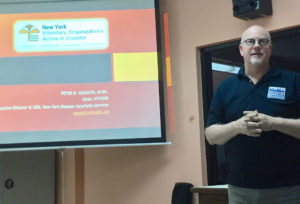 "Recovery is a slog – long term hard work," Peter Gudiatis said Monday afternoon at a town hall meeting of the St. Croix Long Term Recovery Group.
"Two years have been painful, but I want to tell you it's going to be years – six or seven years," he warned, before everyone is safe and sheltered.
Gudiatis is the executive director and chief operating officer of the New York Disaster Interfaith Services, chair of the New York Voluntary Organizations Active in Disaster and president of the National Disaster Interfaith Network.
With the passing of Hurricane Dorian's "shock and awe" over St. Thomas, some residents were left homeless for the second time, because all repairs have not been made.
Full recovery and rebuilding should not be expected after two years, he said.
Gudiatis said it is very important that the territory re-form the Voluntary Organizations Active in Disaster as soon as possible. In the past, there was a V.I. VOAD, but according to Gudiatis, all of the leaders were off-island during the 2017 storms, and the group disintegrated.
To deal with the next storm, records need to be kept of what has worked well during this recovery and what hasn't. When a new project is started, it should be written down – step by step, he said. Volunteer leaders can pass valuable information to their successors, but some may burn out after a long recovery and rebuilding process. Then procedures and processes are lost unless everything has been documented.
On Monday, he announced that Jay Rollins, director of the St. Croix Recovery Group, will be the new acting VOAD director.
"Sustaining and retaining leadership is the purpose of VOAD," Gudiatis said.
Volunteer Organizations Active in Disaster is a volunteer collection of local, state and national relief agencies – government, non-profit and private sector. The Virgin Islands should have an organization on three islands (called COADs), he said, because they can work together for larger donations.
The Center for Disaster Philanthropy is a fairly new organization that helps recovery groups develop. National and local organizations and agencies, such as FEMA and U.S. Housing and Urban Development, can be petitioned to fund the work of the organization.
It is important for all members/organizations of VOAD to know what to do in advance of a disaster, Gudiatis stressed.
In the 44 years of its existence, VOAD has grown to 100 members following the core principles of cooperation, communication, coordination and collaboration. VOADs use best practices and standards to help people after disasters and do not always agree with the government's plans, he said. Their work is "in the best interest of the clients."
The VOAD director also serves on several boards including the New York State Puerto Rico Recovery and Reconstruction Committee. Almost 7,000 Puerto Ricans relocated to New York after Hurricane Maria along with 18 Virgin Islanders. He was appointed by Gov. Andrew Cuomo.
Gudiatis has worked relief efforts for disasters such as 9/11 and Hurricanes Katrina and Sandy. He has just finished working 9/11 cases and said they are still rebuilding homes for Hurricane Sandy victims.
"If VOAD hadn't been in place, we would not have had the mechanisms to cope," he said.