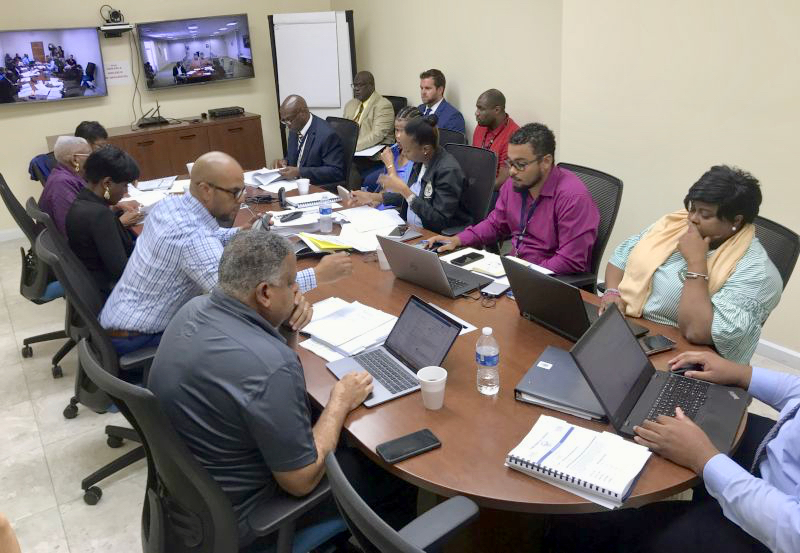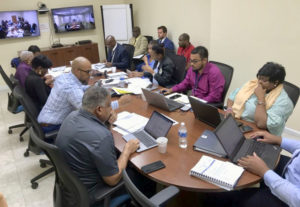 Contracts for training, operations management services, gutter cleaning and cutting approved Friday by the V.I. Port Authority Board will help bring the Cyril E. King Airport into compliance with federal regulations, officials said.
At VIPA's meeting on St. Thomas, the board authorized Executive Director Carlton Dowe to negotiate and enter into a three-month contract with Hanson Professional Services, Inc. to provide airport operations management services required by the Federal Aviation Administration and provide training for staff at St. Croix's Henry E. Rohlsen Airport.
The FAA levied the Port Authority with fines in January after an inspection pushed VIPA to consider structural changes in its operations, along with the purchase of equipment and addition of personnel, among other things. At the time, VIPA acting Executive Director Damian Cartwright said a settlement agreement had been drafted for review, which would eventually come to the board for approval after being approved by the FAA.
Discussions at a VIPA meeting in July, however, painted a more dire picture, with Dowe presenting his staff's recommendation for public exigency after emerging with the board from an hours long executive session.
According to the recommendation, the Port had to:
– Demonstrate by Wednesday, July 24, that it had obtained management personnel acceptable to the FAA, to oversee St. Thomas operations, and continue to maintain qualified personnel,
– Establish an FAA-approved correction plan by Aug. 19, and
– Complete all actions in the plan on a timely basis.
At the time, Dowe said the FAA made its intent clear on July 19, citing the need for "timely remedial action" that was based on "inspection results since at least 2016 and VIPA's continued failure to meet certain federal requirements at the airports." Failure to complete and adhere to an FAA-approved action plan could result in the suspension of the airport's operating certificate, Dowe said in July.
Friday, the board took extra steps by approving a $188,250 change order for Lemartec – the contractor in charge of repairs to VIPA's hurricane damaged facilities – to replace all corroded internal roof gutters and downspouts at the CEKA terminal. The project wasn't included in the company's original contract, board members said.
The board also awarded a $135,000 contract to SSVI Expert and Excavation and Builders, LLC to cut and clean the north gutter of the CEKA runway. The contract includes the removal and legal disposal of all vegetation, along with the installation of a weed barrier.
The board also:
– Authorized staff to extend BDO USA, LLP's contract for audit services for two years to include audit services for fiscal years 2019 and 2020 at a cost of $230,300 per year,
– Approved an approximately $1 million negotiated settlement agreement with Limetree Bay Terminals for accrued demurrage and security charges for equipment stored at the Gordon A. Finch Molasses Pier,
– Approved a three-year lease for Activities Information Center, Inc. at the Red Hook ferry terminal to conduct marketing and advertising; the lease is for $9,000 per year,
– Approved the renewal of DHL's lease for space at the former HERA Airpark for non-exclusive cargo and warehousing activities to conduct express courier services at a rate of $31,704 per year,
– Approved a three-year lease for Priority RoRo Services for 36,000 square feet of land at the Wilfred "Bomba" Allick Port and Transshipment Center to stage trailers and other equipment at a rate of $30,600 per year,
– Awarded a five-year extension of the maintenance contract with G4S in the amount of $682,777; the contract covers maintenance for the access control system at both of the territory's airports,
– Awarded a contract not to exceed $192,798 to Quantum Vision Construction, LLC, to repair the access road at the Wilfred "Bomba" Allick Port and Transshipment Center on St. Croix,
– Approved a $253,649 task order for Lemartec to provide all labor and materials for the interior finishes of the HERA Air Traffic Control Tower,
– Approved spending $420,015 for Subbase Dry Dock to overhaul the Claude Berry II Pilot Boat that services vessels in the St. Croix district, and
– Authorized Dowe to continue negotiations to acquire the former Addelita Cancryn Junior High School property on St. Thomas.