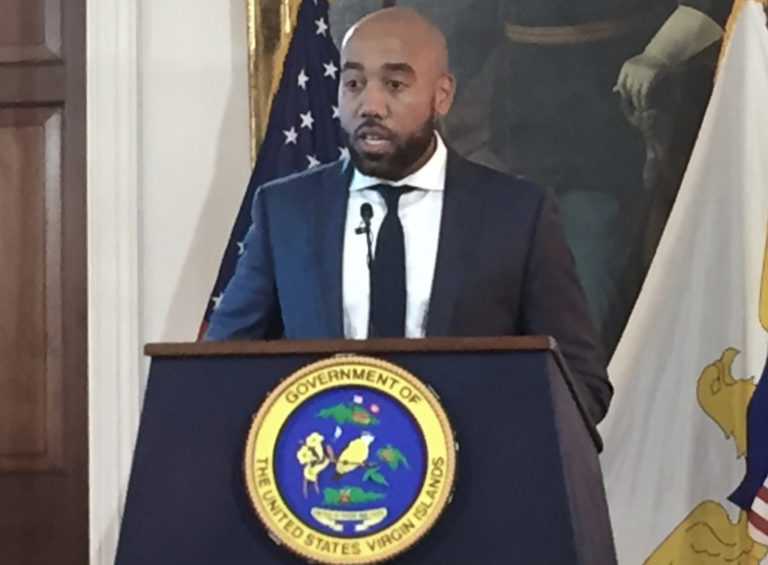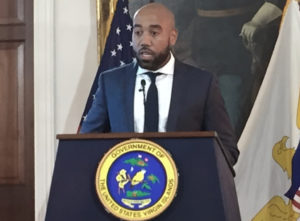 The governor is continuing to press HUD to release desperately needed hurricane recovery funds, Richard Motta, director of communications for Gov. Albert Bryan Jr., reported Monday during a news conference at Government House on St. Croix.
The federal government recently announced that funds for the Virgin Islands and Puerto Rico would be delayed – Puerto Rico due to so much turmoil on the island and years of the government's poorly managed financial matters.
The V.I. recovery funds are delayed because the territory lacks "capacity" – the experience of managing millions and millions of dollars. Motta said the government is building capacity by forming plans and procedures for grant monies.
Daryl Griffith, executive director of the Housing Finance Authority, explained that the federal funds are being dispersed in three tranches. The first $242 million is available for use now, and the action plan for the second tranche of $779 million is being reviewed by HUD. He said the second tranche will be available with the governor's signature.
The third tranche remains the one in question, and, by Sept. 4, HUD will announce a deadline to register and submit an action plan.
"Right now, no one in Florida, Texas, Louisiana or California has received the federal registry notice," Griffith said, adding that, as soon as it is announced, the action plan will be submitted to the federal government.
Griffith also talked about the Envision Tomorrow program, being administered by Housing Finance. Of the 2,000 homes still wearing blue tarps, 1,249 homeowners have applied for federal assistance through the Envision Tomorrow program. There are about 3,000 rental properties still covered by FEMA tarps, he added.
More than 1,000 homeowners applied for immediate help through Housing Finance after the storms but did not qualify for initial recovery funds. About 95 percent of those residents were added to the Envision Tomorrow list, Griffith said. The application process has moved along, and the next step will be home inspections as contractors are lined up.
So far, 29 on-island contractors have qualified to rebuild homes under the CBDG funded Envision program. The program needs a total of 100 construction managers who can obtain V.I. business licenses.
Other information provided during Monday's news conference included:
– The breakdown of a U.S. Department of Interior $1.2 million grant that provides $300,000 to the Agriculture Department for repairing equipment and $600,000 for the Gov. Juan Luis Hospital and the Schneider Regional Medical Center for hazardous waste removal. The Coastal Zone Management under Planning and Natural Resources will receive the rest to study coral disease and invasive species. There is also $10,000 to fund AmeriCorps/ VISTA training for the St. Croix Foundation.
– According to Motta, Gov. Bryan has approved $27.4 million to fund step increases, initiated by Gov. Kenneth Mapp. So far, VITEMA, Fire Services and the Police Department have already received their raises.
– Griffith talked about several partnerships to repair the Water and Power Authority's Richmond Power Plant, repair Tutu Hi-Rise apartments and funding for an Economic Development Authority program – Vision 2040.
Editor's Note: This has been updated to reflect that it is HUD money, not FEMA money, that is delayed. Government House officials erroneously referred to FEMA funding at the press conference. Also, it is 29 on-island contractors, not off-island.