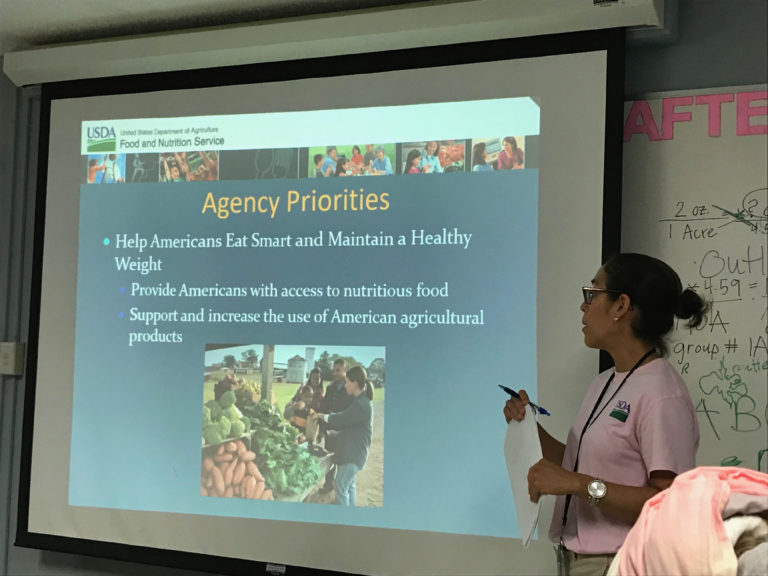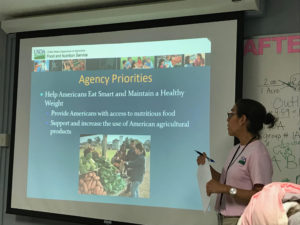 Joni Garcia of the U.S. Department of Agriculture urged farmers to "tap into the opportunity to build business" before outlining how Virgin Islands farmers can become eligible to receive SNAP payments.
SNAP, the Supplemental Nutrition Assistance Program, is a federal nutrition program that helps recipients stretch their budgets to buy healthy food. Formerly referred to as food stamps, SNAP benefits are received each month through an EBT (electronic benefits transfer) card, which works like a debit card.
The EBT sign-up and information event was held on Tuesday evening at the University of the Virgin Islands CELL Building to teach farmers more about the program and to take part in an expedited registration process. The national average for SNAP money spent at farmers markets is .03 percent of its total benefits, and if Virgin Islanders spent the national average, $216,000 would go to farmers per month or nearly $2.6 million per year. Out of approximately 300 V.I. farmers, only five are signed up to receive payments through SNAP.
More than 25 farmers attended Tuesday's event to learn more about how to register for eligibility. Once farmers are approved and receive the machine to process cards, they can tap into the market that Garcia noted at the beginning of her presentation.
Notably, the Department of Agriculture conducted a survey with an incentive program that offered benefits to persons who purchased food at farmers markets. Those incentives led to a 74 to 94 percent increase in consumption of fruit and vegetables in the households that participated, while simultaneously generating $1.80 for every dollar spent.
According to the Department of Agriculture, farmers should accept SNAP because, "as an authorized SNAP retailer, you will increase your customer base, see increased economic benefits for you and your communities, and provide healthy and nutritious options for SNAP recipients." In the territory, SNAP recipients spend approximately $7.2 million per month, but in the fiscal year of 2017, V.I. farmers only received $11,820.
The Department of Human Services has partnered with the Department of Agriculture and  has applied for a grant that would waive fees ($45 per month and 15 cents per transaction) to make using the EBT machine free of charge. Farmers can register online for the EBT machine here, which generally takes 30-45 days to hear back about approval.
Once authorized, businesses will receive a packet of information that includes rules and regulations. Businesses are authorized for five years as long as they report any changes to operations (location, phone number, etc.). After five years, they will go through a re-authorization process.
The Economic Development Authority also gave a presentation on a loan that allows farmers and fishermen to receive up to $50,000 to be paid back in five years with 4 percent interest.