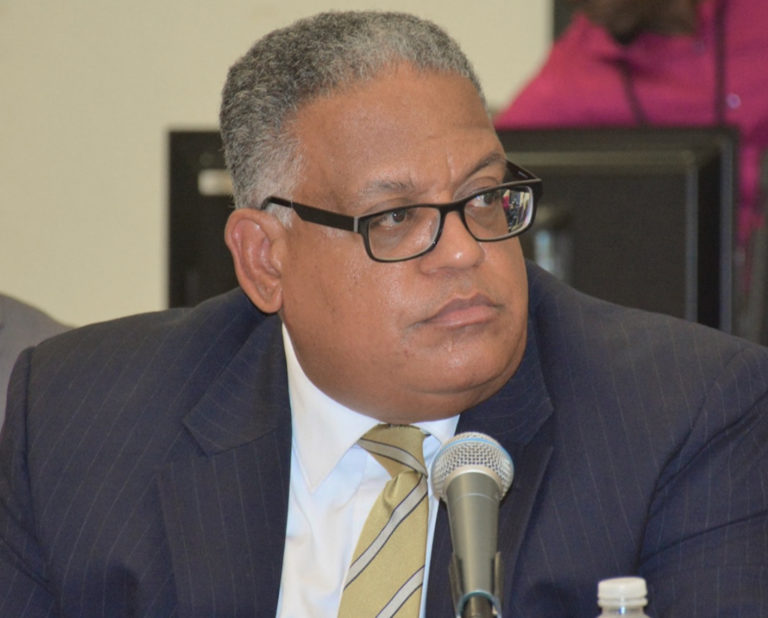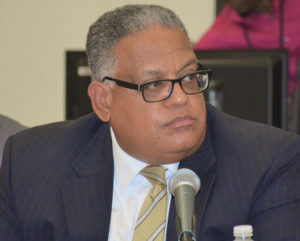 The U.S. Virgin Islands is making a slow but steady recovery from the 2017 storms, according to Tourism Commissioner Joseph Boschulte, with strong cruise ship activity and new direct flight services offsetting the impact of hotels under renovation. But hurdles such as a lack of berths for increasingly larger cruise ships impede faster recovery in that segment of the tourism industry.
Boschulte made the remarks during a Senate Finance Committee hearing Thursday held at the University of the Virgin Islands Great Hall on St. Croix. Boschulte and a team of Tourism officials defended the agency's budget.
"We are buoyed by the rapid rebound of the cruise sector," Boschulte said, presenting projections of some 990,000 cruise ship passengers for the year for the West Indian Company, roughly 500,000 for Crown Bay Marina, and between 30,000 to 40,000 for St. Croix.
Sen. Donna Frett-Gregory (D-STT) noted, however, that these figures would bring the cruise ship numbers back to pre-hurricane levels of 1.5 million passengers, not even close to numbers in prior years that reached 1.8 million. Boschulte said part of the problem is a lack of infrastructure to accommodate larger ships.
"Our challenge right now is we don't have enough berths to meet the demands on the busiest days," Boschulte said.
This upcoming cruise season, for example, the West Indian Company encountered seven conflicts with ships that were too long to fit along the dock, Boschulte said. The size of the ships affect the configuration of how many ships a port can accommodate, and ultimately affects the amount of passengers coming off the ships, according to Boschulte.
According to Boschulte, in Fiscal Year 2019 so far, St. Thomas has received a total of 619,610 passengers, a seven percent increase over the 573,466 passengers that arrived during the same period in 2018. St. Croix, however, saw a drop, receiving only 30,820 passengers versus 48,836 passengers in 2018, but the decline might be remedied by the U.S. government's announcement of renewed restrictions on travel to Cuba, according to Boschulte.
"Our department has been working closely with the cruise lines to help them provide new options as they rework cruise ship itineraries. We are pleased to report that this has resulted in three new port calls for St. Croix," he said.
Boschulte also touted new direct flights to and from the territory, including a new American Airlines Saturday service to St. Thomas from Dallas-Fort Worth and Chicago beginning in December. The new Saturday flights will operate year-round while the Chicago O'Hare service will operate on a seasonal basis. Spirit Airlines also increased the number of flights from three to four weekly flights between St. Croix and Fort Lauderdale.
United Airlines also inaugurated daily flights between Houston and St. Thomas this summer, with ongoing talks about service between Houston and St. Croix, according to Boschulte. In the months ahead, Tourism will also attempt to break into the Canadian and European markets.
According to Boschulte, winter forecasts place St. Croix's air capacity at 6,500 seats weekly, which is higher than its pre-storm capacity of 5,500 seats. St. Thomas' air capacity, meanwhile, is projected to be more than 17,000 weekly seats, which still falls below pre-storm capacity of 23,000 seats.
Traditional hotel accommodations are still going through reconstruction and repairs, with several properties pushing back their anticipated end-of-the-year opening to 2020. The delay negatively impacts collection of hotel room tax revenues, although the V.I. Bureau of Internal Revenue still reports higher collection of $14.5 million as of April 2019, compared with $9 million for the same period in 2018.
The latest Tourism numbers indicate that roughly 2,310 traditional overnight accommodations are currently available, not even close to the 4,500 pre-storm. Of the current available accommodations, roughly, 1,260 rooms are on St. Thomas, 400 rooms on St. John, and around 650 rooms on St. Croix. There are also roughly 600 villas and 200 charter yachts available on St Thomas and St. John, and about 300 villa units available on St. Croix.
What saved the accommodations segment of the industry was private listings on Airbnb, with 1,450 units available according to the travel website's 2018 data.
"The availability of accommodations in the sharing economy has made it possible for many people to travel to the territory, especially during our recovery period," Boschulte said.
So far, in 2019, St. Thomas has received 10,200 visitors staying in Airbnb properties, 2,200 visitors on St. John and 4,800 visitors on St. Croix. These figures exclude guest bookings through other sharing accommodation rental services. Airbnb collects the 12.5 percent hotel room occupancy tax directly from guests and remits those funds to the Bureau of Internal Revenue.
This year, the Department of Tourism is asking for a total budget of $31.8 million. Of that amount, $3.37 million would come from the general fund, while $28.4 million would come from the Tourism Advertising Revolving Fund. Personnel and fringe benefits for 43 full-time positions comprise $2.45 million and $1 million of the budget respectively.
According to Boschulte, some $1.39 million from the Tourism Advertising Revolving Fund would be used to market and promote the territory's three major carnival celebrations. Another $1 million would be used to develop and promote sports tourism in the territory.
Present at Thursday's Finance Committee hearing were Sens. Marvin Blyden (D-STT), Dwayne Degraff (D-STT), Javan James (D-STX), Vialet and Frett-Gregory. Non-committee members Sens. Allison Degazon (D-STX) and Athneil "Bobby" Thomas (D-STT) were also present.