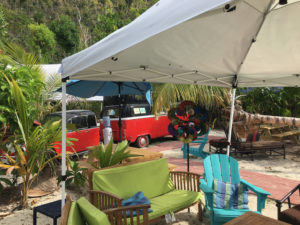 First Published June 24 and republished to include the permit application itself.
The permit application for a development within the Virgin Islands National Park is available on St. John for public scrutiny and comment for a limited time.
Maho Crossroads, a complex including a food truck, bar, and shop, was cited by the Department of Planning and Natural Resources for permitting deficiencies in March.
The permit now under consideration was placed on file at the Elaine I. Sprauve Library in Cruz Bay after multiple requests were made by St. John residents. Prior to that, the information was only available for viewing at the Charles W. Turnbull Regional Library on St. Thomas.
Maho Crossroads branded itself as a "tiki bar with a '60s vibe" when it was announced six months ago.
Just steps from the beach at the western end of Maho Bay, the 1.6-acre development has proved to be popular with tourists, but it has received criticism from many local residents for a variety of reasons, including environmental concerns.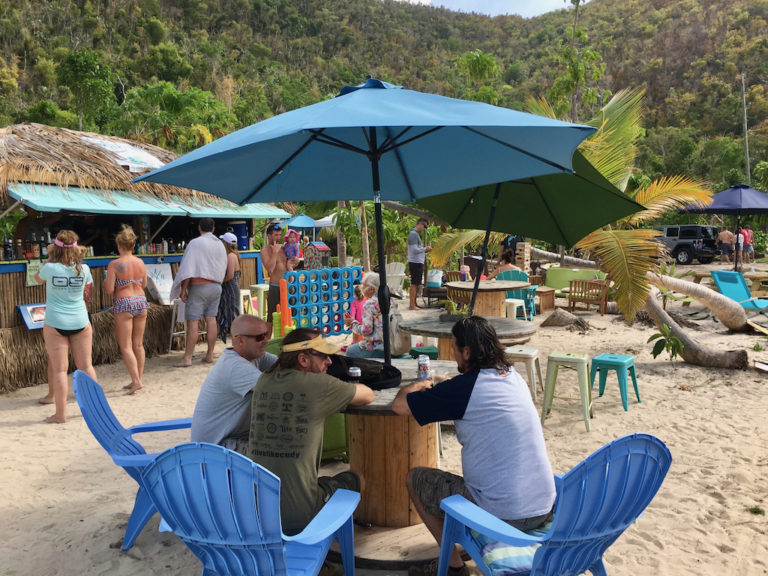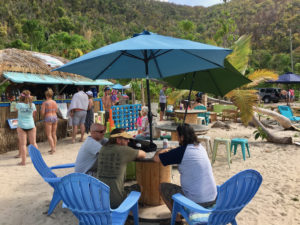 John Yob, president of Maho Crossroads, LLC, applied in January for a minor permit under Coastal Zone Management regulations. Minor permits are granted to developments with less than $75,000 of improvements.
In the permit application, Yob estimated the development's costs at $30,000, but that figure does not include a septic system, concrete paving, a food truck, footing for trailers, and bathrooms. Local activists maintain that the scope of the improvements already undertaken has exceeded the $75,000 threshold.
Major or minor permit: Why it matters
The question of whether the development warrants a minor or major permit is critical: developments seeking major permits are required to undergo public hearings and be approved by the St. John Coastal Zone Management Board.
Minor CZM permits are administered within the Department of Planning and Natural Resources and are only subject to public comment during a limited period.
There is a provision in the V.I. Coastal Zone Management Code that allows the DPNR commissioner to elevate a minor permit application to a major permit if the commissioner determines "the proposed activity is likely to have significant adverse environmental consequences," in which case "he shall, upon giving notice to the applicant, forward such application to the appropriate Committee of the Commission for review as a major coastal zone permit."
Community activists on St. John are asking the public to contact officials at DPNR and request that the permit pending for Maho Crossroads be reclassified from a minor to a major permit to allow for more public input.
All written comments can be sent to DPNR with reference to the Maho Crossroads CZM Permit Application number (CZJ-10-19L). Comments can be sent by email to adam.williams@dpnr.vi.gov.
Other Permitting Concerns
Maho Crossroads is located in a flood zone, and the property was inundated by the storm surge of Hurricane Irma. Because of its vulnerability to water damage, Yob said he designed most of the structures to be mobile. However, Department of Planning and Natural Resources officials questioned that claim because of the presence of a shipping container operating as a shop, a structure which cannot readily be moved in the event of an oncoming storm.
In addition, DPNR said the mobile food truck with surrounding tables with umbrellas "is more akin to a restaurant than a mobile van." Restaurants are required to meet health and safety standards, including regulations for restrooms, seating, parking, water resources, and traffic flow, and these concerns have not been adequately addressed, according to DPNR.
In the permit application on file, Maho Crossroads' architect, Michael Milne, responded to each of DPNR's concerns, stating the developer's intentions to bury freshwater tanks and lines, and to replace the temporary chemical toilets with a leased restroom trailer and permanently installed Aerobic Treatment Unit for on-site waste treatment.
Under normal circumstances, the documents in the permit application would not be made available to the public until the application was deemed complete. In this case, because of ongoing operation and extreme public interest, they have been made available to the public. The Sprauve Library on St. John is open from 10 a.m. to 3 p.m. Tuesday through Thursday.