Across the nation, access to high-speed internet is increasing, but a recent Federal Communications Commission report says more work has to be done, particularly in rural and hard to reach areas.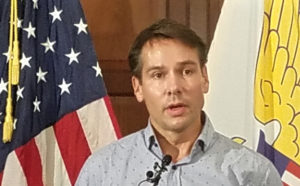 The FCC has been active in closing the "digital divide" between households with access to modern broadband networks and those without it. According to the report:
– The number of Americans without access to a fixed broadband connection meeting a benchmark of at least 25 megabits per second (download speed) and 3 megabits per second (upload speed) has decreased by about 18 percent, from 26.1 million at the end of 2016 to 21.3 million at the end of 2017. (in the Internet industry, the "middle mile" is the segment of a telecommunications network linking a network operator's core network to the local network plant) –
The majority of people gaining access are in rural areas. Higher speed services are being deployed more rapidly, showing an approximately 36 percent increase in 2017 and
Broadband providers deployed fiber networks to 5.9 million new homes in 2017, an increase of 85 percent.
"Based on this and other evidence, the report finds for a second consecutive year that advanced telecommunications capability is being deployed on a reasonable and timely basis," according to the report, which also renewed the FCC's commitment to continuing to reach rural and disaster-affected areas, along with tribal lands.
In the internet industry, the "middle mile" is the segment of a telecommunications network linking a network operator's core network to the local network plant. Locally, the V.I. Next Generation Network – a fiber-optic middle-mile network connecting the four islandshas used partnerships with local internet service providers to begin outreach to more rural areas.
The more than $100 million broadband initiative was funded primarily from National Telecommunications and Information Administration grants, along with a $32 million match from the government.
During a recent meeting, viNGN President and CEO Mark McGibbon said the grants helped build viNGN's core network with the idea that the private sector and internet service providers, or ISPs, would connect to the network to get broadband out to the homes. Currently, viNGN's 14 ISP's are interested in making that happen, but the challenge is money. It's estimated to take a sum in the range of $400 to $500 million to get a fiber to the home network up and running – compared to $1 trillion to do it across the continental United States – and officials said it would take a federal act, investing large sums of money into a wider broadband internet infrastructure, to make it happen quickly.
As network officials look at pulling in the funds, viNGN has been active in other community outreach initiatives, according to a recent news release. Along with equipping public computer centers and offering digital literacy programs, the network also cut its wholesale prices in half, hoping to give local ISP's more capital for operations and expansion. Free public Wi-Fi spaces were also set up for the public after Hurricanes Irma and Maria in 2017.
As a Public Finance Authority-owned middle mile provider, viNGN cannot offer paid services directly to clients, instead selling bandwidth to internet service providers, or last mile entities such as Broadband VI and Viya, which officials have said could also help the network increase the reach of broadband internet to rural and untouched areas.