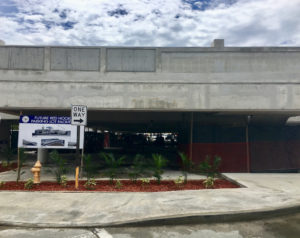 The Virgin Islands Port Authority is putting the finishing touches on the new two-story parking facility at the Urman Victor Fredericks Ferry Terminal in Red Hook, St. Thomas.
"Our goal is to be open by the 4th of July Festival," said Monifa Marrero-Brathwaite, VIPA public information officer.
The festival begins this weekend and peaks the first week of July, when literally thousands of revelers pass through Red Hook on their way to St. John's carnival celebration.
"We're going to be open soon, but not as soon as we [thought,]" said Renee President, the Red Hook parking lot supervisor. President said crews are doing their best to complete the flooring, mark the spaces, install the elevator, and paint the concrete so that it cures better.
When the parking structure is completed it will accommodate 158 vehicles, including six spaces for handicapped users. The original plans called for 182 spaces, but President said the slots reserved for the handicapped took up more area than expected.
The project cost almost $5.3 million.
The open-air parking lot that existed before construction began in 2016 was able to hold almost 100 vehicles. That suggests that the cost of each additional parking space is close to $90,000.
President said for now, parking fees will remain the same – $10 for all-day parking – but officials will meet soon to discuss whether to increase the rates.
In the meantime, VIPA is preparing an auxiliary parking lot that can be used during the St. John Festival season. Located west of Ivanna Eudora Kean High School, the lot can hold 175 cars and is a 15-minute walk from the ferry terminal.
Crews are working at the auxiliary lot to install lighting, improve fencing, and remove abandoned vehicles. Starting June 14, the public will be allowed to park there at the rate of $10 a day. East End Taxi will provide shuttle service to the ferry terminal from 6 a.m. until midnight at the rate of $2 each way.
When festival events reach their peak, VIPA will allow cars to park at night at the barge staging area in Red Hook when the barges aren't operating.