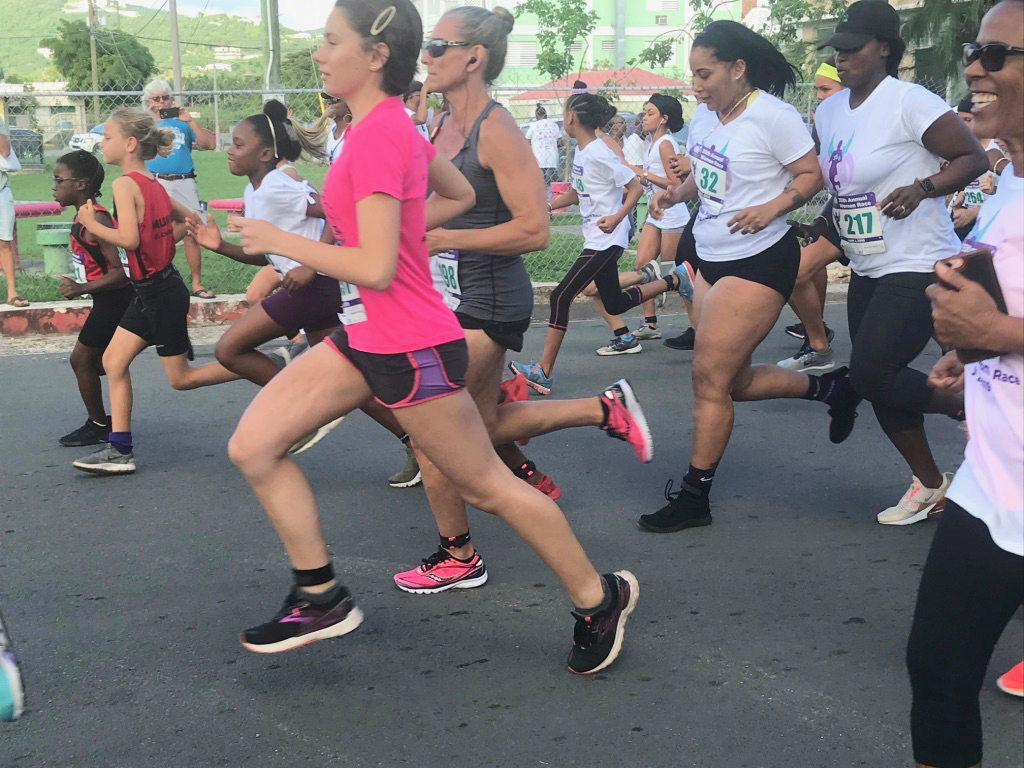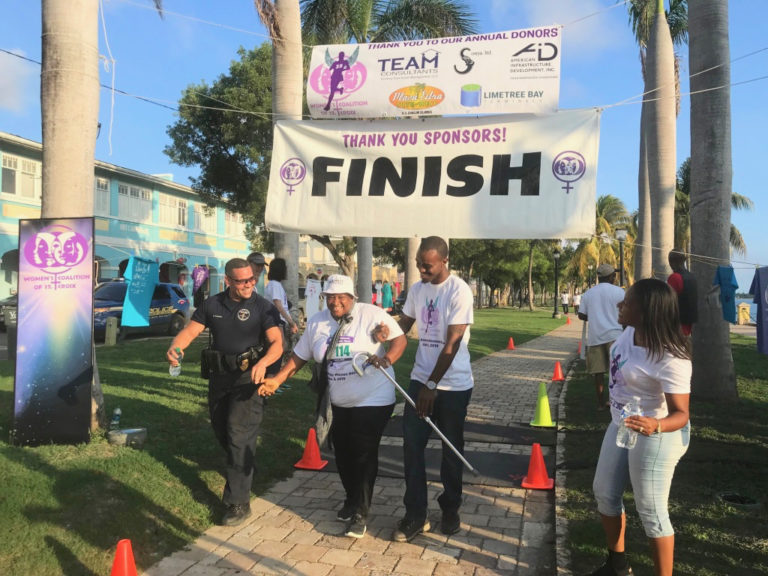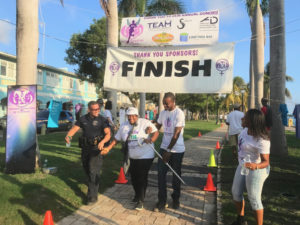 The Women's Coalition of St. Croix on Sunday celebrated its 35th Annual Women Race, raising funds that will help provide services for women who are victims of violence.
Open to women and girls only, the race took off at 5 p.m. in Frederiksted with 314 registered for the two-mile trek.
The entry fee was $20 to pre-register and $25 on Sunday with a specially designed T-shirt included. Runners 13 years and younger registered for $1, with no T-shirt included. Many sponsors donated T-shirts to those participants.
The St. Croix Zumba Queens, Diana Asad and Roxanne Serrano led the participants in a vigorous dance routine for fifteen minutes to stretch and warm-up in preparation for the race.
WCSC Communications Coordinator Debra Benjamin said their volunteers were a huge part of the WCSC program. They are helping in so many ways before, during and after the race, she said.
Family members, friends, and community members filled Buddhoe Park; the steps of the clock tower overflowed with folks cheering on the runners.
Sponsors donated cases of water and electronic chips that monitor the racers' time. Local retailers donated jewelry and gift certificates for a raffle.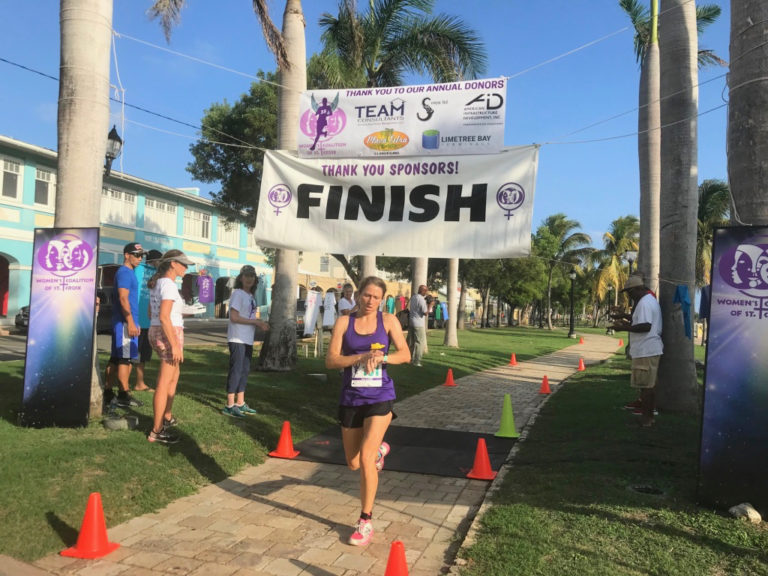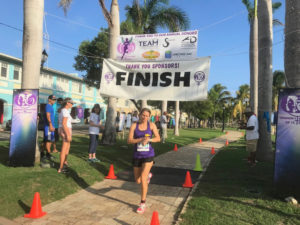 "We are very fortunate that many individuals and businesses have partnered with us over the years and new ones have come on board," Benjamin said.
The Lew Muckle Steel Pan Orchestra entertained and the Guardians of Culture Moko Jumbies danced for the crowd.
Benjamin said WCSC prepared special ways of honoring the 35th anniversary and showing support for victims of violence:
– Registrants were asked to include on their application the number of times they have run the race, and those who have participated five or more times would be honored.
– The "My Women Race" asked registrants to tell their stories as a one-minute or less video or audio sharing their own special memory or story of why they have done the Women Race and post it to Facebook.
– The 'Virtual Women Race' allowed women anywhere in the country to participate on June 2. They can register online and run the two-miles wherever they are and post their time online by July 5.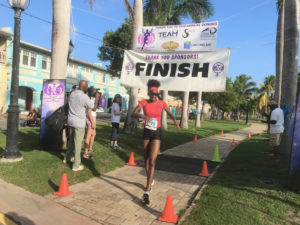 Michelle Smith, Brigit Klein, and Mikaela Smith finished in first, second, and third places respectively. The Smith girls are sisters and they run with the St. Croix Track team; Brigit Klein runs for Good Hope Country Day School. Both track teams won trophies.
Michelle, 12, broke the 35-year race record by 20 seconds. Her sister Mikaela, 17, completed her first year of college with a track and field scholarship. Their father Keith Smith is the St. Croix Track team coach, who says he is speechless by the hard work and dedication of his children. (A Source video of the 2012 race shows a 10-year-old Mikaela finishing second. See link below.)
Germaine Powell won the 'Caboose' prize, which is won by the last runner to cross the finish line. Powell has arthritis, walks with a cane and is 53 years old. She said it was hard but she was determined to do the race and she would do it again.
Race categories included children younger than eight years to adults 80 years and older.
Other categories were "babies in arms" and "children in strollers pushed by a female."
WCSC Executive Director Clema Lewis thanked the community for supporting the Women Race. This event means a lot to victims and survivors in our community. We have created a safe place year after year for women and girls to participate in a healthy activity, with encouragement from the community. It is also important that survivors have this opportunity to see and know that the community supports them in healing, Lewis said.