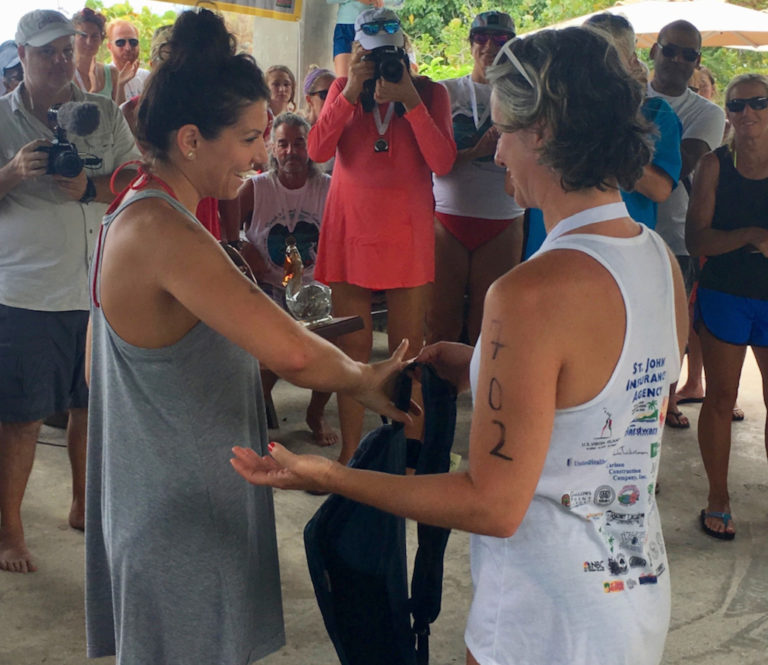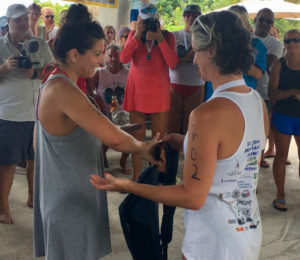 Almost 200 swimmers leaped into the water at Maho Bay Sunday morning to participate in the Friends of the Virgin Islands National Park's annual Beach-to-Beach Power Swim.
The event raises funds to support marine research and programs, including the Virgin Islands National Park's summer youth swim program.
Though the number of swimmers Sunday morning was significantly lower this year than in 2016, when all 350 slots were filled, participants had no complaints. Several said they appreciated the relative lack of frenzy at the start and finish lines.
Other said they were thrilled to be back to the event's regular format in which swimmers could choose to swim a one-mile short course to Cinnamon Bay, and two and a quarter-mile intermediate course to Trunk Bay, or a three and a half-mile long course to Hawksnest Bay. Swimmers could choose to swim unassisted using just goggles, or assisted using a mask, and snorkel, fins and an exposure suit.
Last year, in the wake of Hurricane Irma, limited resources led the race organizers to simplify the choices. Swimmers could choose between a one or two-mile course around Trunk Bay. Though the total distance was shorter for many participants, those routes were deceptively difficult as swimmers had to begin by swimming east against a hard current.
Swimmers this year once again enjoyed the benefit of wind and waves moving them in the direction of the finish lines.
Those who were timing the race finish at Cinnamon Bay had to rush from the course's start at Maho Bay to be at the finish line when the winners arrived 21 minutes later. This year, the timers had access to digital equipment that brought results accurate to a tenth of a second.
The complete results are online here.
This year was unusual, as the top winner of the long/unassisted course was woman. Marina Falcone, 31, completed the course in 1:18:20:1. Kellen Russell, 15, came in a close second at 1:18:46:1.
The course record for a female was set several years ago by Jamarius Washah from St. Croix at 1:17:34. The overall course record was set by Bryson Mays, also from St. Croix, at 1:10:32 in 2011.
This year's event attracted participants from the mainland U.S. as well as Puerto Rico and the Virgin Islands.
Don Pitchford and his fiancée, Cheryl Ward, flew down to swim in the race from Fairfax, Virginia. Pitchford said he watched the start of the 2008 event from a sailboat anchored at Maho Bay and vowed to come back someday to participate. It took 11 years to fulfill that wish, but he said participating in an event like this "brings a new concept to a vacation."
As Friends of the V.I. National Park announced the winners for each race by category and age, the name "Rainer" kept coming up. That's because four children in the Rainer family took part, including two who won their age categories.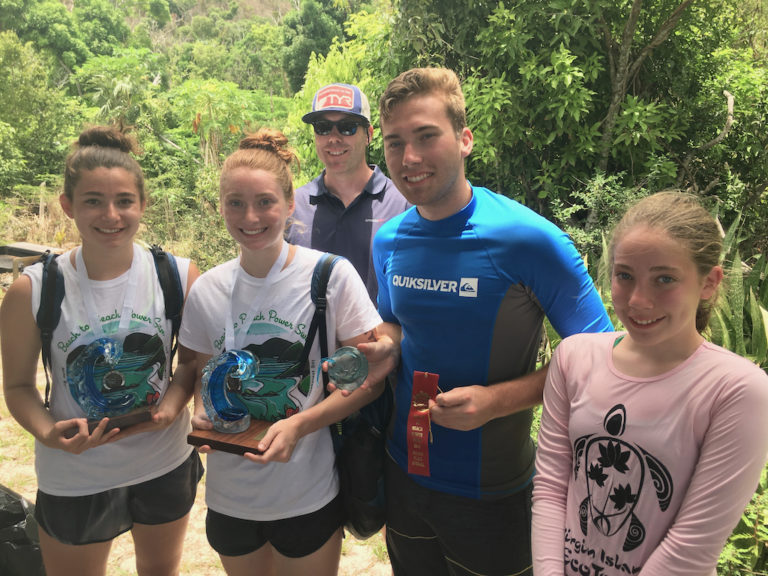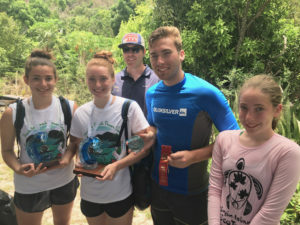 Jon Rainer, 19, said the family lives in northern Alabama and has to drive 45 minutes to get to a swimming pool to train. Betty Rainer, their mother and pool coach, said her kids are usually sprinters but enjoy the challenge of an open, salt water swim. They've returned to St. John several times to participate.
Three swimmers from Team River Runner, an athletic organization for wounded veterans, participated in this year's race. Two of them were a married couple who finished within a second of each other.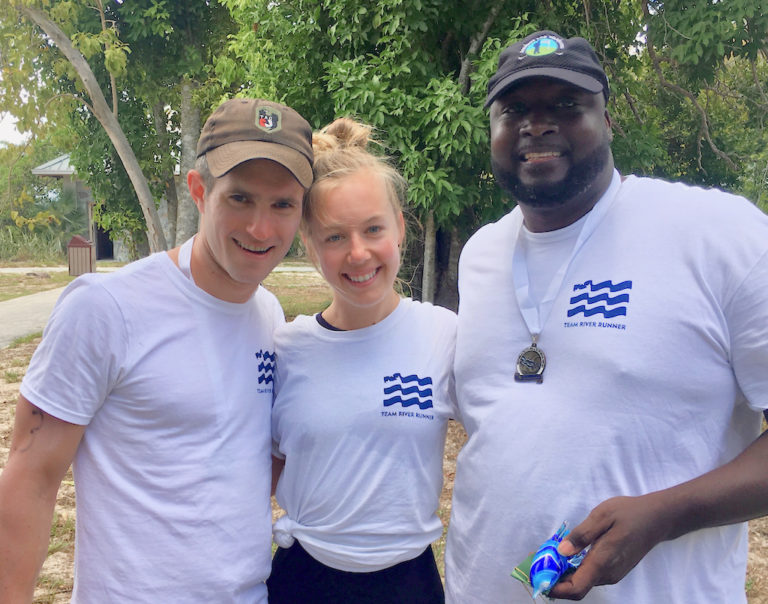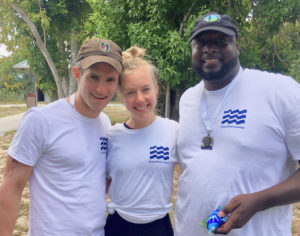 The Beach to Beach Power Swim is now in its 16th year, and the majority of swimmers are locals, many of whom return year after year. Meredith Fletcher, a long-time St. John resident, was one of nearly a dozen people who took home a special award for perfect attendance – taking part all 16 years.
This year was particularly sweet for Fletcher. She turned 75 on the day of the swim, placing second in the long/assisted swim category for females 60 and older at 2:06:48.6. A group of friends greeted her at the finish line waving a Happy Birthday sign.
At the other end of the age spectrum, three-year-old Magnolia Nesbitt won the Nemo Award for being the youngest participant. Kicking most of the way, she hung on to her mother Kate who completed the short course.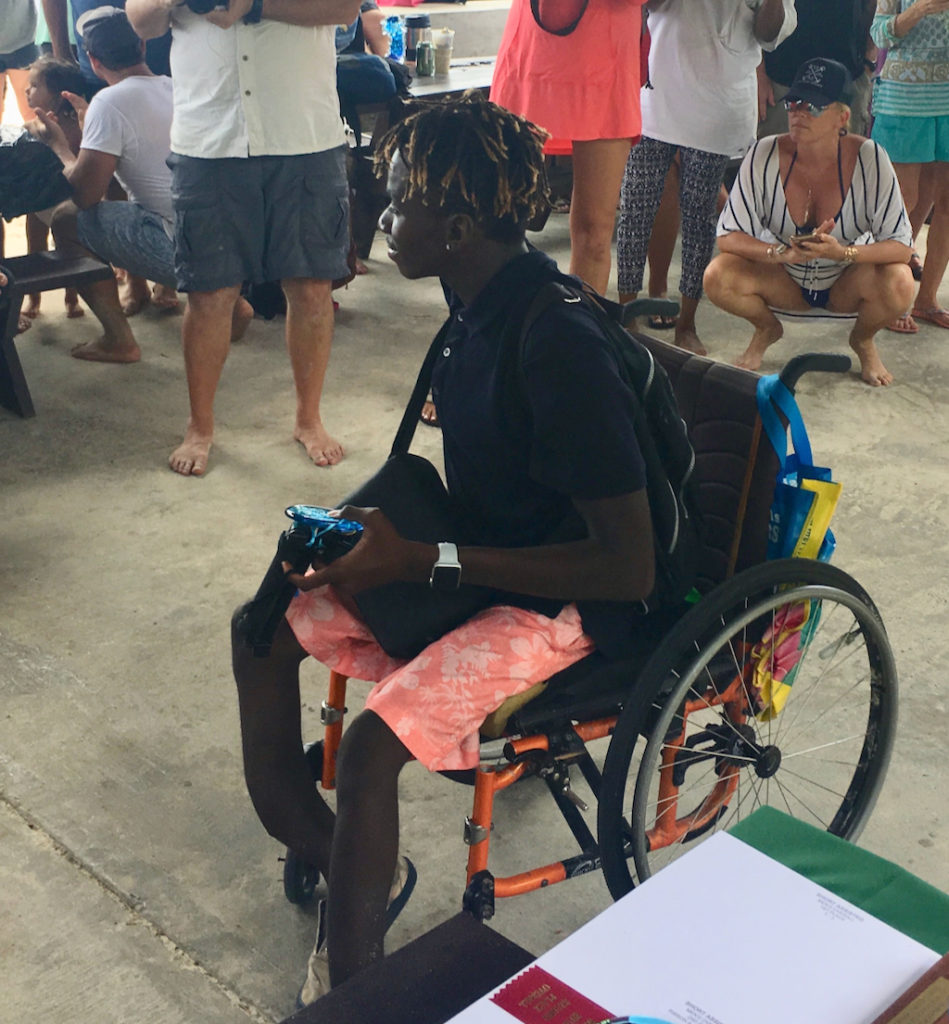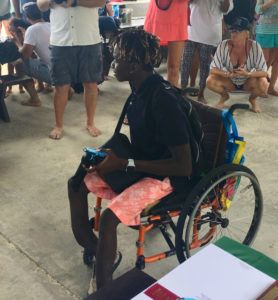 Fillemon Waikuwile, 21, from St. Thomas, wheelchair-bound on land but a phenom in the water, once again won his age group for the long course/unassisted at 1:33:59.2.
This was the first year that Joe Kessler, who retired in January as president of Friends VINP, was not on island to direct the race. His replacement, Todd Sampsell, served as emcee while program director Karen Jarvis took over as race captain.
"This is a big beast to put on," Jarvis said, noting the event requires permits from multiple federal and local agencies and dozens of community partners. "In Joe's absence, I was scared, but there was a beautiful rainbow this morning. Really, the reason it all worked out was the volunteers."
Jarvis said almost 150 volunteers showed up to make the race a success, doing everything from setting swim buoys along the course, guiding swimmers from paddle boards and kayaks, timing the finishers, and setting up for the after-swim party.
Several grocery stores and restaurants donated food and drinks, including Cruz Bay Landing, High Tide, Dolphin Supermarket, St. John Provisions, and St. John Brewers.
Swimmers got lucky at the after-party. A glitch in an order for a wedding cake led Elizabeth Lowe of Queen of Tarts to donate a vanilla chiffon wedding cake with orange-flavored buttercream. After their efforts in the water, most of the swimmers were not counting their calories.
Editor's note: Reporter Amy Roberts normally would have taken photos of the swimmers in action. However, this year she WAS one of the swimmers taking part in the event, so we have her photos from the gathering after the race. Well done, Amy.