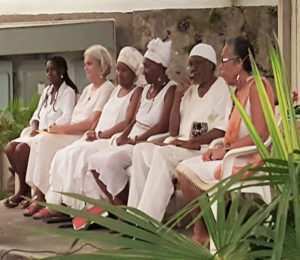 In 2014 a group of local women and men came together to establish the St. Croix Council of Elders in response to what they perceive to be the breakdown of traditional family values, the deterioration of the family unit and the mounting violence among today's youth.
Founded by Tahirah Abu Bakr and Etherero Akinshegun, both long-time residents of St. Croix, the council is an organized and functioning association of elders, dedicated to awakening and encouraging the territory's senior population to reclaim their traditional role as wisdom keepers and culture bearers, as a means of bridging the gap between generations of youth, adults and seniors.
Co-founder and octogenarian Abu Bakr, says she was inspired by many groups worldwide, including the International Council of Thirteen Indigenous Grandmothers a global alliance of elders dedicated to the healing of Mother Earth and all its inhabitants through education, nurturing and other projects.
Growing up in Pocahontas, Mississippi, Abu Bakr recalls the social and crucial role elders played in her community and the respect they commanded. Elders were called upon to help restore balance in the community when trouble arose.
"Not long ago, elders were highly respected and were expected to set the example for the younger generations," she said. "Elders were known to admonish children and youth, within the family or not, when they misbehaved or acted out, especially when out in public. They were free to do this without fear of repercussions by the parents. In today's society aging is often viewed as a period of physical, mental and spiritual decline. The Council of Elders aims to dispel those beliefs."
One of the council's primary missions is to create an environment of personal and group comfort where all feel welcome and valued, Abu Bakr said. Council members believe that an intergenerational dialogue is needed to promote peace and understanding among people of all ages and is in the process of establishing a process for elders and youth to engage in meaningful discussion and interaction. Membership in the organization is open to youth and adults.
In addition to creating an Adopt an Elder program, the council hosts a Healing Heart Circle on the last Sunday of each month, a prayer vigil for the healing of the community that often involves meditation, drumming and storytelling. An annual retreat and other outreach activities designed to promote peace, understanding and healing in the community are in the planning stages.
Sunday the Council hosted a by-invitation brunch and membership drive at the Crucian Heritage and Nature Tourism headquarters in downtown Frederiksted. The program included a discussion and dialogue about the role of elders and their responsibilities to the community.
Elderhood can take many forms, Abu Bakr said. Whether it be as caregivers to their grandchildren, as skilled artisans or tradesmen sharing their craft or simply lending an unprejudiced ear to someone seeking advice, Abu Bakr said the council believes that elderhood is perhaps the last and the most important stage of life.
"Elders are those qualified by the wisdom of life experiences – not simply by years lived – and who have demonstrated a willingness to usher the extended family and community through life's passages. Elders offer guideposts for building and navigating sustainability in our communities."