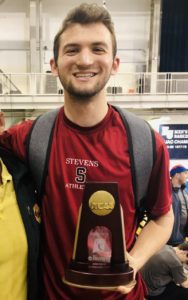 Harry de Haas, Antilles class of 2018, plays right side for New Jersey's Stevens Institute of Technology's Ducks (Division III Volleyball) in his freshmen year. The Ducks have had an impressive year, ranked 2nd in the United Volleyball Conference (UVC) Championships, losing in the championships to the team that went on to win the NCAA final.
Stevens Ducks are regularly acknowledged as UVC All-Academic Teams for registering a team grade point average of 3.0 or higher for the spring semester. This year they produced the UVC All Academic top student with a GPA of 4.0.
After finishing second in the UVC, the Ducks went on to the NCAA Final 4. Last weekend they were eliminated in the semi-finals, and they are now ranked within the top four in the country for D3 volleyball.
Although the result may not have been the most desirable outcome, the Stevens Men's Volleyball team end 2019 with its fifth-straight trip to the NCAA Final Four (they have earned their way to the finals twice in that time and won the championship in 2015), a UVC Championship best overall record, and produced two AVCA All-Americans. Their final record was (28-6, 8-1).
De Haas, a major in environmental engineering, made his collegiate debut against EMU on Feb. 2, 2019. He registered his first collegiate ace on March 30, 2019 against Dean University during the Elms Tri Match, also recording five kills with two aces and helping his team achieve their three-set sweep.