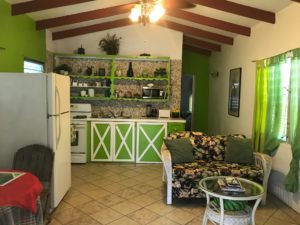 Airbnb, the online Facebook-like room renting service, is surging in popularity and importance in the U.S. Virgin Islands, allowing more and different tourists to visit and putting money in the pockets of Virgin Islanders. And many of those renting out rooms and apartments give it high marks for enabling them to access a new source of income.
St. Thomas Airbnb bookings shot up more than 600 percent from 2017 to 2018 and as of March, Airbnb projected 2019 bookings would increase beyond that by 338 percent. Airbnb even ranked St. Thomas its number one destination in 2018. St. Thomas has historically received the overwhelming bulk of tourism and still does. But St. Croix and St. John also saw big gains in Airbnb visits.
This explosive growth has come even as air arrivals dropped sharply in early 2018 after the storms of September 2017.
St. Croix has been eagerly trying to attract a new hotel for many years, offering tax breaks, unique access to casino gambling and anything else the government could think of. But to no avail. Tourism Department heads have said more hotel rooms are needed to attract more seats on flights. But no one would build a hotel without knowing there would be visitors flying in to stay in the rooms.
Airbnb allows St. Croix in particular to sidestep that catch-22, making rooms available at no cost to any developer.
Three of St. Croix Airbnb's guest apartments attract visitors year-after-year with extras like the "Bertley's Place" offerings of a sea view plus a few minutes walk to Christiansted or the bonus of close proximity to downtown Christiansted from "Cottages on the Hill," and the presence of the artfully designed courtyard pool at "Caribbean Breeze Apartments" in the middle of the historic town of Frederiksted.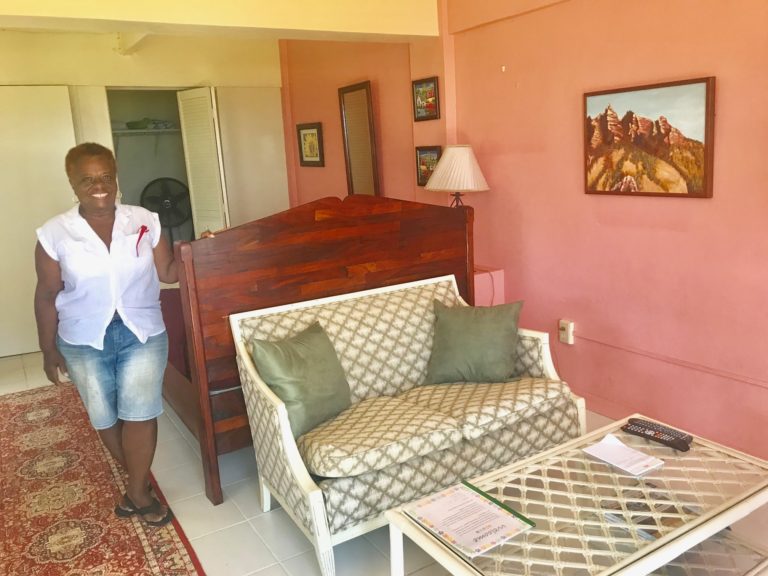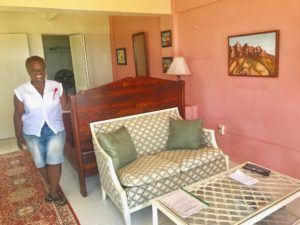 Bertley's Place is a studio apartment downstairs from Bertley Barrow's spacious house offering a generous view of the sea. "I wanted to give it that home-away-from-home appeal, so I furnished it with everything a visitor might want for light meals, comfortable sleeping, and a relaxing stay," Barrow said.
"At the suggestion of a friend, I joined the Airbnb family in February 2017. Hurricane Maria visited us shortly afterward, but I was able to continue my rentals with no damage to the property," she said.
"Be comfortable, be happy, and welcome to my home" is Barrow's motto printed on the information guest packet, which also includes Barrow's phone number, emergency numbers and other information useful to her guests. "I provide Wi-Fi, television, fans, air conditioning, and a clean, comfortable and safe environment."
"Many of my guests prefer to sit outside the apartment and enjoy the hillside breezes and the amazing view of the sea. It is a short walk to the supermarket, the post office, downtown Christiansted and many other amenities, yet the hilltop location is enjoyed away from the busyness of the day or evening," Barrow added.
Barrow and her late husband Axel retired to St. Croix from Washington, D.C. in 2011 and decided on St. Croix since he was born on the island, she said. "We bought the Estate Aldersville property and we carved out a lovely life with civic and social activities involving new friends," she added.
"I had no idea that I would find such fun in being an Airbnb business owner. I am very social and I've developed relationships with my guests and we travel around the island together attending social events," Barrow said.
Sherron Carlos is the owner of Cottages on the Hill, an Airbnb located in the heart of downtown Christiansted. Carlos left Chicago in the late 1980s and she moved between St. Thomas and St. Croix until she finally made the big island her home.
"I bought my property on Hill Street in 2005 to house a job-training business. I didn't get the contract, so I turned to Plan B with a focus on rentals; there was enough living space to accommodate long-term tenants," Carlos said.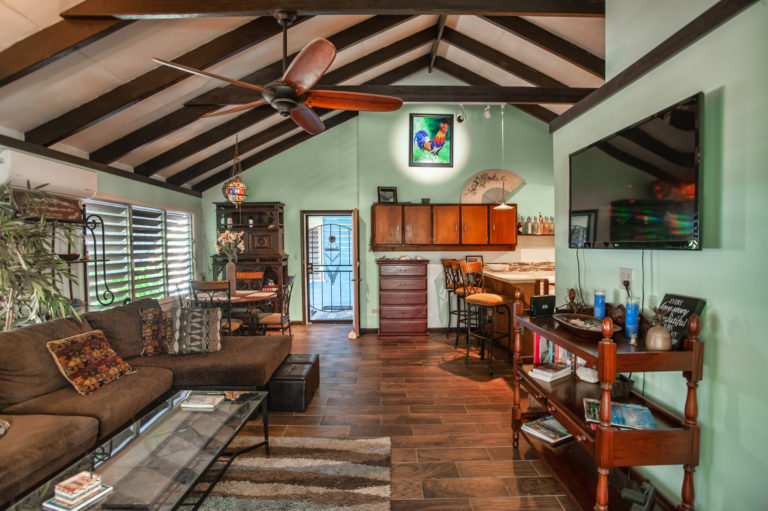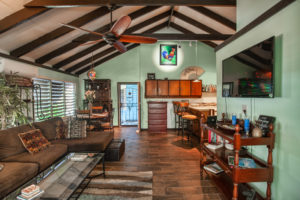 "Rentals were a comfortable way to go until 2012 when Hovensa left the territory. I turned to short term rentals, but folks just didn't have the money for rent and there was an exodus from the island, and many businesses began to suffer," she added.
The Cottages on the Hill property includes two 2-bedroom units and one 1-bedroom unit, a courtyard, the Carlos house and a common entrance for Carlos and her guests.
"Initially I devoted the units to a "hostel" concept. The Danish and European visitors are comfortable with the concept and I hoped to keep them coming by providing separate, private bedrooms with shared living rooms, bathrooms, and kitchens." Carlos said.
"I started switching to single beds and charging more reasonable rates. It was amazing how easily the concept worked. The single beds began to fill. It was wonderful," she said.
Visitors traverse throughout town on foot and down to Gallows Bay and further.
They go over to the Hotel on the Cay by ferry to swim, or take a short walk to Altona Lagoon for a swim in Little Bay, where they meet many locals. For further excursions, they take public transportation.
"My business is ideally located in the middle of town and close to church services, shopping, swimming, restaurant dining, and for meeting new people. I invite my guests to attend social activities with me. My guests return to my cottages year after year," Carlos said.
"The courtyard is ideal for parties and for new guests meeting with old guests and a general place for partying. We've become a family," she added.
"Frederiksted is more of a neighborhood – it's a city within itself," Kathy Tiddark said. Caribbean Breeze Apartments is the Airbnb she and her husband Randy own and operate on Prince Street in the historic town.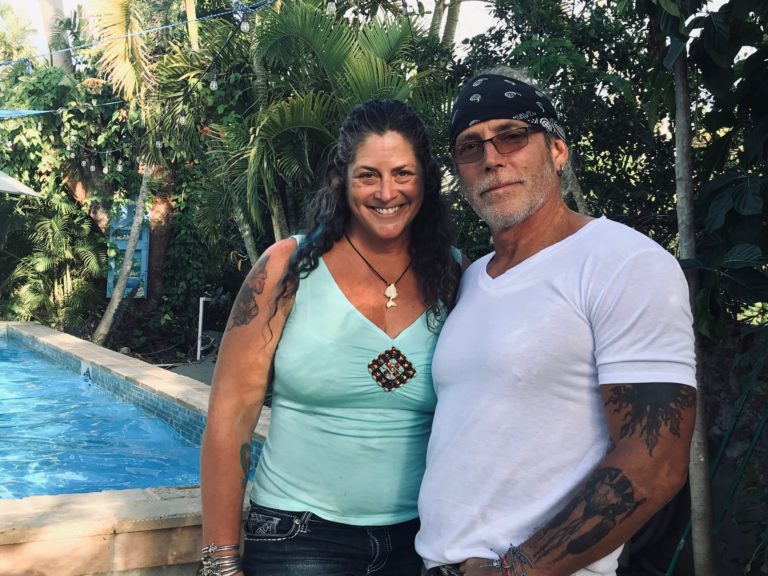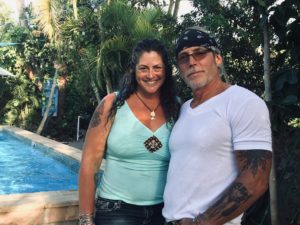 "We work hard at keeping our guests comfortable and they choose to come back to us through our fourth season of serving our visitors and making friends," Kathy said. "We have nine units, which include our place, two long term rentals and six Airbnb units that we rotate throughout the year. Little did we know that our business would become a full time job for both of us," she said.
"Our guests love the close proximity of the retail shops and the restaurants and the beaches. Some have learned to snorkel and they've favorite spots for spotting tropical fish. After a day in the sea, they're ready for a swim in our luxurious pool," Kathy said.
Randy Tiddark built the courtyard swimming pool within two months in 2018 by doing 90 percent of the work on his own. He balked about leaving Colorado to come to St. Croix to do more construction. Kathy insisted that they must have a pool. "After all, we had a pool in Colorado for 30 years. We can't live in the Caribbean without a pool," she pushed. "We wanted the pool to look and feel like it had always been there, so we had artist Isabelle Picard paint the exterior walls and the rocks on the wall to match our courtyard wall. Glass artist Jan Mitchell created glass dolphin and turtle accents around the pool," Kathy said.
"We love the concept of meeting new people week after week or month after month, she said. It's easier keeping someone happy for seven days or 30 days as opposed to doing it for one or two years. That's a big difference," Kathy added.
Barrow, Carlos, and Tiddark agree that their business lives have evolved positively since they joined Airbnb.
It's not all about the business owners reaping the rewards of Airbnb – of merely making a living and making a profit. They are making a life. They are happy in their work, even as they work hard at growing their businesses. Each of them is genuinely concerned with the comfort and care of their guests. They look forward to the return of a guest or a recommendation bringing a new visitor to their guest apartments.
Airbnb is the best thing for travelers and the best thing for owners, Carlos said. "They make all the arrangements giving the traveler the area, price and amenities."
Visitors check reviews from previous guests and make their decisions from that. Both the traveler and the owner must pass a background check. Travelers must have government identification and a social media account so they can be easily tracked. They do all of this taking a very small percentage from the owner," Carlos added.
"I love that the transaction is review-driven. A visitor will choose your business or will not depending on what their needs are and what you have to offer. It would be a rare case that a guest comes to your establishment looking for something that you cannot offer. If they do, you know they did not read the description of your Airbnb" Barrow said.
"We recently received an update from Airbnb that showed we welcomed over 500 guests from nine different countries," Kathy said. "We've had so many great experiences. Most Airbnb guests do not get to meet the owner. In our second year, we did an "open house" and many locals didn't know we were here. The courtyards in Frederiksted are amazing and ours is one of the best," Kathy said.
As of August 2018 there were 1,430 Airbnb listings in the territory: 830 in St. Thomas, 350 in St. Croix and 250 in St. John, according to Department of Tourism budget testimony. At the same time there were only around 1,800 hotel, timeshare and bed and breakfast rooms online – down from more than 4,500 before the storms of 2017. By that measure, Airbnb appears poised to overtake traditional hotels.
Overnight stays tell a different story, one of huge growth, but not quite so dramatic. Through the end of July or beginning of August 2018, 17,200 people stayed in Airbnb accommodations in the territory. St. Thomas received 10,200 visitors staying in Airbnb properties for 2018; St. John saw 2,200 Airbnb guests, and 4,800 people stayed in Airbnb locations on St. Croix. That amounts to just under 8 percent of all air arrivals from January through July of 2018.
The rise in Airbnb is a boon to the government's finances as well as to V.I. property owners. In 2017, Airbnb signed a deal with Gov. Kenneth Mapp's administration to automatically collect and remit the territory's hotel occupancy tax from its V.I. rentals. And of course visitors spend money while they are here.
It remains to be seen if the rise in Airbnb will mean tougher times for traditional hotels. But for now, its explosive growth has helped bring in visitors in spite of a lack of hotel rooms, put money in government and homeowner hands and seems to be poised for yet more expansion.