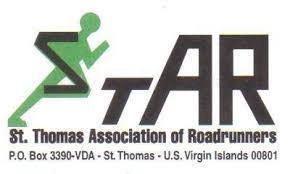 Riley Oram's strong first place finish for women was challenged by Jenny Martin and Charlotte Lenten in the St. Thomas Association of Roadrunners' (STAR) 37th Annual Carnival Mile. For the men (Shane DeGannes and Maison van Heurck choosing to run with their families), middle-distance champion and 2017 winner Juan Robles of St. Croix finished unchallenged almost a minute ahead of a pair of fleet teenagers, Jonathan Gomez and Tyfarri Lee.
Almost 70 people raced, jogged or walked a one-mile stretch along the parade route for the 37th Annual Carnival Mile, early, Saturday, May 4, before the Carnival Parade. Conducted every year since 1983 by the St. Thomas Association of Roadrunners (STAR), the race has been one of its most joyful events. Not everyone raced; some walked and talked; for several groups it was a family affair.
First place awards in six age-groups were taken by Devin DeGannnes, Aiden Stapleton, Jonathan Gomez, Deja Marie Simon, Clemon Lewis, Vernise Monsanto, Sander Lenten, Charlotte Lenten, Eric Oram, Jenny Martin, Bill McConnell, Kersten McConnell, Mike Betancourt and Cynthia Howell. All participants received Carnival Mile 2019 T-shirts.
STAR's next event will be the 2019 Olympic Day Run on June 30. Details will be announced. STAR thanks the volunteers who made it possible to put on this race and all of the events STAR conducts for benefit of the community.
CARNIVAL MILE RESULTS
First Place Male: Juan Robles 4:59
First Place Female: Riley Oram 6:40
AGE GROUP WINNERS
Male 12 and Under —- Female 12 and Under
1. Aiden Stapleton 8:33/ 1. Devin DeGannes 7:53
2. Ajoni Stapleton 9:25/ 2. Deviya Brathwaite 9:39
3. Raphael Hodge 10:13/ 3. Alyson Monsanto 10:04
Male 13 -19 —- Female 13 – 19
1. Jonathan Gomez 5:41/ 1. Deja Marie Simon 12:06
2. Tyfarri Lee 5:42
3. Ka'eo Brown 6:16
Male 20 – 29 —- Female 20-29
1. Clemon Lewis 6:38/ 1. Vernise Monsanto 9:50
2. Madison Van Heureck 6:59
Male 30 – 39 Female 30 – 39
1. Sander Lenten 6:55/ 1. Charlotte Lenten 6:58
2. Tony Persall 7:00/ 2. Katie Tannenbaum 7:04
3. Ty Whitlock 7:30/ 3. Sariah Wachwski 12:27
Male 40 – 49 —- Female 40 – 49
1. Eric Oram 5:50/ 1. Jenny Martin 6:48
2. Fay Hsu 7:39/ 2. Melissa King 8:08
3. Pipe Williams 7:53.3/ 3. Tonia Stapleton 9:14
Male 50 – 59 —- Female 50 – 59
1. Bill McConnell 6:17/ 1. Kerstin McConnell 8:18
2. Edwardo Carmona 7:22/ 2. Tammy Walters 8:27
3. Angel Josiah 7:31/ 3. Ali Slimming 8:46
Male 60 and Over —- Female 60 and Over
1. Mike Betancourt 8:23/ 1. Cynthia Howell 13:26
2. Wally Bostwick 8:37/ 2. Joycelyn Monsanto 15:14
3. Al Simmonds 9:49/ 3. Arona Fahie 15:16
PARTICIPANTS IN ORDER OF FINISH
1. Juan Robles 4:59
2. Jonathan Gomez 5:41
3. Tyfarri Lee 5:42
4. Eric Oram 5:50
5. Ka'eo Brown 6:16
6. Bill McConnell 6:17
7. Lewis Clemon 6:38
8. Riley Oram 6:40
9. Jenny Martin 6:48
10. Sander Lenten 6:55
11. Charlotte Lenten 6:58
12. Madison Van Heurck 6:59
13. Tony Pearsall 7:00
14. Katie Tannenbaum 7:04
15. Edwardo Carmona 7:22
16. Ty Whitlock 7:30
17. Angel Josiah 7:31
18. Ivante Hobson 7:38
19. Fay Hsu 7:39
20. Nicolas Van Heurck 7:41
21. Matt Worden 7:45
22. Pipe Williams 7:53.3
23. Devin DeGannes 7:53.7
24. Shane DeGannes 7:54
25. Ben Uecker 7:57
26. Melissa King 8:08
27. Kerstin McConnell 8:18
28. Mike Betancourt 8:23
29. Tammy Walters 8:27
30. Miles Simon 8:31
31. Aiden Stapleton 8:33
32. Clinton Stapleton 8:35
33. Wally Bostwick 8:37
34. Ali Slimming 8:46
35. Barbara Michaud 8:56
36. Tonia Stapleton 9:14
37. Ajoni Stapleton 9:25
38. Christine Oram 9:30
39. Deviya Brathwaite 9:39
40. Max Sosnosky 9:40
41. Al Simmonds 9:49
42. Vernise Monsanto 9:50
43. Liz Morrison 9:52
44. Delvin Walters 9:55
45. Alyson Monsanto 10:04
46. Chin Uecker 10:06
47. Monique Simon 10:12
48. Rafael Hodge 10:13
49. Mida Gaikwad 10:14
50. Jami Pfister 10:14.9
51. Cory Wachowski 10:44
52. Maria Rodriguez 10:55
53. Annette Hobson 11:51
54. Roi Simmonds 11:59
55. Deja Simon 12:06
56. Sally Winters 12:17
57. Sarah Wachwski 12:27
58. Cynthia Hoewll 13:26
59. Raoul Oemar 14:49
60. Rita Mootooveran 14:51
61. Jhnell Jackson 14:58
62. Velma Fahie 14:59
63. Stella Butler 15:01
64. Adrianne Butler 15:03
65. Joycelyn Monsanto 15:14
66. Arona Fahie 15:16
67. Jeron Jackson 15:38
68. Carol Mestemaker 15:50
69. Regina Walters 16:10