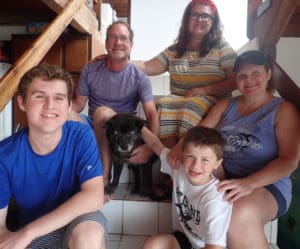 Most of the time a family chooses a pet for a variety of reasons. Sometimes, it's the other way around – a pet chooses its family. A dog or cat starts hanging around the house looking adorable or pathetic and they inch closer day by day, until suddenly you have welcomed it into your family as if they had always been there.
That's exactly what an elderly chow mix with a tattered ear and a limp did to become a loved pet in the Quarles family. Dru Quarles got a message in North Carolina from a friend staying at their St. Croix home, that the dog appeared out of nowhere and was just hanging around the front door.
"She just decided this was her house. She chose us. You can't ignore that." Quarles said.
The friend, an artist, started talking to and feeding the dog he called Pretty Girl.
When Dru and Bob Quarles, both physicians, and their family arrived a couple of weeks ago for a break, the dog was either on the front or back steps. They all immediately fell in love. She wouldn't come in the house and went across the street to a vacant lot to relieve herself.
Eventually, they coaxed her into the house slowly and for a few minutes at a time.
"Now inside is her turf," Dru said.
They took the pooch to the St. Croix Animal Welfare Center veterinarian to be examined and learned the approximate age of the graying pup. Because half of her ear is missing, there is a hole in her tongue and one leg is shorter than the rest, there were suspicions she had been used in dog fighting – perhaps as bait. Today, there is no sign of aggression in the docile Pretty Girl, if there ever was.
The Quarles also learned she tested positive for heart worm, a potentially deadly infection caused by a mosquito-borne parasite. The treatment includes weeks of costly medication and keeping the animal quiet. The Quarles did not hesitate, but immediately began the medication.
Because they are leaving the island soon, they decided to take her home to North Carolina where they have three other dogs. This week, the dog will fly with a friend to North Carolina. The flight will be met by the artist who calls her Pretty Girl,  "and a cheeseburger," Dru said.
After that, there may be a shared custody situation, Dru said. The artist has said he is interested in adopting her, but the Quarles family is obviously smitten by the gentle canine.
The Quarles bought their St. Croix home in 2015 after searching the Caribbean for 25 years for the perfect place. Bob wanted somewhere he could walk into the water for a shore dive and she wanted to live on the water in a quiet, laid back community. As they prepare for retirement, they will spend more time in their north shore home.
For the rest of her life, the chow can look forward to a dog's life – treats, soft pillows and loving companionship, thanks to the Quarles.
"So many people do so much more than this," Dru said.