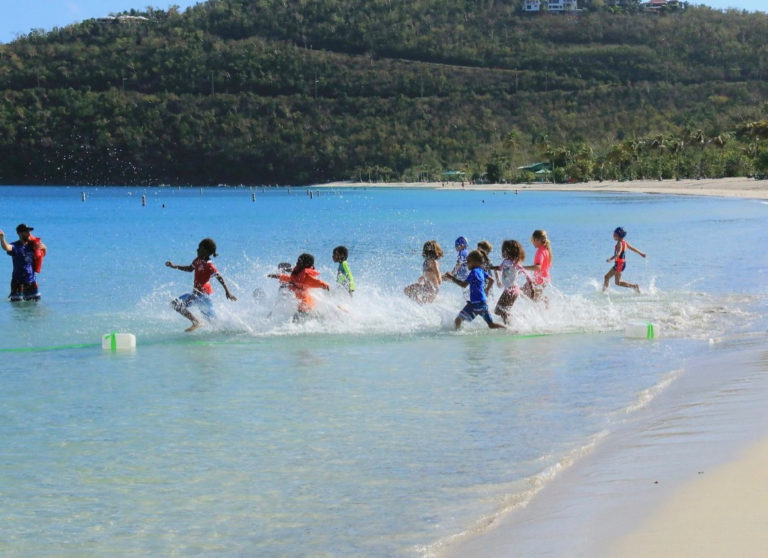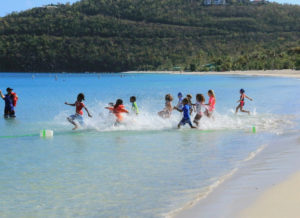 Hoots, hollers and hugs were the order of the day on Saturday at Magens Bay as 97 young people swam, biked and ran in the ninth Annual Rotary Sunrise Kids Triathlon.
Long dubbed "the day of 5,000 smiles" the event held true to its reputation Saturday, as kids from age 5 to 15 proved their mettle under a blazing hot sun.
Competing for his seventh year, 11-year-old Rafael Hodge said, "I do this every year and every year I just try to do better."
From the shoreline to the tree line to the finish line at the western end of Magens Bay park, parents could be seen hugging their daughters and sons as the youngsters finished the three-part course. Meanwhile, more distant relatives, on-lookers, sponsors, random visitors and volunteers jumped and cheered for the three age-groups making their way around the course, which starts in the water, transitions to the bikes and finishes with runs of varying, age-appropriate distances.
The event, which is the highlight of the year for some participants and fans, was spawned in 2011 by members of Rotary Sunrise on St. Thomas. In the first few years, the club was assisted by the Virgin Islands Triathlon Federation in the person of Scott Fricks, who had conducted similar though smaller events on St. Croix.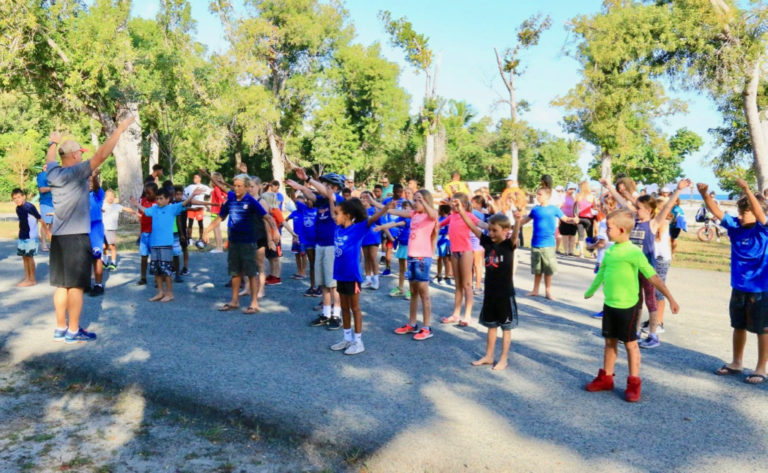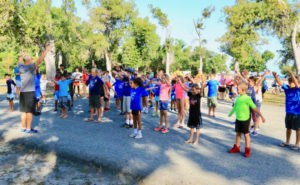 "This is Rotary Sunrise's longest running community service project," said Susan MacFarland-Helton, the longstanding chair of the event and volunteer and race coordinator this year. "We are and always have been so fortunate to have so many friends of Rotary Sunrise to help us put on this event. It's a joy to do it for the community."
After two Cat 5 hurricanes leveled much of the Virgin Islands in the fall of 2017, it was doubtful the event would take place last year. But due to the commitment of the club and volunteers, it came off, attracting 70 participants even as many were still trying to put their homes and lives back together.
This year's amateur athletes – about half participating for the first time – came from across the St. Thomas-St. John district. All Saints Cathedral School boasted the greatest number of participants with 31.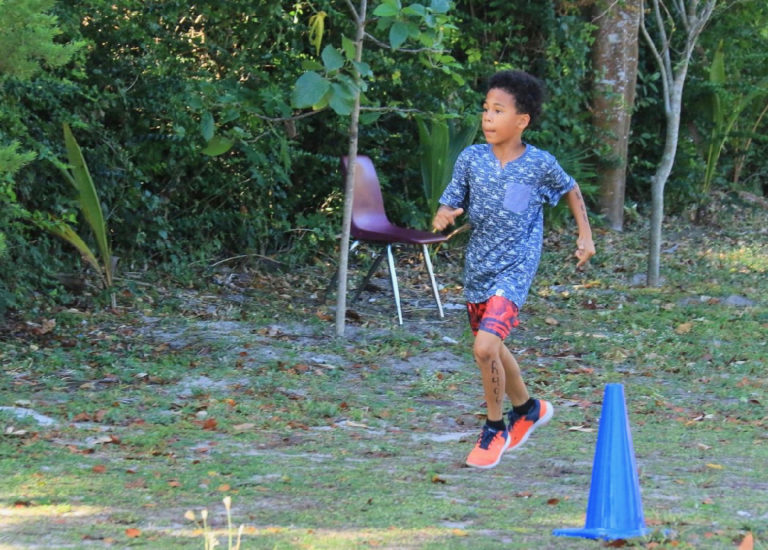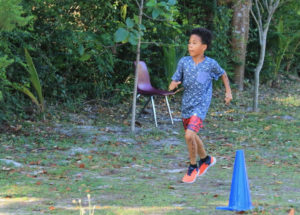 Andre Walker, a 7-year-old who ran for the relay team the Soccer Boys, smiled shyly as he acknowledged, "I was ready and I was going to win." And win he did, as did every one of those 98 youngsters who took the Sunrise Kids Triathlon challenge and swam, biked and ran with it for the ninth year in a row.
2019 ROTARY SUNRISE KIDS TRIATHLON WINNERS
AGE 5-8
BOYS
1. 9:30 Ajani Stapleton
2. 9:57 Aden Stapleton
3. 10:29 Jayden Brown
RELAY TEAMS AND PARTICIPANTS NAMES
1. 9:29 Soccer Boys – Kadmiel Worrel, Andre Walker, Kayman Bellot
2. 9:34 Disco Fever – Dominique McClanny, Mia LaPlace
3. 10:30 Team Redhook – Mila Melbourne, Arielle Shackell, Lily Tulk
AGE 9-11
BOYS
1. 15:01 Sunny Gonzales
2. 17:01 Boarden Gonzales
3. 17:26 James Bochulte
GIRLS
1. 17:05 Sofie Kappel
2. 22.58 Kiera McNally
RELAY TEAM AND PARTICIPANTS NAMES
1. 14:34 Big Chunga – Ayden Macomson, Max Tulk, Miles Tolus
2. 14:56 The Swift Ones – Milan McClanny, Bryce Richardson, Matty Pecatore
3. 16:03 Eagles – Maya Chase, Andrew Pescatore, Mia Sayan
AGE 12-15
BOYS
1. 32:48 Nehemiah Severin
2. 43:38 Raymond Berry
GIRLS
1. 27:38 Shaiah David
RELAY TEAM AND PARTICIPANTS NAMES
1. 27:39 GRF – Grace King, Rafael Hodge, Flame Gonzales
2. 30:23 Sharks – Devante Callwood, Gabrielle Quetel, Ka'eo Brown
3. 31:33 Vikings – Kingston Walker, Jeffrey Boschulte, Edward Foerstel
Sponsors for the event include: First Bank, AT&T, Scotia Bank, Raidar Construction, Seven Seas Water Corp, Heavy Materials, Anthony Ingrao, Bolt Nagi, Merchants Bank, Bliss Jewelers, Community Medical Laboratory, DCM Corp., Diamonds International, Guardian Insurance, MSI Building Supplies, V.I. Ortheopadics, AH Riise, Custom Builders, Caribbean Risk Group, Diamonds Forever, Marjorie Rawls Roberts PC, Paul Ferreras, The Paint Depot, Law Offices of Richard P. Bourne-Vanneck.