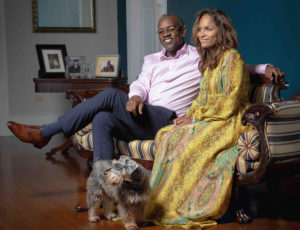 For the first time in 30 years, a Virgin Islands governor and his family are living full time in the historic Government House in downtown Christiansted. The move skirts around years of controversy over the governor's residence, primarily centered on St. Thomas.Gov. John deJongh Jr. stayed there when on St. Croix but Bryan is living there full time.
On Friday, the West Indian Company voted to pay a $42,000 per year lease for Bryan for when he stays on St. Thomas. That move echoes a similar move by Gov. Kenneth Mapp that generated substantial controversy. The amount is much less – about a quarter of what WICO agreed to with Mapp – and the move was done in public this time. But the arrangement is otherwise similar.
Regarding the St. Croix move, in a statement from Government House, Bryan said first lady Yolanda Bryan and daughter Sumayah are excited about the privilege of living in the "people's house."
Aliyah Bryan, their elder daughter, attends college in Georgia and will live at St. Croix Government House during visits home. Kobe, the family's miniature schnauzer is also settling into the residence on the third floor of the historic building.
According to the Revised Organic Act of 1954 Section 11 Paragraph 2, "The Governor shall maintain his official residence in the Government House on Saint Thomas during his incumbency, which house, together with land appurtenant thereto, is hereby transferred to the government of the Virgin Islands. While in Saint Croix the governor may reside in Government House on Saint Croix, which house together with land appurtenant thereto is also transferred to the government of the Virgin Islands."
Currently, St. Thomas' Government House is under renovation. The third floor initially housed residences but had been used as offices in previous administrations. According to Government House, the current renovations will convert it back to a residence.
"We look forward to welcoming residents and visitors alike to St. Croix's Government House," Bryan said.
"I love history, so it has been a pleasure getting to know more about the surroundings in which I live and work. It is quite humbling to remember that the structure was built by the hands and sweat of the brow of many of our Virgin Islands ancestors. We will be very respectful of their legacy."
St. Croix's Government House is two houses joined by an open gallery. The largest house was built in 1747 and purchased from a prominent merchant, Johan Wilbem Schopen in 1771. The other house, completed in 1797, was purchased in 1826 from Major Adam Sobotker, a merchant and army officer. The most extensive restoration on the buildings to date was in 1995.
First lady Yolanda Bryan is busy making the residence as comfortable for her family as possible and has been adding the special touches to make it feel like home, she said.
"The artifacts and antique furniture are lovely, and while we are rearranging a bit to fit our needs, we are cognizant of the value of these items and will protect what has been entrusted to us by the people of Virgin Islands," she said.
"I really enjoy the view of Christiansted town from our gallery, meeting visitors to Government House, and visiting with the merchants in town. I plan to host activities, especially in the courtyard, where our residents and visitors of all ages will be able to share in the appreciation of our beautiful surroundings," she said.
Gov. Alexander Farrelly was the last governor to live part time at either Government House, on St. Thomas or St. Croix. He resided in St. Thomas Government House during part of his tenure, which ran from 1987 to 1995.
Gov. Juan Francisco Luis was a St. Croix resident who served as governor from 1978 to 1987, taking office after Gov. Cyril King died in office, then being elected twice. Luis may be the last governor to reside in St. Croix Government House.
After Farrelly, some chief executives spent part of their time at the historic structure in Estate Catharineberg owned by the West Indian Company. But mold and moisture presented difficulties.
The last four V.I. governors each faced criticism for using government funds for housing or for security improvements to their private homes, and all four either spent money renovating the historic Catharineberg residence or said it needs more spending to be livable.
The law may specify Government House on St. Thomas, but the former governor's apartments, on the third floor of Government House, were converted to offices more than 20 years ago.
In his first year in office Bryan's predecessor, Gov. Kenneth Mapp, generated a firestorm of criticism after it came out the government-owned WICO was paying $14,500 a month in rent to house him at a villa in Estate Nazareth while on St. Thomas for work.
Mapp's chief of staff, Randy Knight, who was also chair of the West Indian Company board, asked WICO to pay the governor's rent after the Department of Property and Procurement rejected the proposed lease as too extravagant.
Knight asked WICO to pay Mapp rent after property and procurement said no
WICO rescinded the agreement in the wake of controversy over what amounted to additional compensation for the governor. Mapp stayed in hotels at government expense when on St. Thomas for the remainder of his term.
When deJongh took office in 2007, he decided to live at his private residence, rather than the residence set aside in Estate Catharineberg. Renovations were recent and no mold was cited at that time, but had been noted previously. DeJongh had a family and felt he needed more residential bedrooms than the two at the estate. He later said the structure needed major work to be truly habitable.
Public Works spent $490,000 on a security system, fencing, a guardhouse and changes to the driveway and parking. While deJongh said the move saved the government money in comparison to renovating Catharineberg, it created political controversy and deJongh repaid the funds.
Not long after taking office in 1999, Gov, Charles Turnbull arranged to have WICO spend $7,000 per month renting a house in Estate Elizabeth, a precedent cited by WICO to justify its more recent deal to pay Mapp's rent.
To live in a private rental, Turnbull also spent government funds constructing a guardhouse and security system for that rental property, actions which landed deJongh in hot water when he followed suit on his personal residence.
Turnbull lived in his rental home for close to a year while he completed millions of dollars in renovations to Catharineberg, where he lived for the rest of his time in office. He and Schneider are the only V.I. governors to have resided at Catharineberg since the 1860s.
Schneider was the first to reside at Catharineberg. He lived there after Hurricane Marilyn damaged his private home. His bedroom on the third floor was later converted to offices, at which point he moved back to his personal residence on Flag Hill and built a guard shack there at public expense – much like Turnbull and deJongh did later.
Gov. Alexander Farrelly was the last governor to live part time at Government House. WICO acquired Catharineberg in 1917 and the government acquired WICO during Farrelly's tenure and he began renovations. Farrelly reportedly spent some weekends at Catharineberg, but never lived there.
Editor's note: This article has been corrected to clarify that Catharineberg has been plagued with mold.
WICO clarifies Turnbull residence issue