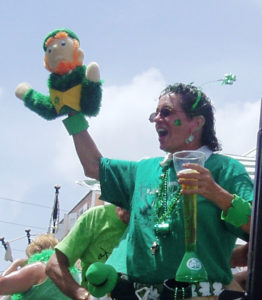 Whether you're Irish, part-Irish or just like the Irish, get ready to wear the green (or the orange) Saturday, March 16, when St. Croix is scheduled to hold its 50th annual St. Patrick's Day Parade.
Outlandish floats, fanciful attire and revelry will rule the day. Patriotic Irish green will be everywhere and on everything. There will be green beer, green jello, green plastic bowlers, green face paint and fright wigs; maybe even some green bottles of Irish whiskey. And maybe some orange stuff, too.
Music of all kinds will be filling the air, but expect Irish music to be prominent.
Held on a Saturday, the parade this year will be one day before the actual St. Patrick's Day.
"Green Flash" is this year's parade theme. Green is the traditional color of the Republic of Ireland and orange is the color of Northern Ireland's protestant British loyalists, and there is a momentary flash of green at the moment the sun vanishes below the seaward horizon.
Like every year, the parade is scheduled to begin at 11 a.m. at the Christiansted wharf and proceeds south on Company Street, turns right at Times Square and continues down King Street back to the wharf area.
The five-decade tradition began on St. Patrick's Day 1969 in Christiansted with an impromptu tramp behind a flat bed truck topped with revelers and a piano.
According to the parade organizers' website, floats are to start lining up for the parade starting at 10:30 in front of Fort Christiansvaern. There can be no decorating of floats on the National Park Property or parking lot.
Details about entering a float are on the group's website.
Donkeys, goats and dogs may parade, but their starting point is at the intersection of Church Street and Company Street (behind the St. Pat's Committee tent). Handlers MUST clean up after their animals. If anyone is parading a horse, the animal must wear a diaper.
Candy, beads, etc. for the crowds may be thrown ONLY by paraders that are walking alongside (or in front, or behind) their float.
Alcohol may not be thrown from floats but may be passed by hand between adults, according to the organizers' guidelines.
The group asks that really big floats come in from the west and to try to time their arrival accordingly. Typically they are at the end of the parade line.