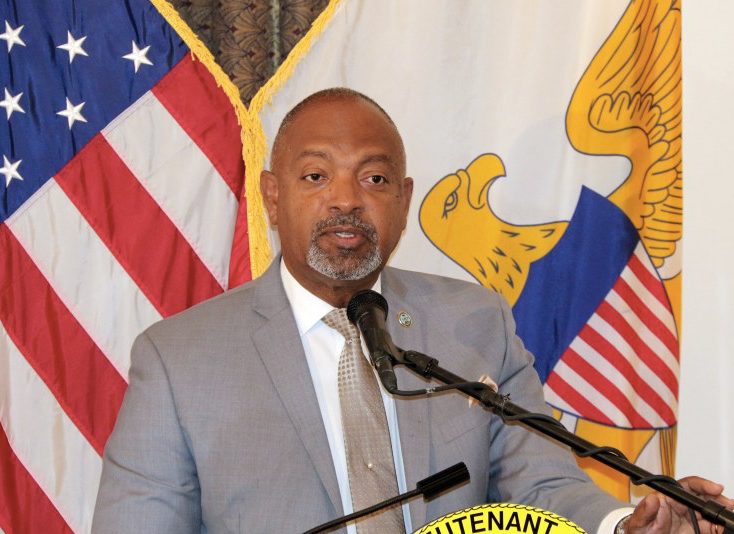 The Lieutenant Governor's Office has been named a receiver of the defunct Real Legacy Assurance Company, which Lt. Gov. Tregenza Roach said Monday will ensure that outstanding claims filed by local policyholders can be paid.
During a news conference on St. Thomas, Roach announced that he had been appointed by the courts as "ancillary receiver" of the company, which means his office has taken control of all of Real Legacy's assets as it begins the liquidation process. This includes a $500,000 statutory bond – a deposit required of all insurance companies licensed to do business in the territory – that can be used to cover the outstanding claims of local policyholders.
Roach said Monday that he believes other assets, including those in Puerto Rico, can also be tapped to pay claims, regardless of where they originate from.
Real Legacy was domiciled in Puerto Rico and therefore was under the primary regulation of the Puerto Rico Commissioner of Insurance. The Puerto Rico Commissioner of Insurance placed Real Legacy into rehabilitation to try to improve the company's operations and strengthen the company financially. If the company could not be rehabilitated, then Real Legacy was to be liquidated.
In January, the Source reported that Real Legacy, the subject of eight V.I. federal lawsuits and subject to regulatory action in Puerto Rico, had been transferred to Guardian General Insurance Company.
Most recently, Roach said, after the company was declared insolvent in Puerto Rico, he attempted to work out with its receiver a settlement agreement for claims coming from the Virgin Islands. When he made no headway, he filed, in his capacity as commissioner of Insurance for the territory, a petition to appoint himself as the ancillary receiver, which was granted by the courts on March 1.
"I felt the move necessary to protect the interest of claimants in the Virgin Islands," said Roach, who added that previous efforts made to rehabilitate or restore the company had failed. Roach said there were also claimants in the British Virgin Islands.
Outlining the process for filing a claim, Roach said April 18 is the deadline for all information to be submitted. A petition has been filed in Puerto Rico for the deadline to be extended, but as of now, there is no assurance that will be granted, he added.
In the meantime, the Lieutenant Governor's Office will file notice with all media outlets prompting residents to file a proof of claim form – a sworn, signed statement – that includes the following information, where applicable:
– Name and address of the claimant and legal representative, if any,
– The amount of the claim,
– Any previously paid partial claim settlement amount,
– That the amount of the claim is legitimately owed, and
– A copy of the work sheet or written communication on which the claim is founded.
The form can be found on the Lieutenant Governor's website and at all Division of Banking, Insurance, and Financial Regulation offices.
Roach noted that residents who had previously filed a claim with Real Legacy must still file a proof of claim form in order for that claim to be paid.
"Additionally, if required, inspections will be done on properties where holdbacks and depreciation amounts are due to claimants to determine if all repairs have been made satisfactorily," Roach said.
Roach also said:
– You do not have to know the amount of the claim if it is for the return of premiums,
– An explanation of loss or accident, and any written communication available to substantiate your claim, must be provided if your claim is for loss or other policy benefits, and
– Any other claims against the company must also come with a brief explanation of the claim, the amount claimed and any written documentation available to substantiate the claim.
Completed forms must be notarized and submitted by the deadline to Banking and Insurance offices at Nisky Center on St. Thomas, or King Street in Christiansted, St. Croix. Additional information is available and questions answered by contacting the division's offices on St. Thomas at 340-774-7166 or on St. Croix at 340-773-6459.