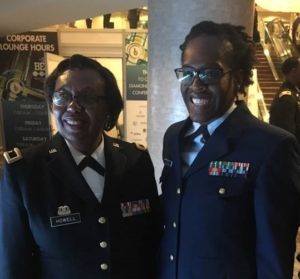 Virgin Islanders (VI) were recognized and well represented at the 15th Annual Stars and Stripes Military Dinner, hosted by the U.S. Coast Guard in Washington, D.C., on Feb. 8.
Highlights of the event included the U.S. Coast Guard Honor Guard, Dr. Olivia Hooker Honor, Gospel/R&B Singer BB Winans, and award presentations. Other VI attendees included Col. (promotable); Jeth B. Rey, U.S. Army; Monique Doute-Ferrel, U.S. Army senior service executive; Brigadier General Deborah Howell, U.S. Virgin Islands National Guard; and Adrian Gardner, FEMA, senior service executive. The 2019 Black Engineer of the Year Award (BEYA) Dinner event is posted at the following link courtesy of Career Communication Group Inc: https://www.youtube.com/watch?v=Nc-vnuEN0To&spfreload=10
U.S. Coast Guard Lt. Cmdr. Karima Hantal (nee Greenaway) was featured in a video that is posted online courtesy of the U.S. Coast Guard at: https://www.dvidshub.net/video/658936/black-engineer-year-award-video. Hantal said, "In 2017, my home, the U.S. Virgin Islands, was hit by two Category 5 hurricanes; the Coast Guard was there, engineers were there rebuilding, and this was personal."
A U.S. Virgin Islands native, Lt. Cmdr. Hantal graduated from the U.S. Coast Guard Academy with a Bachelor of Science in Naval Architecture and Marine Engineering. Following graduation, she served as an engineering officer in training aboard the USCGC Dauntless in Galveston, Texas. In 2007, she continued to hone her naval engineering skills at the Maintenance & Logistics Command Atlantic, Norfolk, Va., which was renamed Surface Forces Logistics Center (SFLC) in 2009 during the CG modernization period.
Between 2007-2010, Hantal planned and executed depot level maintenance and repair contracts for the CG's Inland River Tender and Icebreaking fleet, including the first scheduled dry-dock for the CGC Mackanaw valued at $13 million. She works at the Coast Guard Headquarters Office of Design and Engineering Standards, Human Element and Ship Design as a marine safety engineer. In this role, she administers a third-party delegation program for design, construction and certification of more than 450 commercial U.S. vessels.
During the week, more than 500 students attended the 33rd anniversary of the BEYA Science, Technology, Engineering and Mathematics (STEM) Conference. Students met corporate executives and recruiters and took advantage of onsite resources and mentoring to enhance their academic career, as well as to get tools for a successful STEM career.
An Opening Night Alumni Welcome Reception on Thursday, Feb. 7, and a Modern-Day Technology Leaders Luncheon with more than 40 career development seminars preceded the Stars & Stripes Dinner. On Saturday, Feb. 9, the conference offered an opportunity to join the engineering deans for a breakfast followed by the Deans' Roundtable. The STEM Career Fair for students and professionals draws on-site recruiters from Lockheed, Boeing, Gulfstream, Chrysler, IBM, Northrop Grumman, Raytheon, the military and many other STEM employers.