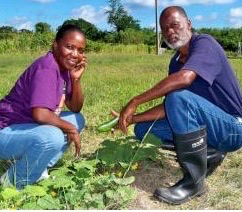 The Virgin Islands Agriculture and Food Fair kicks off this weekend, honoring the late Audrey Odetta Browne, who worked on the Board and continued to work very closely with the Agriculture Fair for many years.
Agrifest will begin Saturday and continue through the President's Day holiday, Monday, Feb. 18.
Entities from non-profit organizations, Customs and Border Protection, University of the Virgin Islands educational materials, and many others will take part, Assistant Agriculture Commissioner Errol Chichester said.
"I would like to give a 'big up' to the Gentlemen of Jones for reconstructing the refreshment booths that were blown away by Hurricane Maria and to APTIM, who donated their time in working on the food booths," Chichester said.
Violet Drew and Samuel Tyson of Ra's Son Rise Daughter Stand and Farm will be at their usual spot in the big building.
"This year has been very challenging," Drew said. "The debris, the rains, and land preparation put us behind and we have very little in terms of produce. We will have a decent supply of preserves, snacks, coconut oil, spices and many of our regular value added items. We will be ready for the public."
Richard Schrader, local author and poet, will sell his books and T-shirts at the festival.
"My latest book, 'Surviving Vietnam and Lost at Sea,' was written to celebrate our local Vietnam veteran, Dennis A. McIntosh, who served as a Combat Infantry Marine," Schrader said.
McIntosh was lost at sea with other individuals for 23 days and was the only survivor, Schrader said.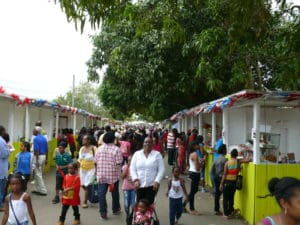 "My booth will be filled with 15 of my books and 15 to 20 of my cultural themed T-shirts."
Schrader was employed as warden at the Virgin Islands Correctional Facility many years ago. During that time, the inmates assisted with putting up tents for the preparation of the agriculture fair, he said. They also created art and showcased their work at the fair, he added.
This will be the third year at the fair for the Children's Museum of St. Croix. The non-profit organization works with children in hands-on activities and teaching the concept of living in the present, Board President Winifred "Oyoko" Loving said.
Loving shared the need for a permanent home for the organization. They travel to various venues in their recently purchased van and take their vision to the community.
The organization will have six stations of activities for children, with contests and prizes. The museum was gifted with a huge suitcase of LEGO bricks direct from their friend in Denmark.
"Bridges and cities and railroads, most anything can be built with LEGO bricks," Loving said. "These interlocking bricks can start our children out as city planners," she added with a chuckle.
Loving said the museum gets a "thumbs up" from children and parents in the community.
"Look for us across the grassy knoll by the ambulances at the fair," Loving noted.
Sejah Farm of the Virgin Islands is owned and operated by Dale and Yvette Browne. They have worked their farm for 20 years and look forward with excitement to Agrifest, the event of the year where local farmers can showcase their produce and livestock.
Their farmers market will boast arugula, kale, collards, Swiss chard, red okra, green bananas, peppers and eggs.
"The Ag Fair is a reminder to the community that food is first," Dale Browne said. "It's 'First World,' economics, he said. "It's not being done enough. It's not taking its place in our community as a serious career."
Browne sees farms crop up, but they don't last, he said.
"We need to educate our children in school. We need technical support. We need to make the community aware of other areas of our agricultural industry, like livestock and food production. Folks in the culinary industry need to use local products on a grander scale," he said. "Let's get back to the enthusiasm of farming, as it was 20, 30 years ago."
Executive Director Amelia Lamont of the Disability Rights Center of the Virgin Islands looks forward to attendees visiting her group's booth.
"We will be providing information about the work that we do, general information regarding health and wellness, the Americans With Disabilities Act and information about education for children with disabilities," she said. "Some members of our community are not aware of the work the DRCVI does to advocate for residents with disabilities."
Lamont said they would have some interesting games, where they plan to engage the public with questions so that they can learn more about disability rights issues.
The DRCVI also will make available tote bags that people can use during their time at the fair.
"We are very excited about participating in the Agricultural Fair this year. Our tent will showcase new activities that are designed to fully engage our visitors. We look forward to meeting many people who will share their stories and tell us how we should prioritize our work," she said.
Filled with many activities for the entire family, Agrifest captures fair goers and non-fair goers alike repeatedly.
"You can't afford to miss this year's fair. Come see what it's all about," Lamont said.