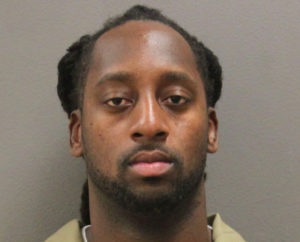 Paul Girard, also known as Bogus, and 10 members of what law enforcement calls "his criminal organization" were indicted Thursday under the Racketeering Influenced and Corrupt Organization (RICO) Act by a federal grand jury on St. Thomas, according to a news release from the FBI's San Juan field office.
The indictment, signed in the U.S. District Court of the Virgin Islands, charges Girard and members of his organization with violations of Title 18 U.S.C. Section 1962(d) RICO, in addition to violations involving murder and attempted murder in aid of racketeering, kidnapping, carjacking, controlled substance conspiracy, armed robbery, attempt bank robbery, money laundering, violent crimes in aid of RICO, and several firearms violations to include brandishing, discharging and use of a firearm resulting in death.
Girard was arrested Nov. 4 on St Croix by a law enforcement team composed of member of the V.I. Police Department, the U.S. Marshals Office, the DEA and ATF. He had recently completed a federal sentence, and was indicted by a federal grand jury on charges alleging conspiracy, Hobbs Act robberies, firearms violations, and money-laundering.
Additional RICO Forfeiture charges were included under 18 U.S.C. Section 1963.
The following 11 defendants were included in the indictment: Paul Girard (also known as Bogus,) Shaquan Prentice (AKA Dangles,) Robert Brown (AKA Big Bully,) Wahilli James (AKA Dapa,) Shaquielle Correa (AKA Shaq,) James Cruz (AKA Igol,) Kareem Harry (AKA Crumbull,) Tyler Eugene (AKA Lucc,) Etherneal Simon, Shermyra Gumbs and Wayne Bellille.
If convicted, defendants face potential life imprisonment.
The case was investigated by the FBI San Juan Field Office, St. Thomas Resident Agency, Drug Enforcement Administration, the U.S. Marshal Service, the Bureau of Alcohol, Tobacco, Firearms, and Explosives, the V.I. Police Department, the V.I. Bureau of Corrections, Homeland Security Investigations, the U.S. Attorney's Office, Customs and Border Protection, the U.S. Coast Guard, and Crime Stoppers USVI.
The case is being prosecuted by U.S. Attorney Gretchen Shappert, Assistant U.S. Attorney Sigrid M. Tejo-Sprotte, and Chief Criminal Division Assistant U.S. Attorney G.A. Massuco-La Taif. The Indictment was signed by the Honorable District Judge Curtis V. Gomez.
According to the FBI's news relase, the RICO statute provides the FBI with a tool to charge all the members of the criminal organization with enhanced criminal penalties and higher prison terms. Public tips and information assist the FBI and its federal, state, and local law enforcement partners to hold these organized criminals accountable for their actions and help bring them to justice.
The FBI urged Citizens with information to contact the FBI San Juan Field Office at 787-754-6000, or to submit tips through the FBI's tip line online at https://www.fbi.gov/tips.