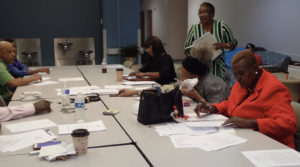 In between shouting matches, the Territorial Elections Board managed to set dates for swearing in members and auditing the elections processes and proceedings, but didn't agree on much else.
Originally, a meeting was set at the V.I. Cardiac Center for last Friday, but a quorum of members didn't attend so after an hour and half discussion on improvements to the process, they realized no one else was coming and reset the monthly meeting for Monday. Several people flew to St. Croix from St. Thomas for that meeting.
A quorum was established Monday and Chairman Arturo Watlington appeared late, after Raymond Williams, vice chairman, started going through the agenda. Until then, the only squabbling had been an outburst between Adelbert Bryan and Williams over a stipend check.
After that, with almost every topic, except renewing the lease for the St. Thomas Lockhart Gardens office, loud arguing erupted. There was even disagreement over which agenda to follow – St. Croix members had a different agenda than what Watlington said he was following. Williams argued they should follow the one he started the meeting with.
When it was determined that all members couldn't make the Jan. 8 date set by Watlington for swearing in and an organizational meeting, a compromise was made and the board agreed to hold the meeting Jan. 10, when all could be present, and certify members on Jan. 8.
Another compromise was reached when the quorum voted to hold the audit of the general and run-off elections on Dec. 27 at 5 p.m., despite Watlington's objections.
" I'm not participating in any other elections processes until next year," he said.
The board, led by St. Croix members, voted to invite elections judges to attend the audit to see how the audit process works.
In spite of the bickering, Elections supervisor Caroline Fawkes gave her report and said that early voting was successful and should be expanded for the next election, which will take place March 30. She asked the board to review the draft ballot for that election, when voters will decide if they should create district senators, at-large senators and a district residency requirement. Fawkes said $145,000 has been set aside for that election.
She added that more voting machines are needed soon and absentee voting should be streamlined.
Since funding for the run-off election was not in place, invoices have not been paid, Fawkes reported. The V.I. Legislature is scheduled to address the issue in its Dec. 21 session.