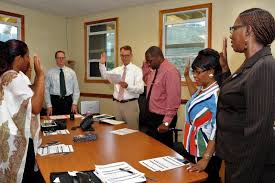 The Virgin Islands Bureau of Economic Research (BER) has begun follow-up activities on behalf of the United States Census Bureau, which is conducting the 2017 Economic Census of Island Areas. BER Director Bernadette Melendez, Senior Policy Analyst Donnie Dorsett, and other BER staff members obtained special sworn status earlier this year to be able to work with Census Bureau respondents, as all data are kept confidential.
Employer businesses are required by law to complete the Economic Census. The deadline was June 12, but business owners are still encouraged to respond. BER staff members are placing phone calls and in-person visits to remind businesses of the mandatory survey, explaining reporting options and answering questions about the survey content.
The Economic Census is conducted once every five years and serves as the official measure of the economy of the U.S. and its territories. The data is used by trade associations, economic development agencies, local governments and individual businesses for business decisions and policymaking.
"Reporting provides more accurate information for policymakers and others to continue to enrich our economy," Melendez said.
The 2017 Economic Census covers calendar year 2017 when two hurricanes hit the Virgin Islands, underscoring the importance of BER's work to improve the response rate and ensure an accurate collection of data.