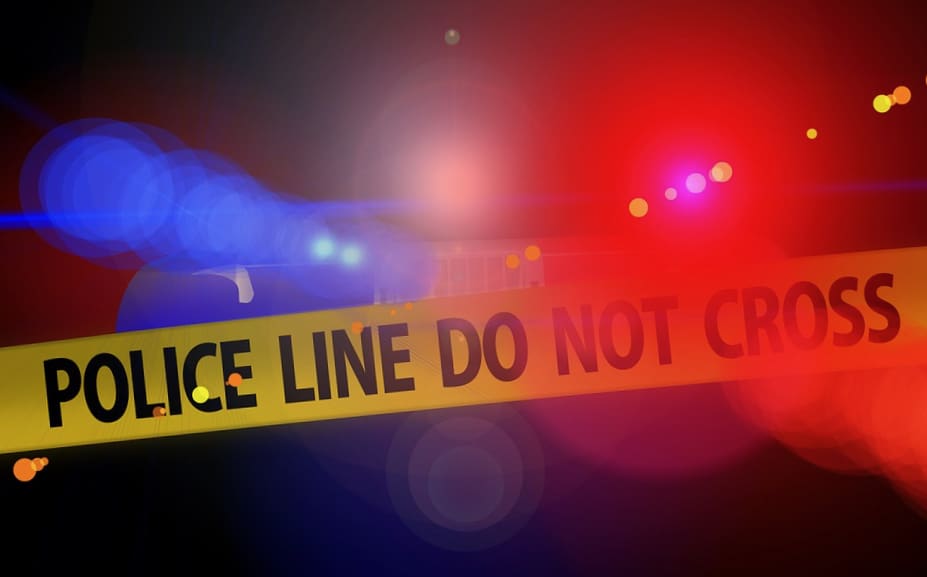 Virgin Islands Police Commissioner Delroy Richards said Friday that a bloody Thursday night shootout in the area of Lagoon Housing Complex in Frederiksted that left two people dead and seven injured was a retaliation for another shooting death that occurred earlier that day.
"We wanted to make clear to the public that it wasn't the type of shooting where you had folks sitting around and being innocent, in a sense, and somebody just drove up and opened fire. These individuals were targeted," said Richards.
In a press conference at the Commissioner's Conference Room on St. Croix, Richards related how the shootout unfolded. A group of men were congregating at the Frederiksted Market – not an unusual occurrence, according to Richards – when a car drove up, said Richards. Three masked men stepped out and started firing into the group, which then shot back, resulting in "quite a number of shots" that prompted multiple calls to 911 and VIPD stations.
The incident, which occurred around 9 p.m. Thursday night, left two men dead. Police believe that one of them, 66-year-old Albertos Baptise, was an innocent bystander who happened to be in the area. The other deceased was 32-year-old Humberto Martinez, believed to be one of the suspects who drove up to Frederiksted Market.
In addition, seven people suffered gunshot wounds. One of them was seriously injured, shot in the face, and is believed to be one of the masked men who exited the vehicle. That individual is listed as a suspect, according to the VIPD. The wounded individuals remain in the hospital, but police are unsure how many of the wounded were also innocent bystanders.
By the time the VIPD got to the scene, multiple people were on the ground and multiple gunshot victims were being transported to Juan Luis Hospital by private vehicles. Police officers went to the hospital while other officers proceeded to the Mahogany Road area following a tip that the suspects' vehicle traveled in that direction. Police were unable to intercept the vehicle and Richards declined to give a description of the vehicle due to lack of clear details, which could cause confusion or false reports.
"We're still trying to put the pieces together and this what we have so far," said Richards, sharing some preliminary details of the investigation.
According to the VIPD, early morning on Thursday, 24-year-old Ronald Bogan was found dead from multiple gunshot wounds in the Marley Housing Complex area. Police later determined that Martinez, one of the deceased, was Bogan's brother.
Bogan himself was not a stranger to law enforcement, said Richards. Bogan was charged and arrested in 2014 for the homicide of Wellington Pennyfeather, Jr. In a separate arrest, Bogan was in possession of a shotgun when stopped by police, Richards said, and when asked why he was in possession of the weapon, Bogan responded, "I have this shotgun because I know the guys are looking for me."
According to Richards, the group at Frederiksted Market was prepared for retaliation for the Bogan killing.
"I don't know who the specific target was, but what I could tell you is that the target who was in the market was also prepared for a response because as [the masked men] drove up and exited the car and they began to fire, somebody opened fire with an [AK-47], and that tells me that somebody was laying in wait after this Bogan killing, expecting some sort of retaliation," said Richards, certain that only one individual returned fire from the Market.
According to Richards, at least two persons considered to be suspects remain at large. Richards also shared that high-powered rifles were used by both sides.
"We found various calibers: .223s and .40s and 9 mms, so they were high-powered weapons," he said.
The proliferation of weapons in the territory is a chronic problem, said Richards, and the solution is for the community to work together. According to Richards, they remain uncertain on the identity of all the individuals involved in the shootout.
Now comes the hard part for the VIPD: building a case with little to no community input, even with anonymous tip lines like Crime Stoppers USVI.
"You had a lot of people around the market that night, and the hardest thing for us at this point is to get folks to say, 'I was there and this is what I saw,'" said Richards. "We have to develop this case on our own because people aren't talking even though the folk that were around the market and the vicinity were right there."
Richards said that while the police try to build a case in these shooting situations, people on the street already know the perpetrators, resulting in a retaliatory trend that makes up for at least 80 percent of shooting incidents, according to Richards.
"They move faster than we do. We have to wait for the evidence to come back and make an arrest but they resort to street justice," said Richards. "And this is the norm."
A visibly frustrated Richards urged Virgin Islanders to try to identify loved ones who show signs of being involved in these types of incidents before they become victims to be identified at the hospitals. Richards also rebuked the tendency to point fingers at the VIPD as the only agency responsible for keeping the peace and solving homicides.
"I have been around this job of policing for many, many years and I'm convinced that it is more of a societal issue more than just simply the police," Richards said.
Richards also pushed back against two public assumptions: One: that the VIPD is handling these shooting cases on its own, and Two: that police has not responded to numerous complaints about crime in the Frederiksted Market area.
Federal law enforcement has been enlisted for some time, according to Richards, and they are assisting the VIPD in investigations. Richards said that as a member of the High-Intensity Drug Trafficking Area Task Force in San Juan, he is able to work with the U.S. Attorney and other federal officials in getting the tools and equipment needed to fight crime in the territory. As part of an arrangement with the Department of Homeland Security, the police also gets assistance from that agency after the DHS is notified of a gun violence case.
As for the VIPD's alleged insufficient response to reports of crime, Richards said there have been numerous arrests in the area where the shooting occurred. Just a few weeks ago, the VIPD made an arrest for illegal firearms possession as part of a sweep done in the area.
"So we don't have suspects just running around in large numbers," Richards said. "There are a lot of folks that we are picking up on the streets. There are a lot of cases that are pending in both federal and local courts, suspects pertaining to homicides. What concerns me is the fact that every time these folks get released from the facilities, they go right back to those areas that they were in before, and they try to flex their muscles and they become victims."
Police continue to urge the community to help with the investigation by providing relevant information. Anyone with information about the Frederiksted shootout is urged to call the Criminal Investigation Bureau at 340-778-2211, the 911 call center, or the the anonymous tip service, Crime Stoppers USVI, at 1-800-222-8477 (TIPS), online at http://www.crimestoppersvi.org/.
Tips to Crime Stoppers that result in the resolution of a case can qualify the caller for an anonymous cash reward.