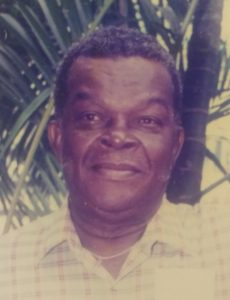 Simeon Moses Morton died on Nov. 12 at his residence. He was 91 years old.
He was preceded in death by his wife, Condon Sylvia Morton.
Simeon Moses Morton is survived by his sons: Wycliffe Henry, Orlando Henry and Ira Morton; daughters: Bernadette Ottley, Sandra Morton, Marcia Johnson and Deborah Liburd; and grandchildren: Selena Charles, Justina Henry, Jeanelle Lambertis, Latoya Harrigan, Torian Henry, Iriasha Atkins, Ira Morton Jr, Ika Morton, Damian Ottley, Shamika Ottley, Mavis Ottley, Julian Morton, Condilyn Jeffers, Chasie Morton, Chaston Johnson, Sa'Mandee Liburd and DeUmee Liburd.
He is also survived by 19 great-grandchildren; sister, Gwenette Freeman; brothers: Joseph Elliott, Author Freeman and Ivan Freeman; special cousin, Carlton Williams; sisters-in-law: Tavelyn Frazer, Bernice Bastian, Jermaine Glasgow, Patricia Isaac, Valarie Tywman and Dorothy Richardson; brother-in-law, Charles Frazer; nieces and nephews: Ingrid Williams, Bernadine Warner, Winston Burt, Spencer Elliott as well as other nieces and nephews too numerous to mention; and daughters-in-law: Caroline Henry (deceased), Carolyn Henry and Fernice Morton;
Other survivors include sons-in-law: Lionel Ottley, Curtis Johnson and Samuel Liburd; grandsons-in-law: Philip Charles, Ksharn Lambertis, Kevin Harrigan, Jeremey Kelso and Jason Atkins; granddaughters-in-law: Merger Ottley and Karisma Morton; and special friends: Henry Christopher, Lucien Wallis, Marcella Somersall, Ivan Gumbs, Lloyd Rubin and George Newton.
Continuum (Hospice) Care: Our family wishes to thank the entire staff, especially Ava-lyn, Barbara and Cassari, for your kindness and support. We are humbled by the care and compassion shown to us by all of you. Our mom's passing and now our dad was one of love and peace, and we thank you for making this lasting memory of them one of dignity and grace.
Relatives and friends are respectfully invited to attend a funeral service on Saturday, Dec. 8, at Living Word Ministries (Smith Bay – across from Lindqvist Beach). The viewing will be held from 9-10 a.m. with service immediately following. Interment will be at Eastern Cemetery.
Arrangements are under the care of Dan Hurley Homes for Funerals and Cremation Center of St. Thomas, St. John and St. Croix.
For online directions and condolences, please visit www.hurleydavisfuneralhome.com