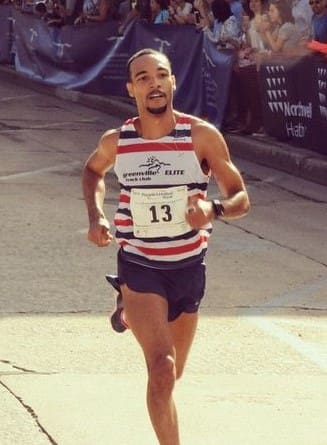 Virgin Islands National Track and Field Team members are ending the second year of the fourth year of what is known as the Olympiad (years between Olympic Games). These include professionals and student athletes, among others. Some of them have recently completed the cross-country season and are preparing for the indoor season.
Eduardo Garcia is continuing his successful transition from track and cross-country to road racing with the focus on competing in the Tokyo Olympic Games marathon in 2020. The University of Florida graduate came closer to that goal by setting a new Virgin Islands Half-Marathon record at the Richmond Half-Marathon with a time of 1:05.37 and a fourth-place finish.
He was quite pleased with his race on Saturday, which was under, with the exception of a slight headwind, ideal conditions. He set a new national record last year in the marathon with a 2:25 at the Rotterdam Marathon. He is pointing to his next marathon in January in Houston.
Malique Smith closed out his collegiate cross-country career on a positive note, as he played an integral role in his University of Arkansas Pine Bluff cross-country team winning the Southwestern Athletic Conference Championships.
Mikaela Smith, Malique's younger sister, had an interesting experience recently as she begins her freshman year at Austin Peay University. She successfully interrupted her cross-country season and represented the V.I. in the Youth Olympic Games, returned to complete the cross-country season, and helped her team to a tenth-place finish in the Ohio Valley Conference Championship.
Evan Jones, sophomore at the University of North Carolina Wilmington, helped his team to sixth place in the Colonial Athletic Association Conference Championships.
Virgin Islands cross-country champions were determined last week, led by Billy Bholke, Ruth Ann David, Dominic Pugliese, Michelle Smith, Shaiah David, Rob Wolf, Jusenia Tuitt, Brice Richards, Joseph Freeman, Elioneai Etienne and Barecia Brooks.
For information, logon to: http://virginislandspace.org/vitff.html or email: isv@mf.iaaf.org or call: 310-643-2557.