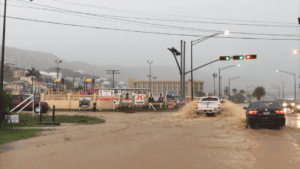 Relentless early morning rain caused flooding and blackouts on St. Thomas Thursday, with morning commuters driving through up to eight inches of floodwater and thousands of households across the island experiencing power outages.
A busy segment of Veterans Drive saw significant flooding Thursday morning, with brown water covering the eastbound stretch of road between the Western Cemetery and Windward Passage Hotel. Motorists heading east, with no space to maneuver, drove slowly through the floodwater, sending sprays of water that easily reached the tops of surrounding vehicles. Portions of road that stayed above water were littered with debris, mostly foliage and rocks carried downhill by runoff.
On the way up Raphune Hill, a sharp turn was rendered more dangerous by small boulders cleaving off the rocky outcrop and crumbling toward the middle of the narrow hillside road. Residents also reported flooding in other parts of the island, posting videos and photos on social media as a way of warning other residents of the condition of certain roads and neighborhoods.
Calls to the office of Department of Public Works Commissioner Nelson Petty regarding any drainage issues that may be exacerbating the flooding were not returned.
Torrents of water also carried massive amounts of sediment towards the ocean, turning the Charlotte Amalie Harbor brown. Other beaches around the island did not fare any better: Magens Bay and Coki Point in particular clearly showed runoff extending half a mile out from shore. The Coki Point runoff renewed protests by residents who are against the Coral World dolphinarium being constructed in Water Bay, which was completely muddy with runoff on Thursday.
The Department of Planning and Natural Resources has not yet issued a beach safety advisory. According to DPNR Public Information Officer Jamal Nielsen, the agency could not conduct water testing on Thursday after Lt. Gov. Osbert Potter, who is acting governor in the temporary absence of Gov. Kenneth Mapp, declared government offices closed, except to essential personnel. DPNR expects to release the water advisory by Friday, according to Nielsen.
Power outages also hit parts of St. Thomas and St. John on Thursday, mostly in the morning hours. WAPA spokesperson Jean Greaux said that shortly before 7 a.m., a fault in the electric grid took down Feeder 7A on St. Thomas, causing an outage that affected an estimated 3,200 WAPA customers. Due to the rough weather, it took WAPA up to an hour to dispatch crews to make assessments and repairs. WAPA crews brought Feeder 7A back up without incident, said Greaux.
WAPA also lost Generating Unit 26 at the Randolph Harley Power Plant on Thursday morning, resulting in eight feeders tripping offline.
"It affected a significant number of customers," said Greaux. "However, we successfully restarted that and restored service to all customers in short order."
According to Greaux, in addition to feeder and generating unit problems, certain areas around St. Thomas and St. John also experienced isolated power outages. Throughout the day, WAPA was able to send out crews to make repairs to these areas, Greaux said.
"Those are small pockets of service interruptions affecting a minimal number of customers," said Greaux.
On St. Croix, WAPA also lost generating power at the Richmond Power Plant but was able to bring power back for its clients within half an hour, said Greaux. One of the utility's St. Croix feeders also appeared to suffer a fault, but WAPA later determined that the issue involved a misreading of one of WAPA's automated grid devices, according to Greaux.
As of 4 p.m., WAPA linemen were still deployed across St. Thomas and St. John to address pockets of outages, according to Greaux, but there were no extensive power interruptions at that time, he said. Some traffic lights on St. Thomas remained offline as of 6p.m., but Greaux said that could be a Department of Public Works issue and not necessarily due to a power outage.
At around 4 p.m., the Virgin Islands Territorial Emergency Management Agency issued a press release stating that it held a teleconference with the territory's Emergency Response Agencies, including Public Works, the Department of Property and Procurement, the V.I. Police Department, the V.I. Fire Services, the Department of Human Services and the V.I. National Guard.
"My staff and I are continuing to work with our partners at the National Weather Service located in San Juan to ensure we receive real-time updates on the progress of the weather, which is expected to continue to impact the territory into the weekend," stated VITEMA Director Mona Barnes in the press release.