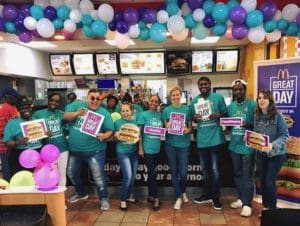 The McDonald's restaurant in Lockhart Gardens on Friday celebrated its Great Day event, this year honoring My Brother's Workshop.
About half a dozen students enrolled in MBW vocational training donned aqua green T-shirts and their brightest smiles as a deejay jammed some soca tunes.
For the past six years, McDonald's franchise owners in the Virgin Islands contribute the day's proceeds from sales of a specialty sandwich to My Brother's Workshop.
"We have other community projects we support, but the Great Day is a special day when all of our Big Mac Sales go to a local institution," said Arcos Dorados' communications mzanager Saida Luis.
The promotion was also an opportunity for the fast food restaurant to celebrate its iconic Big Mac sandwich, which celebrates its 50th anniversary this year.
Dorados has contributed to different charities through this annual event, which was once known as McHappy Day. Since 2013, MBW has been the sole beneficiary, said Amy Turnkington from MLB Creative. Proceeds from McDonalds on St. Croix benefit the MBW program operating there. On St. Thomas, Big Mac sales from Tutu Park, Frenchtown and Lockhart Gardens, fund the programs on that island.
My Brother's Workshop helps youth, ages 16 to 24, acquire work skills through training programs in construction trades and culinary arts. MBW also offers mentorship to help young people make sound life decisions and set courses towards the future.
The passage of Hurricanes Irma and Maria provided ample opportunities for training and community service at MBW. Assistant Program Director Naketa Stewart said students joined volunteers in preparing and serving 37,000 meals to storm survivors in the V.I. Other students, training in construction trades, have been helping poor and elderly homeowners put their lives back together.
"After the storm, we had a lot of students who were displaced from the cafe workshop, so we had them volunteering. Most of the students you see here came at different times. So they would come to the cafe and prep," Stewart said.
Some of the MBW guests of honor said they had been with the program two months. Others said they'd been around for seven years.
All of them, like Alali Stevens, said helping their neighbors cope after the storms was worth it.
Acros Dorados owns and operates Mc Donald's restaurants throughout the Caribbean and Latin America, including Argentina, Aruba, Brazil, Chile, Colombia, Costa Rica, Curaçao, Ecuador, French Guyana, Guadeloupe, Martinique, Mexico, Panama, Peru, Puerto Rico, St. Croix, St.Thomas, Trinidad and Tobago, Uruguay and Venezuela.