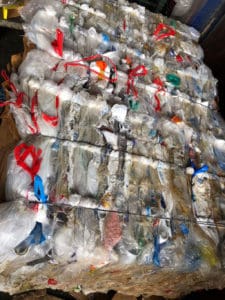 When Plaza Extra owner Wille Hamed moved to St. Thomas from St. Croix in 1993, the Bovoni landfill was flat.
"Now it's 2018, and the landfill is a mountain, and that's a sore sight for all Virgin Islanders," Hamed said this week.
Plaza Extra St. Thomas has been doing its part to recycle cardboard, milk and bread containers and pallets, and while Hamed says that makes a difference, his latest push – along with sister store Plaza Extra West on St. Croix – is to push for recycling plastics.
Together, the stores have launched a three-month program in which they collect, compress and bale plastics brought in from the community. Plaza Extra St. Thomas covers the cost of getting the bales over to St. Croix, and then the stores also pay for containers that ship the bales off island to the mainland.
"It is costly, more than I would have imagined initially, but it's a service for our community," Hamed said. "And really, it's not like we're reinventing the wheel. Most of the United States recycles, why can't we? For us to leave our islands they way they are is sad and we all have to come together and be motivated to do what we can to help."
In each district, the stores have partnered with residents – Diane and Gary Brooks on St. Croix – and organizations – Environmental Association of St. Thomas and V.I. Green Team – to get the movement going and raise awareness.
Only certain kinds of plastics can accepted during the three-month program, and Hamed said the goal is not only to reduce landfill waste but to educate others about the importance of looking at what they buy.
"I'll tell my customers, when they buy our goods, that we would be happy to take their containers back and recycle them," Hamed said. "We're not in the business of recycling, we have never been, so I'm not taking whole containers from other businesses, but the community response has been increasing every week and we hope that's been bringing a lot of attention to the need to recycle and be more environmentally friendly."
On St. Thomas, Budsan said Plaza's efforts are giving a big boost to the smaller drives and initiatives environmental organizations have been pushing for the past few years.
"Hopefully, this will lead to increased assistance from the V.I. government to battle litter territory-wide," he said. "The response to the Plaza Extra Tutu recycling project has been tremendous and we're now only officially in week three of the project with them. Folks that are participating are taking a closer look, not only at how much plastic they are using, but how they can be better stewards of the environment to reduce, reuse, then recycle."
Volunteers on the scene from both Plaza Extra and the two local environmental groups help participants comply with the requirements of the program, including sorting out their clean plastics without lids, caps and non-dark items. Those interested in volunteering can send email to ashleypom@gmail.com or jason.budsan@gmail.com.
Drop off times on St. Thomas at Plaza Extra are from 8 a.m.-12 p.m.
"We are grateful to Plaza Extra Tutu for providing the means to accept, crush and recycle the plastic off-island instead of it being buried in our landfill or elsewhere such as alongside our roads or coastal areas," Budsan added.
A list of acceptable plastics can be found on Plaza Extra's Facebook page.