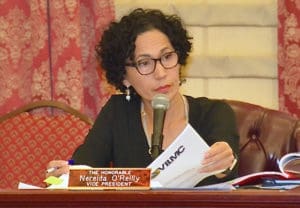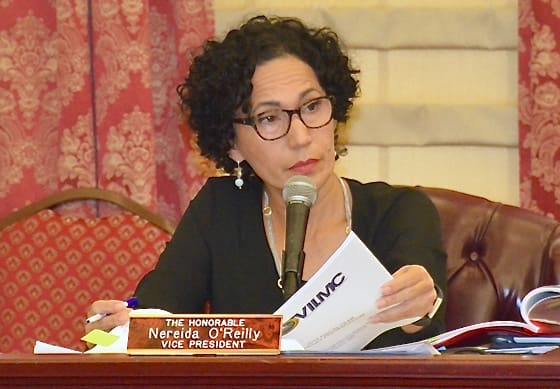 When any V.I. government agency or government utility digs on public property to put in utility conduits, they will have a mandate to leave space for immediate or future private telecommunications conduits to avoid digging again, if a bill approved in committee Wednesday becomes law.
The Water and Power Authority would be affected when it installs underground electrical and water infrastructure crossing roads. One large beneficiary of the change would be Viya, for example, when it installs fiber-optic cables for telephone, cable television and internet service. The V.I. Next Generation Network also has many underground utility conduits; When the federally-funded network was installed in the early years of this decade, many roads were cut with trenchers to run conduit. The cuts were filled, but obvious marks and an uneven surface remained afterward. This change might prevent similar issues in the future.
The measure, sponsored by Sen. Nereida Rivera-O'Reilly (D-STX), was held in committee in July after WAPA officials raised concerns that giving a benefit to private companies such as Viya might put federal funding at risk.
Sen. Janelle Sarauw (I-STT) said Wednesday the Federal Highway Administration had weighed in and did not object to the bill because the change "seeks to save money by reducing the amount of excavation required."
O'Reilly said similar policies have already been implemented across the country.
Sen. Jean Forde (D-STT) said he was concerned about impacting VINGN.
"Of course VINGN was built with federal funds and those funds could be in jeopardy," he said.
The bill's aim is to ensure the government entity doing the digging makes sure the conduit is big enough to accommodate multiple communications providers or allow a communications provider to install its own conduit at the same time.
"I think it makes perfect sense. … We have seen multiple diggings and the roads were not brought back to their original state," Sen. Tregenza Roach (D-STT) said.
Voting to send the measure out of the Government Affairs, Veterans, Energy and Environmental Protection Committee to the Rules and Judiciary Committee were: O'Reilly, Roach, Sens. Marvin Blyden (D-STT), Alicia "Chucky" Hansen, Janette Millin Young (D-STT) and Sammuel Sanes (D-STX). Forde voted no.