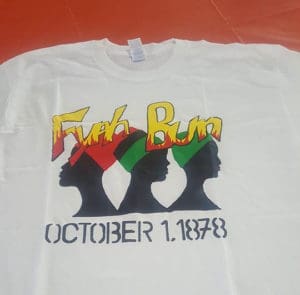 About 70 people of all ages, local residents and visitors, observed the anniversary of the 1878 Fireburn in a gathering in Frederiksted Monday evening at the United Caribbean Association "UCA" building on King Street in Frederiksted.
The event honored the memories of those involved in the labor revolt that sought to create better living conditions for plantations laborers who were being denied their petitions for increase in wages and who were protesting unfair deductions from the meager wages they were being offered.
Valarie "Walla" Hendricksen, who has been a part of the cultural observances at UCA since 1982, said following the pronouncement by the Danish government that freed the enslaved Africans they were forced to become contact workers on the plantations.
Laborers were paid five cents a day and given their wages annually, but when they received their pay they found they were charged for the food they grew, their living quarters, the clothing they made from discarded flour sacks and anything else the land owners saw fit to deduct.
As one of the conditions of their contract, laborers had to stay on the plantation and could only leave on October 1, which was known as "Contract Day." On that day laborers could move from plantation to plantation seeking work on other plantations in the hope of better working conditions.
For 30 years the laborers attempted to negotiated with the Danish government raise their wages and provide better working conditions. On Contract Day in 1878, the laborers decided to take matters into their own hands and planned the revolt. The uprising was led by "the three queens" – "Queen Mary" Thomas, "Queen Agnes" Salomon and "Queen Mathilda" McBean – along with Susanna Abramsen, known as "Bottom Belly," and Joe Parris. In Africa, each village had a Queen.
The observance also honored more than 200 laborers killed or hanged following the revolt that led to the abolition of slavery in the Danish West Indies in 1848. The names of those who lost their lives were read aloud during the observance. The names are part of the archives housed at the St. Croix Landmarks society. According the information from the exhibit "Universal legal freedom in the Danish West Indies was won on July 3, 1848, through collective action taken by thousands of enslaved people who were determined to be free."
Local Historian Mario Moorhead was the featured speaker, piquing the curiosity of the attendees by asking the provocative question, "Why was there a fireburn in 1848, 30 years after the announcement by the Danish government that declared 'all unfree are now free?'"
Children were featured in the observance with poetry readings, and several read from the play "Queen Mary and Dem" by local author Richard Schrader. Music was provided by the youth band Mind Body and Soul.
"We had a smaller observance this year because of the hurricanes," Hendricksen said. "Next year will be bigger and better."