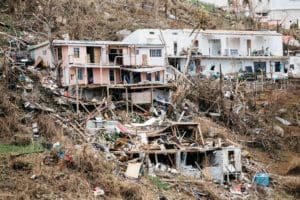 Lt. Gov. Osbert Potter announced earlier this week there may be a problem with a foreign insurance company and said the V.I. government may take regulatory action against the company.
Under V.I. law, the lieutenant governor oversees insurance regulation. In a statement Saturday, Potter said the foreign insurance company is not headquartered in the territory and is presently under examination by the regulator where it is headquartered.
"Given that this is a foreign insurance company and we are not the company's primary regulator, I am prohibited from releasing the name of the company at this point in time" Potter said at the time.
Tuesday, Potter issued a statement announcing a press conference Wednesday on "the ongoing situation with Real Legacy Insurance company, which has been operating in the Virgin Islands, but is domiciled in Puerto Rico."
Potter reportedly will outline the intervention that has been taken by the Puerto Rico commissioner of iInsurance, and the impact this will have on V.I. insurance policy holders.
"Rest assured however, that we are not sitting by idly and waiting until the company's primary regulator decides what to do. We are ready to take action. The Division has already developed a plan of action to ensure that Virgin Islanders are protected," Potter said.
In his statement Saturday, Potter said "over 94 percent of this foreign insurance company's Hurricane Irma and Hurricane Maria claims in the U.S. Virgin Islands have already been paid" and the territory was working with the company's "primary regulator" to protect V.I. policyholders.
Dozens of Virgin Islanders filed suit against several insurance companies, with more cases filed on a daily basis as the one-year anniversary of the twin hurricanes came and passed. Nearly all the cases complain of low and slow payouts. Five separate suits have been filed against Real Legacy Insurance in the U.S. Virgin Islands since the beginning of September. It is not clear at present if those cases are related to the Puerto Rico action referenced in Potter's announcement.