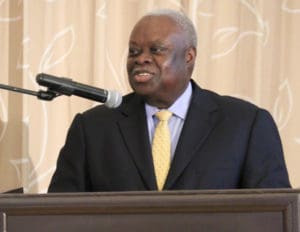 The new law enforcement recruit class will be the first beneficiaries of the newly formed Public Safety Support Foundation five-year plan to provide technological and defense training to the VIPD.
Gov. Kenneth Mapp announced the partnership Thursday at a press conference at the Virgin Islands National Guard Territorial Headquarters in Estate Bethlehem.
According to Edwardo Jany, Public Safety Support Foundation board chairman and a former police officer, the foundation was established shortly after the 2017 hurricanes by private citizens who saw the need to support and augment law enforcement. Jany and other members of the foundation's advisory board reached out to New York philanthropist Michael Bloomberg, who came on board as a "generous donor," Jany said. The International Association of Chiefs of Police and several other mainland police department also offered their support.
Some of the training that will be offered to the VPD includes use-of-force training, defense tactic training, support to the Criminal Investigation Bureau and a virtual-reality training device.
"This is the next step after you leave the job. It's very mean meaningful to be involved" in shaping the new recruits, Janey said.
Map said the ongoing joint training class is comprised of recruits from St Croix and the St. Thomas/St. John District. The class is housed at the armory where they live together and train for five to six months.
Mapp mentioned his outreach and partnership with the New York City Police Department, which occurred in his first year in office. At that time young officers were partnered with NYPD officers and received credits for their studies at John Jay College of Criminal Justice. He said an analysis of the VIPD at the time suggested the creation of a foundation to support the VIPD, and he thanked Bloomberg, the advisory board as well as the IACP for "getting this off the ground."
"VIPD needs to get to a point of a modernized rapid-response police force that could help reduce criminal activities and attract new recruits," the governor said. He also mentioned that UVI presently has a criminal justice administration curriculum and said he looks forward to the university establishing a police science curriculum.
Commissioner Delroy Richards said he welcomed the assistance from the foundation and the ongoing support of the IACP. He explained the two pilot programs presently ongoing at the VIPD. One is body cams on several police officers; the other is GPS that's installed in 32 police units.
"We want to ensure and instill accountability within our ranks," the commissioner said.
Richards added the VIPD is still working toward full compliance of the Consent Decree. We want to exit the consent decree and with the help of the foundation and the IACP "we intend to do just that."