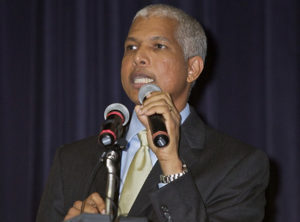 The ongoing disarray at the Waste Management Authority played out in a federal courtroom Thursday when the agency's latest director appeared in the courtroom, sitting quietly until the judge ordered him to the witness stand.
WMA Interim Director Adrian Taylor was placed the leadership role Aug. 24 after the previous interim director, Tawana Albany-Nicholas left abruptly in July.
District Court Judge Curtis Gomez asked Taylor why it took until Sept. 7 for WMA to notify the court that Nicholas had left. The notice came not from the agency, but from a V.I. Department of Justice attorney working on contract, rather than the agency itself.
Once in receipt of the late notice, Gomez issued an order directing WMA to deliver Nicholas to the courtroom in time for the Thursday hearing. From the bench, the judge asked Taylor why WMA waited until the last minute to inform the court of the change at the agency's helm. The new interim director said he didn't know.
Taylor's introduction to the court followed the pattern from Albany-Nicholas. She, too, was sprung on the court on the day of a scheduled compliance hearing. Gomez searched for a reason why this kept happening.
Untimely notice given around shifting leadership made it unclear who to hold acccountable at WMA, he said. This at a time when one wastewater treatment plant is on the verge of losing needed grant money.
Funding to repair and upgrade the Cancryn wastewater pump station on St. Thomas is set to expire at the end of September. About $200,000 may be lost if improvements are not made by then.
When the judge asked Taylor how much he knew about the status of wastewater projects under WMA control, he admitted he learned about many of them a week ago.
For Gomez, the discussion served to highlight the court's dilemma.
At the time of the last complaince hearing, "there was concern that there would be some continuity, but with the loss of Mr. Merritt (WMA Executive Director Roger Merritt, who left the agency in March) and then the loss of Miss Nicholas, that does not appear to be the case," Gomez said.
"Things that are at issue here are things that affect the environment and the welfare of the people of the Virgin Islands," the judge said.