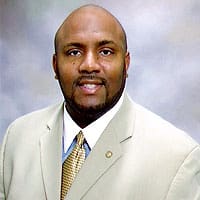 The racketeering retrial of three top executives of the Schneider Regional Medical Center is slated to begin next year. Presiding Superior Court Judge Michael Dunston recently set a January trial date at a hearing held after the Labor Day holiday.
Defendants Rodney Miller, Amos Carty and Peter Najawicz face multiple counts of racketeering, conspiracy, embezzlement and obtaining money under false pretense. Charges stem from a criminal investigation conducted by the Office of the Inspector General in 2008.
At the time, Miller had left his position as chief executive officer of SRMC to begin a new job in Florida. Najawicz was chief financial officer and Carty was chief operations officer of the St. Thomas hospital.
Investigators accused the three hospital executives of concocting a scheme where they would approve raises, bonuses and cash allowances for one another without obtaining approval from the hospital board. Then-hospital board chairman June Adams was charged with perjury at the same time Miller, Carty and Najawicz were arrested in August 2008. Adams was acquitted of the charges when the case first went to trial in 2011.
The trial lasted six weeks. The jury failed to reach a verdict. Dunston, the judge in the first go round, declared a mistrial. Attorney General Vincent Frazer, head of the Justice Department at the time, vowed to try the case again.
A series of appeals related to the case made their way through the V.I. Supreme Court. The high court ruled on aspects of the trial in 2009, 2013 and 2016. A separate but related ruling, linked to criminal charges against Miller's wife, Ronica, stalled the retrial further.
When the final appeal was adjudicated in June 2016, Chief Justice Rhys Hodge and Associate Justices Maria Cabret and Ive Swan declared the hospital corruption case ready for a second round. Disruptions brought on by the 2017 hurricane season stalled the proceedings again.
A pre-trial hearing held Sept. 4 appeared to send the matter towards the anticipated start, with Dunston again on the bench.
Najawicz, 51, faces 10 counts alleging violations of the Criminally Influenced and Corrupt Organizations Act, three counts of conspiracy and one related to embezzlement. Carty, 52, is charged with 17 counts of CICO violations, six counts of conspiracy, three related to alleged falsification of public accounts, and larceny.
The former SRMC operations chief is also charged with three counts of embezzlement by a fiduciary, two counts of embezzlement by a public or private officer, grand larceny and three counts of obtaining money by false pretense.
But prosecutors leveled the bulk of their allegations at Miller.
The former hospital CEO is charged with 12 counts of racketeering under CICO, seven counts of conspiracy, 15 counts of obtaining money under false pretense, 13 counts related to embezzlement, 15 counts charging falsification of public accounts, three counts for alleged conversion of government property and three counts of grand larceny.
Over the course of the lengthy prosecution the former hospital chief also was convicted for tax fraud in District Court in 2014. District Court Judge Curtis Gomez sentenced the defendant to 21 months in prison in that case.