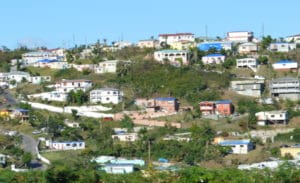 More V.I. homeowners have filed suit against their insurers as the territory marks a year since hurricanes Irma and Maria struck.
Overwhelmingly, the cases are being filed on St. Thomas. The number of cases remains very small compared to the number of homes damaged and insurance claims filed. The deadlines for filing suits appears to be playing a role in some of the cases.
All of the St. Thomas and St. John complaints cite delays in adjusting and low settlement offers. Most accuse their insurers of intentionally delaying, in bad faith, to force homeowners with urgent needs for repairs to settle for whatever is offered. None have trial dates and at least one has been settled so far.
One St. John couple, Donald and Deborah Schnell, are suing Integon National Insurance Company. They say they are filing now because time is running out to file a claim on their policy.
On Aug. 31, the V.I. Legislature approved legislation extending to two years the time for people having a dispute with their insurance companies over damage compensation. The current statutory time limit is one year. It is not clear if the change can apply retroactively as U.S. law restricts what laws can apply retroactively, particularly when they change the terms of an existing contract.
One suit is against St. Maarten-based NAGICO, which the Office of the Lt. Governor recently warned residents is not licensed to do business in the territory.
In a recent statement, Lt. Gov. Osbert Potter said he has issued an order mandating NAGICO to "immediately cease and desist issuing any new and renewal policies in the territory." But Potter's statement also said NAGICO "is obligated to and shall pay each and every valid Hurricane Irma and Hurricane Maria claim filed by NAGICO policyholders for properties located in the U.S. Virgin Islands."
Mohan and Anita Udernomall, who own a condominium on St. Thomas, say NAGICO gave a "low-ball offer without any detail as to how he arrived at the number, what damage to the property he was adjusting (or) what contents he was including in the adjustment."
Since then, NAGICO has "ceased virtually all communication,"has not done work on the claim and has refused to pay for damage to furniture and other losses that the plaintiffs say are covered by the policy.
There are now 10 suits against MAPRE PRAICO, with several filings in the last week. (See "More St. Thomians Suing MAPFRE Over Slow, Low Settlements" in Related Links, below.)
Three sets of homeowners have filed similar suits against Real Legacy Assurance Company.
On St. Croix, 11 homeowners are part of a class action lawsuit filed Feb. 14 in the District Court of the Virgin Islands over what they allege is the failure of Bank of Nova Scotia to purchase insurance, despite billing mortgage borrowers for the insurance.
The total number of cases is less than 30. In February, Director of Banking and Insurance Gwendolyn Hall Baker said in testimony to the Legislature that more than 10,000 insurance claims had been filed in the wake of the storms.